Latest topics
»
Second Year SFG in Canada
by
trolleydriver
Today at 1:51 pm
»
Senseless Banter...
by
sanderson
Today at 1:39 pm
»
Northern California & Coastal Valleys - What are you doing this month?
by
sanderson
Today at 1:36 pm
»
California's Drought
by
countrynaturals
Today at 11:29 am
»
Hello from central Massachusetts!
by
CapeCoddess
Today at 10:52 am
»
N&C Midwest: October Happenings!
by
CapeCoddess
Today at 10:35 am
»
Shallots, Prisma
by
trolleydriver
Today at 9:16 am
»
CANADIAN REGION:What are you doing in October 2016
by
trolleydriver
Today at 9:08 am
»
Asia Region -Showcase of Gardens - Show Us Yours
by
rajmahendra
Today at 5:29 am
»
Indian Solar Gardening Calendar
by
sanderson
Today at 3:50 am
»
Mason bees
by
rajmahendra
Yesterday at 9:50 pm
»
New England October, 2016
by
Scorpio Rising
Yesterday at 8:56 pm
»
leggy potatoes plants were started too early in the hous
by
Scorpio Rising
Yesterday at 8:38 pm
»
Thin Crust Pizza
by
No_Such_Reality
10/19/2016, 11:34 pm
»
Our Newest Regional Hosts!
by
Scorpio Rising
10/19/2016, 8:10 pm
»
Microbes...you gotta see this one !!!
by
has55
10/19/2016, 2:15 pm
»
November Planting in SoCal, time to keep working it and bragging rights time!
by
No_Such_Reality
10/19/2016, 10:27 am
»
Winter Hobbies and Crafts
by
Scorpio Rising
10/18/2016, 7:48 pm
»
Cucumber plant visitor
by
Scorpio Rising
10/18/2016, 7:31 pm
»
Hello all
by
Scorpio Rising
10/18/2016, 7:16 pm
»
The Most Annoying Pest In The Yard
by
Scorpio Rising
10/18/2016, 6:45 pm
»
TrolleyDriver's Compost Thermometer
by
sanderson
10/18/2016, 4:32 pm
»
2016 SFG in Brooks, Ga
by
yolos
10/18/2016, 11:17 am
»
Tryst with my first DIY SFG in India
by
rajmahendra
10/18/2016, 7:50 am
»
mason bees-for 2015
by
has55
10/18/2016, 6:20 am
»
The Research Journey:Connecting the dots with Soil & Diverse Cover Crops
by
has55
10/18/2016, 12:06 am
»
Cinnamon Pickles
by
yolos
10/17/2016, 11:31 pm
»
who has chickens
by
Ginger Blue
10/17/2016, 9:16 pm
»
Lemon Grass
by
Mimi2
10/17/2016, 12:28 pm
»
MUSIC: Classical
by
Kelejan
10/16/2016, 8:25 pm
My newly built garden has sprouted beautifully and I am now looking for some advice on how and when to thin my crop. 
Here are my Bush Beans. They are a few inches tall now. They are planted 4 to a square foot. I planted 2 or 3 seeds per hole. It looks like nearly all the seeds sprouted. My question is whether I need to thin them, and if so when and how.  Should I just cut the weakest stalk from each hole, leaving just one plant per spot. Alternatively, I could pull the plant out by the stem, but I worry that will disturb the nearby seed. Suggestions?
Next up are my carrots. I have them planted 16 to a square. They are about an inch tall. Unfortunately I planted 7 or 8 seeds in each hole, and I think most of them sprouted. When should I thin these?  How should it be done?  Do I try to pull them, or cut them. What do I need to do to avoid attracting carrot flies?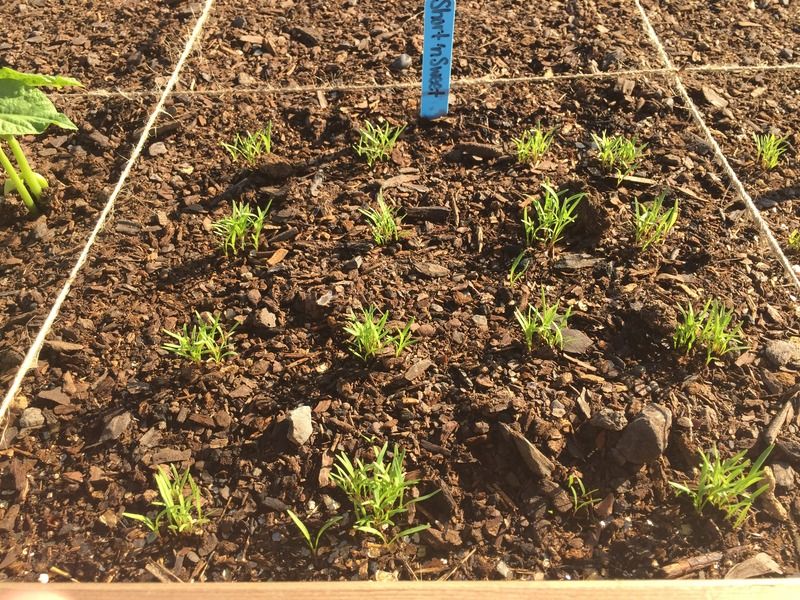 Posts

: 10


Join date

: 2015-05-31


Location

: Iowa



On the beans, personally I'd just leave them.  IF you have to thin them, CUT the weakest one out.  Don't pull it and disturb the roots.

Carrots - hmmmm....  7 or 8 per hole?  Why?  (I know - "the seeds are tiny...")  CUT out the weakest looking ones.

  Be sure to keep them moist!

Carrot Rust Fly - You might try planting onions around them.  It's also recommended to plant after June, once the parents are gone.

Certified SFG Instructor




Posts

: 3631


Join date

: 2014-03-18


Age

: 53


Location

: Buford, GA - Zones 7B/8A



The recommended spacing is 9 per square, but I don't have experience growing bush beans, so I don't know how practical it is.  
Using scissors to thin is the safest method.
You got a mess 'o carrots growing in that square!  

 I usually wait until they're about 2 inches tall to thin with scissors; it makes it easier to distinguish one plant from another when they're that size.  In your case, I'd snip off the majority in each hole now, and then thin again when the remainder are taller.
When I plant carrots, I make 4 furrows in a square with my fingers.  Then I dribble the seeds into the  furrow, aiming for about 1 inch spacing.  Thinning is still required, but they don't get as bunched up as yours have.  Depending on germination, I'll thin to one carrot every inch or two, and I'll end up with closer to 30 carrots per square.
The max flight altitude of carrot flies is less than 20 inches.  If you have tabletops, you're home free!  If not, putting a 2 foot tall barrier around your carrots will stop them, or you could just lay a crop cloth across the top of them.
____________________________
Last frost date (50%): April 15     First frost date (50%): Oct 15    
Zone: Irrelevant



Posts

: 7392


Join date

: 2010-02-26


Age

: 63


Location

: yelm, wa, usa



Well I try to pull the unwanted ones out and replant them. This worked really well with my beets this year. Each seed pod has several seeds in them. I gently pulled the smaller ones out and replanted. I don't think I lost any of the planted ones and I now have two extra squares of beets without using any more seeds. I also did this this year with cucumbers. I have this one variety that I can't get seeds anymore and I really like them. When I got two plants coming up I pulled them apart and replanted and saved both. I think plants are tougher than we think.



Posts

: 644


Join date

: 2013-01-05


Age

: 71


Location

: high desert, Penrose CO



9 per square is fine with bush beans, especially since not all will germinate. I usually wind up getting more like 5-8 per square.

PROs: It makes for a dense canopy that protects more plants from sunburn, which can happen in a flash and severely stunt beans to the extent that they don't produce at all, or even kill them. It also means that if you have a poor germination rate, you won't have a dramatically underutilized square.

CONs: It does make for very dense growth that's hard to work through to even see, much less pick your harvest, or to do any spraying or bug inspection without damaging leaves, though. Bean stems tend to kink and bean leaves tend to snap off pretty easily. And anytime you have plants jammed up close to each other, the chance to spread disease rises dramatically.

Pulling seedlings might not the best way to go about it, because they don't have a very big or robust root structure. There's not all that much to damage, so if you damage that, what's left to take over and keep working?

You can plant bush beans in waves all through spring and summer, though, so if you have more beans, you might want to plant a couple more into your square once you've thinned what you have.



Posts

: 3636


Join date

: 2013-07-05


Age

: 55


Location

: SW Oregon



I tried something this year that is usually not acceptable. I bought Bonnie cucumbers to plant late spring/early summer. Each pot had 2-9 cucumbers in them. I cut all but the 2 best in each pot and planted one pot per square. They are doing fabulous (for me) with huge leaves, even a few cucumbers!

Since you planted only for 4 bush per square (9 are recommended planting) why not try an experiment and leave all 8 to grow?

Forum Administrator




Posts

: 11868


Join date

: 2013-04-21


Age

: 67


Location

: Fresno CA Zone 8-9



---
Permissions in this forum:
You
cannot
reply to topics in this forum