Latest topics
»
CANADIAN REGION: What are you doing in September 2016
by
CapeCoddess
Today at 3:01 pm
»
Soil Blocks: Tutorial In Photos
by
sanderson
Today at 2:57 pm
»
The SFG Journey-Cover crops
by
trolleydriver
Today at 12:26 pm
»
newbeone
by
Cajun Cappy
Today at 12:17 pm
»
What are you eating from your garden today?
by
VJ72584
Today at 10:37 am
»
Compost
by
camprn
Today at 8:13 am
»
Hand Pollination ?
by
camprn
Today at 8:11 am
»
parsnips in square foot garden?
by
sanderson
Today at 4:01 am
»
Oh no! My hibiscus moscheutos plant has some roots exposed!
by
RJARPCGP
Today at 2:38 am
»
New England September 2016
by
yolos
Yesterday at 11:23 pm
»
Tryst with my first DIY SFG
by
Scorpio Rising
Yesterday at 10:36 pm
»
The Research Journey:free-The Gardener's Guide TO PERFECT GARDEN SOIL
by
has55
Yesterday at 9:32 pm
»
Second Year SFG in Canada
by
Scorpio Rising
Yesterday at 8:33 pm
»
The Research Journey:SELF-WATERING SALAD GARDEN COURSE
by
has55
Yesterday at 6:58 pm
»
Plantoid' s going into hospital ....
by
llama momma
Yesterday at 5:40 pm
»
Admin back! Classic cars
by
AtlantaMarie
Yesterday at 5:38 pm
»
Kale & Parsnip Question
by
countrynaturals
Yesterday at 3:09 pm
»
compost thermometer
by
sanderson
Yesterday at 1:58 pm
»
Northern California & Coastal Valleys - What are you doing this month?
by
sanderson
Yesterday at 12:37 pm
»
EXPERIMENT: Tomatoes to Powder
by
trolleydriver
Yesterday at 11:00 am
»
N&C Midwest: September 2016
by
Scorpio Rising
Yesterday at 9:29 am
»
The Research Journey:what to plant now, fall gardening in Dallas-Ft worth
by
sanderson
9/25/2016, 9:55 pm
»
Medical Topic...may be helpful to some folk....
by
sanderson
9/25/2016, 9:50 pm
»
Gardening in Central Pennsylvania
by
Scorpio Rising
9/25/2016, 9:04 pm
»
Mid-Atl - Jul 2016 - Wwwwaaaaahhhhh!
by
Scorpio Rising
9/25/2016, 6:07 pm
»
Another item for composting.
by
llama momma
9/25/2016, 4:04 pm
»
mulching
by
dstack
9/25/2016, 12:27 pm
»
1,000 worms on their way....
by
Cajun Cappy
9/25/2016, 11:45 am
»
Mid-Atl - Oct 2016 - Fall Garden 2016
by
BeetlesPerSqFt
9/25/2016, 9:32 am
»
When is a great time to start a garden? The Fall!
by
MrBooker
9/25/2016, 6:05 am
I have a 32-gal Rubbermaid trashcan.  It is black, and it has a lid.  I'd been putting compost things in a 5-gal bucket, but it overflowed so I got the trashcan.  Everything from the little bucket has been dumped into the trashcan.  It's pretty smelly, but things do seem to be rotting.

In the near future (by summer's end), I want to craft the three-bin Wriggler Hilton.  For now, I'd thought perhaps to go pick up some worms from the bait store and put them in the big can so the rotting stuff can get a headstart on become usable.

If I do that and open the can once a day, will that be enough air exchange for the worms so they don't smother?



Posts

: 68


Join date

: 2015-06-23


Location

: Atlanta GA (NE OTP), AHS heat zone 6, USDA hardiness zone 7a/7b, frost dates Apr15/Nov15



Don't try both in the same garbage can. I recommend doing more research on container composting (which creates heat and liquid, and needs air), and the raising of red wigglers for worm casings (which needs more temperate temps, moisture and air).  They are 2 different activities.  Once you have cool compost, the worms will love it.  But, if you try to do both in a garbage can, the compost will win.  

Containers for composting wastes have air holes all around, and the composting materials needs to be turned to introduce air and check for proper moisture.  Worm bins like wise have ventilation and a way to keep things moist but not soggy.
I have an open-bottom, passive, free-range worm bin.  Worm bins for dummies.  

 It is made of 2x4s for good temp insulation, set on the dirt (so the worms can escape to cooler, moister depths if it gets too hot or dry, yet the excess liquid soaks into the dirt).  Red wigglers won't go far from the food if things are good.  Bridal tulle on the top with a plywood cover off-set, allows ventilation but keeps out soldier flies (good guys but competitive for the food with red wigglers).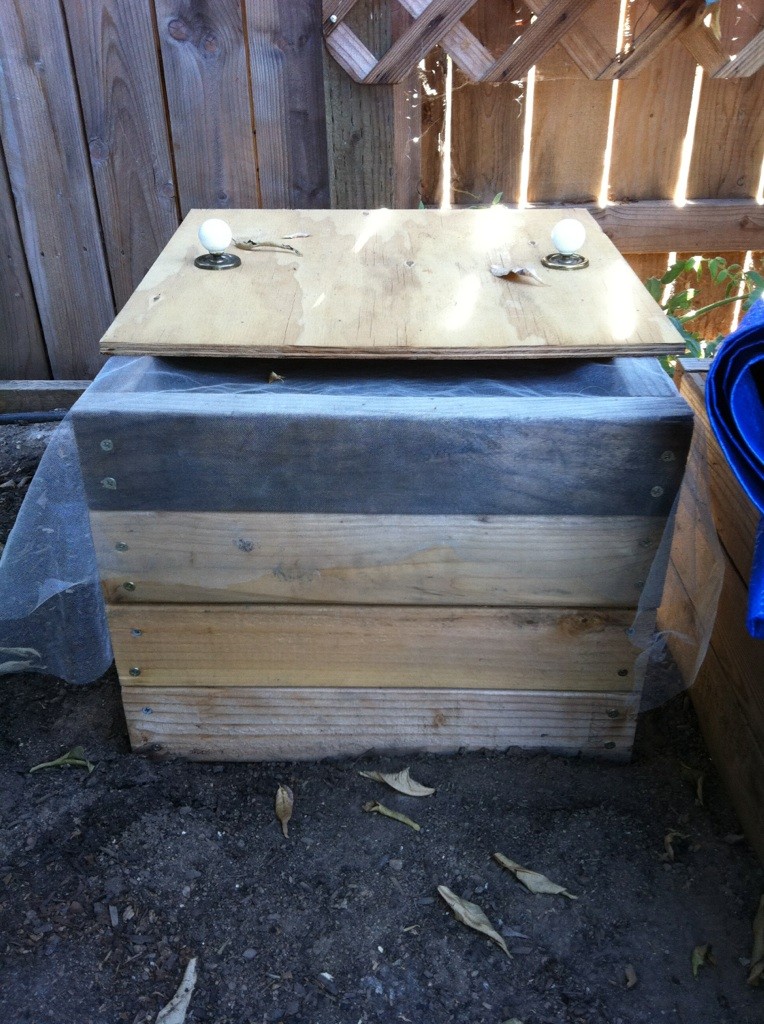 You can use a 5-gallon bucket.  Cut out the bottom, set it on the ground in a cool, shady area, cover with tulle and an off set lid.  Put some "food" in the lower bottom part and make sure the dirt around the area is watered if you don't get rain.  When the food gets mushy and moldy, introduce 25 or more worms.  (small fishing worms container from Walmart or all-purpose general stores en route to fishing spots)
I live in a temperate region with scalding hot summers and winters that generally stay above freezing except for a few days. I forgot what your weather is like and I can't check while I'm replying. If you get heavy freezes, you will need to find a way to bring them into the house or garage.

Forum Administrator




Posts

: 11681


Join date

: 2013-04-21


Age

: 67


Location

: Fresno CA Zone 8-9



---
Permissions in this forum:
You
cannot
reply to topics in this forum