Page 2 of 2 •

1, 2
Silver Queen planted 7/4, 5 leaf stage 7/16, GDD = 394



Posts

: 3246


Join date

: 2011-11-20


Age

: 67


Location

: Brooks, Ga Zone 7B/8A



@yolos

wrote:Silver Queen planted 7/4, 5 leaf stage 7/16, GDD = 394
Silver Queen planted 7/4, 7 leaf stage 7/22, GDD = 594



Posts

: 3246


Join date

: 2011-11-20


Age

: 67


Location

: Brooks, Ga Zone 7B/8A



I admire you.  All of my corn died during the 100-105 degree heat, even though I watered it plenty and mulched.  It got to about 6 inches high and then looked like somebody put it in a dehydrator.



Posts

: 243


Join date

: 2015-04-01


Location

: Zone 7



@littlejo

wrote:I was late planting, for it was raining cats + dogs. It let up a bit and I planted. It didn't rain again for 3 weeks. It finally rained last week just as corn was tasseling. I see ears forming. Usually I have corn on July 4, may be end of month if it gets fertilized. (ignore the weeds, please)  Is anyone else doing corn in their SFG?
Even tho it takes up plenty of space for the return, we always have to have some corn in the SFG littlejo. Something about picking a few ears and dropping into the boiling water waiting on the stove, that fresh picked flavor. Plus, all of our wild critters like corn so we have to keep it in the fenced part of our garden.
We planted a couple of different varieties from Burpee. A Sun & Stars Bicolor Hybrid and a Northern Xtra-Sweet. I planted the X-tra Sweet in mid May and we were hit with a 24 degree night on the 29th, so it was replanted on the 2nd of June. That same day I planted the Sun & Stars in another plot. These pics were taken on the 23rd of July.
The X-tra Sweets, on the right, are only going to get to about 5' tall(approaching that now) and most of them have two ears developing.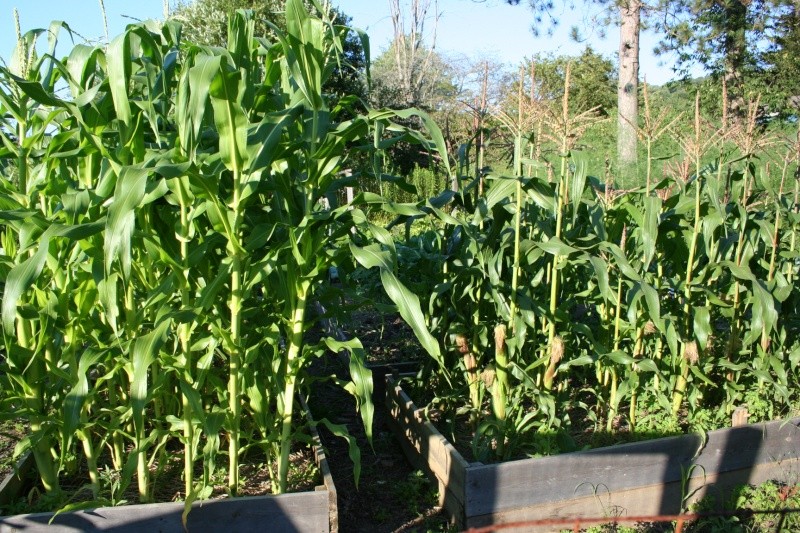 The Sun & Stars are on the left and some plants have 3 ears already showing and a couple of them are over 6' tall now and should top out at around 7'. I'm expecting to have some corn by mid Aug. from the X-tra and the end of the Aug. for the Sun and Stars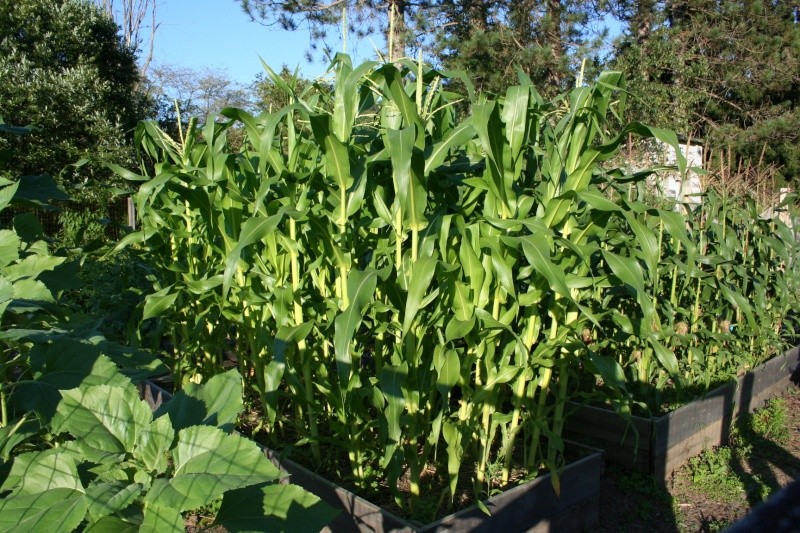 All the Best
Brad



Posts

: 73


Join date

: 2015-04-25


Age

: 63


Location

: Smethport, Pa. Zone-5a



Page 2 of 2 •

1, 2
---
Permissions in this forum:
You
cannot
reply to topics in this forum