This is a sprig of rosemary from my year-old plant.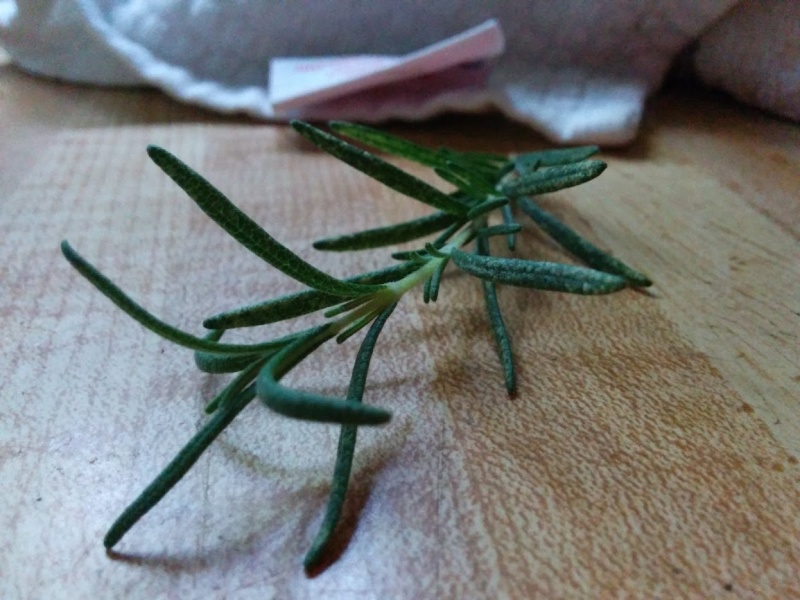 The starter sprig was given to me last summer by a friend in Auburn AL, with instructions to "
just stick it in dirt and water it some until we get rain again, and if it roots, it's something that not even your black thumb will be able to kill; if you do manage to somehow kill it, I'll give you another one
".  His plant is waist high and very bushy; it looked to be vigorous and healthy.  His growing zone is 8a, whereas I sit literally on the border of 7a and 7b, if that matters.
The plant grew really tall and spindly, so a month ago (on that friend's instructions on pruning) I lopped off a finger-length of the main stem and from the longest side branches  A week or so ago, I realized that the leaves are all spotty looking, where before they were a mostly uniform green, more or less.  Is it normal for Rosemary to get a little spotty like this?  Could my using a compost tea on everything a couple of weeks ago have created the discolorations, or is there something else I should check on that might be affecting the plant's health?



Posts

: 68


Join date

: 2015-06-23


Location

: Atlanta GA (NE OTP), AHS heat zone 6, USDA hardiness zone 7a/7b, frost dates Apr15/Nov15



Rosemary is anevergreen, and should therefore be pretty carefree.  I have never seen little dots on mine, I would be concerned about fungus and virus....have you been really rainy wet like us?  The MidWest has just been rained and rained on....



Posts

: 5276


Join date

: 2015-06-12


Age

: 55


Location

: Ada, Ohio






Posts

: 807


Join date

: 2012-09-21


Age

: 51


Location

: Waaaay upstate, NH (zone 4)



Yes it is normal for the older leaves to start showing their age.

Feeding it compost tea will help but I would transplant it into a bigger pot with rich compost.

To promote new growth, I usually prune back my rosemary plant when it starts getting like that.

http://www.gardeningknowhow.com/edible/herbs/rosemary/pruning-rosemary.htm



____________________________
41 years a gardener and going strong with SFG.
http://squarefoot.creatingforum.com/t3574-the-end-of-july-7-weeks-until-frost
There are certain pursuits which, if not wholly poetic and true, do at least suggest a nobler and finer relation to nature than we know. The keeping of bees, for instance. ~ Henry David Thoreau
http://squarefoot.creatingforum.com/t1306-other-gardening-books

Forum Moderator Certified SFG Teacher




Posts

: 14165


Join date

: 2010-03-06


Age

: 55


Location

: Keene, NH, USA ~ Zone 5a



Our rosemary bush is never watered or fertilized and is growing wild in terrible soil. It has survived winters below 20 degrees and summers that go over 100 for weeks at a time. They are tough plants.

You might want to trim it down to promote a more bush-like growth habit.



Posts

: 3638


Join date

: 2013-07-05


Age

: 56


Location

: SW Oregon



Thanks for the replies on this, and for the video, too.
My little rosemary is in full sun with a good 9+ hours of exposure.  I'll trim off a bit more to help bush it out more.  




Posts

: 68


Join date

: 2015-06-23


Location

: Atlanta GA (NE OTP), AHS heat zone 6, USDA hardiness zone 7a/7b, frost dates Apr15/Nov15



---
Permissions in this forum:
You
cannot
reply to topics in this forum