I am excited to start my own garden for the first time. I am a little confused on how I should plant everything so hopefully you guys can help me out. I am in Central Florida and I am doing two raised beds that are 2'x6' with trellis netting along one side. My main question is should I alternate the plants when planting or keep the same types of plants together? For example, along one side should I go tomato, cucumber tomato, cucumber or would it be better to go tomato, tomato, cucumber, cucumber?



Posts

: 3


Join date

: 2015-08-11


Location

: Central Florida



Hi Paul,
welcome to the forum!
I don't think it really matters what order you put them in. But I have 2 Delicata squashes and then 2 Sungold tomatoes. My thought was that I didn't want a tomato plant to be shaded out by the squash leaves so I placed the toms on the sunnier side of the row.
I'm sure others will chime in if they know any reason why it should be done in a certain way.
CC



Posts

: 6061


Join date

: 2012-05-20


Age

: 61


Location

: elbow of the Cape, MA, Zone 6b/7a



Either way can work. You may have to worry about shorter plants getting shaded out by taller ones if you plant crops of very different heights or widths. Then again, some plants thrive with a little shade. My peppers do better when shaded by my bush beans or tomato plants, for instance. I wouldn't be surprised if some bush cucumbers reacted similarly, as they can be very water-hungry and water-sensitive.



Posts

: 3638


Join date

: 2013-07-05


Age

: 55


Location

: SW Oregon



Welcome from Ohio, John!

I put my tomatoes together and squash together. Carrots next to squash got shaded out and got 1 carrot...Trellised pole beans obviously together. I put my potatoes on either side of the tomatoes, which made for a lot of foliage, but relatively the same height. Some of the Swiss Chard, which was in front of the pole beans got shaded out too, especially near the giant squash.

I will put the carrots, beets, onions, adjacent next year. Trial and error to some extent!



Posts

: 4819


Join date

: 2015-06-12


Age

: 55


Location

: Ada, Ohio



Paul,  Welcome to the Forum from California!  
 With ANSFG, it isn't that important (a few exceptions) as to what you plant in one square and then the next square.  Tomato plants can spread out further than their square so some folks plant one every other square with little crops in between, such as basil, bok choy, radishes or leaf lettuces.  Just personally, I like to have the cucumbers in the same area so if they get powdery mildew or spider mites, I can treat just that grouping.  You will find you own rhythm through trial and error.  Oh, boy do we have stories of errors!

And we share them all.


Forum Moderator Certified SFG Teacher




Posts

: 13985


Join date

: 2013-04-21


Age

: 68


Location

: Fresno CA Zone 8-9



Hi Paul.  Welcome from Atlanta, GA.  Glad you're here!

As you've read, there are pluses & minuses to either way.  One thing to think about is confusing bugs.  I try to plant separately to keep bug damage down.  I also try to plant companions that will help protect them.

But I know a lot of folks on here plant in groupings....

The thing to do is experiment and see how it goes.  Keep good notes.  And let us know what happens in YOUR garden!  (Pictures are good, hint, hint.)

Certified SFG Instructor




Posts

: 4129


Join date

: 2014-03-18


Age

: 54


Location

: Buford, GA - Zones 7B/8A



Thanks for all the help guys it is greatly appreciated! I think I am going to try separating them to see how that goes the first time around. I like the idea for trying to control pests. Whether it works or not I guess I will see lol. Here is a picture of my planned layout: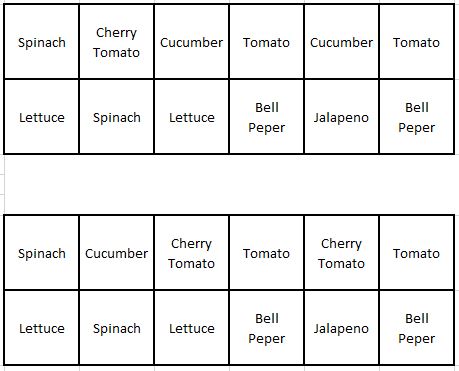 Posts

: 3


Join date

: 2015-08-11


Location

: Central Florida



Why not separate them in one box and combine similar plants side by side in the other box? That way you can experiment using both methods to determine if one way is better than the other.

Forum Moderator




Posts

: 3206


Join date

: 2015-05-04


Age

: 69


Location

: Ottawa, Ontario, Canada



Cherry tomatoes and other indeterminate tomatoes can really get bushy. Maybe those should be planted at either ends of the trellises?? Cucumbers can be planted 2 per square. Please share photos of your journey.

Forum Moderator Certified SFG Teacher




Posts

: 13985


Join date

: 2013-04-21


Age

: 68


Location

: Fresno CA Zone 8-9



Hi Paul.  Welcome to the forums.  

I like trolleydriver's idea of doing T-C-T-C in your first box and T-T-C-C in your second box so you can see what works best in your yard.  In my own experience in this, my first year of gardening, I've found that pests and diseases seem to spread faster with my layout - same things as immediate neighbors - so next year I'm going to make a few 2x4 boxes w/ trellis for the sunny side of my house so I can stagger plant the tall things.
Good luck with your garden!



Posts

: 68


Join date

: 2015-06-23


Location

: Atlanta GA (NE OTP), AHS heat zone 6, USDA hardiness zone 7a/7b, frost dates Apr15/Nov15



---
Permissions in this forum:
You
cannot
reply to topics in this forum