I recently had my roof replaced ( hail insurance) and all four skylights replaced. I asked the roofer to save the  old (single pane ) skylights and I kept three and gave one to my neighbor. I think they would make great cold frames but how is escaping me. Any thoughts?
Skylight about 27"x 51":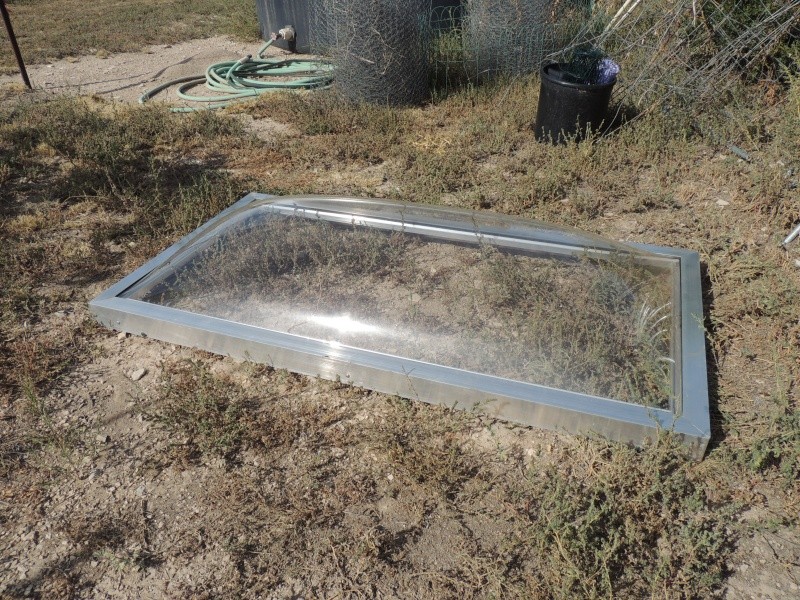 Some photos here  
http://tinyurl.com/qcwz23c 
More details for one here http://gardentenders.com/projects/953

Forum Moderator




Posts

: 3490


Join date

: 2015-05-04


Age

: 70


Location

: Ottawa, Ontario, Canada



I know we have a few here who have built cold frames and really enjoyed them. Maybe jimmcee is one of them? If you don't get a response in a day or two, try bumping the thread.

The basic idea, as you know, is a box on the ground, usually with one side taller than the other, and a hinge on the taller side that lets a glass or plastic pane get lifted up so you can get inside. Trivially easy for some to do, and comparable to trying to memorize pi for a non-handy type like myself.

The only thing that comes to mind that I can say that might be of any use is a question -- I wonder if the curved surface of your glass will focus the sunlight in a way that would scorch any particular planting area in the box. Also: That hinge would have to be a heavy one and be attached to something pretty sturdy too. Doesn't look like you could use thin lumber for the project.



Posts

: 3638


Join date

: 2013-07-05


Age

: 56


Location

: SW Oregon



TD, Nice links for ideas, some of which use the skylights like John has. John, did you want to use them on existing beds or for early spring seedlings? If the latter, then you could build new beds just for that purpose. If you want to use them on a 4' x 4', then maybe an extended (flared) top rail on the top that will hold a 51" by 54". Open them like a 2 door cellar door with sturdy props.

Forum Moderator Certified SFG Teacher




Posts

: 14376


Join date

: 2013-04-21


Age

: 68


Location

: Fresno CA Zone 8-9



Not going to use them on existing boxes. Want to build new ones closer to the back door, possibly elevated so I can water etc. during colder temps.
Thanks trollydriver, looks like the first picture is what I will build. I think I will put legs on it and build it with insulation. Will post a picture when complete.
---
Permissions in this forum:
You
cannot
reply to topics in this forum