I bought some nice heirloom tomato seeds from Seed Savers and want to use them but I have a terrible time starting seeds indoors. They always die when I transplant or they get leggy and die before I get the chance to transplant them. I have beds that are filled and covered with plastic and I'm wondering could I sow the seeds directly in the boxes now? I'm outside of Chicago, zone 5a, and it's definitely still cool outside. Wondering if the fact that the boxes are covered might make a difference? Any advice is appreciated!

Carrie



Posts

: 77


Join date

: 2010-05-08


Location

: Chicago area, (zone 5a)



I think it would depend on how warm it is inside your boxes and how warm your soil is. Tomatoes are tropical plants so they don't appreciate cool conditions at all.

Certified SFG Instructor




Posts

: 778


Join date

: 2010-03-02


Location

: Frisco, Texas



It would depend on the warmth of your soil. Tomato seeds need temps around 70 to even germinate. The colder the soil, the longer it will take and if it takes too long, the seeds will rot in the ground. That's why they are started indoors, usually on a heat mat or on top of a refrigerator or somewhere warm.
Another thing to consider is that tomatoes are much stronger if they are transplanted at least once so they can be buried deeper each time transplanted. It gives stronger root systems when buried deeper at transplanting time.
I never could germinate them indoors either with same probs as you.
I got a 2' grow light at the feed store, on sale. It was my first venture into lighting aids. Then I went online and ordered a heat mat. Now I also have 3 shop lights 4 feet long. My tomatoes are strong and healthy under shop lights.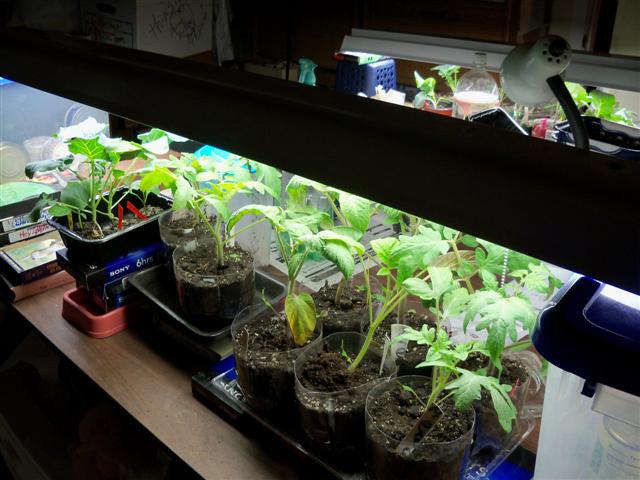 Try putting your started seeds on top of the fridge, covered with a plastic bag to keep in the moisture.
Once they germinate, put them on a sunny windowsill or even under a lamp on a table. Try to get a lightbulb at the hardware store with sunlight or more color zones that your regular light. They have them out there, even a Reveal lightbulb is better than a normal one.
They are getting leggy because they need more sunlight and are reaching for it.
Good luck.



Posts

: 4688


Join date

: 2010-03-21


Age

: 75


Location

: Southwestern Maine Zone 5A



Thank you Tim and Quiltbea. Mother's Day took me out of the house all day so I wasn't able to come here and read and respond until now.

I guess I need to give it another try with the indoor seeds. I have a vague recollection of there being a grow light somewhere in my basement, so I'll have to see if I can dig it out. Is it too late to start tomatoes inside or should I save the seeds for next year and just buy plants for this year? I would ultimately like to start everything from seed myself b/c the cost of buying plants is so high, but if I have to this year, I'll manage. Thanks so much for the advice!

Carrie



Posts

: 77


Join date

: 2010-05-08


Location

: Chicago area, (zone 5a)



---
Permissions in this forum:
You
cannot
reply to topics in this forum