Page 15 of 15 •

1 ... 9 ... 13, 14, 15
@ralitaco

wrote:

Ok, so I'm late to this thread too, but...

Zmoore, who does your sifter work? Do you just shovel it on and work it through the screen or do you shake it some how?
Who?
Mr. Miller and I of course

How?
Very primitive. I'm the "caveman" of composting.
I work it through the screen by hand. 
Throw a couple forks of compost on the screen, move to side of screen and turn fork sideways, push and pull the material up and down on the screen until it looks like mostly chunky stuff left, move to rear of screen and gently rake material off screen to lower bottom end, get a sip from Mr. Miller, repeat.  
I have plans to someday make some bins and move my composting operation to a more "permanent" location and when I do that I think I'm going to try a shaker box like archaeologist use, then I can be the "Indiana Jones" of composting

I think Has55 or maybe it was Boffer... Someone here posted pictures of a sweet sifter that was basically like a concrete mixer with a wire mesh drum.  Motorized and movable.  They are the "wizards" of composting.
I'm still banging rocks together to make sparks




Posts

: 225


Join date

: 2015-04-14


Location

: Virginia Zone 7a



Too Funny!! But I didn't know you could bang rocks together to make sparks...so where do I rank????

I have seen those barrel sifters/sieves or whatever they are called. I tried making a rolling sifter and connecting it to a reciprocating saw. While it did work, sorta, I found it was a lot easier to roll it back and forth by hand. I have even made a jig to sit on my wheelbarrow and now I can sift right into it...currently sifting some piles of ash & dirt where I burned leaves and debris for years. Trying to get out the chunks, the nails and then move the dirt to fill some holes around the yard.



Posts

: 1043


Join date

: 2010-04-04


Location

: Hampstead, NC



Woot!  New pile heating up

I set a new pile Monday evening after I had screened the last of my winter compost.  So, got another pile going for late Spring/summer feeding.
Anyway, checked it last night and it's heating up nicely.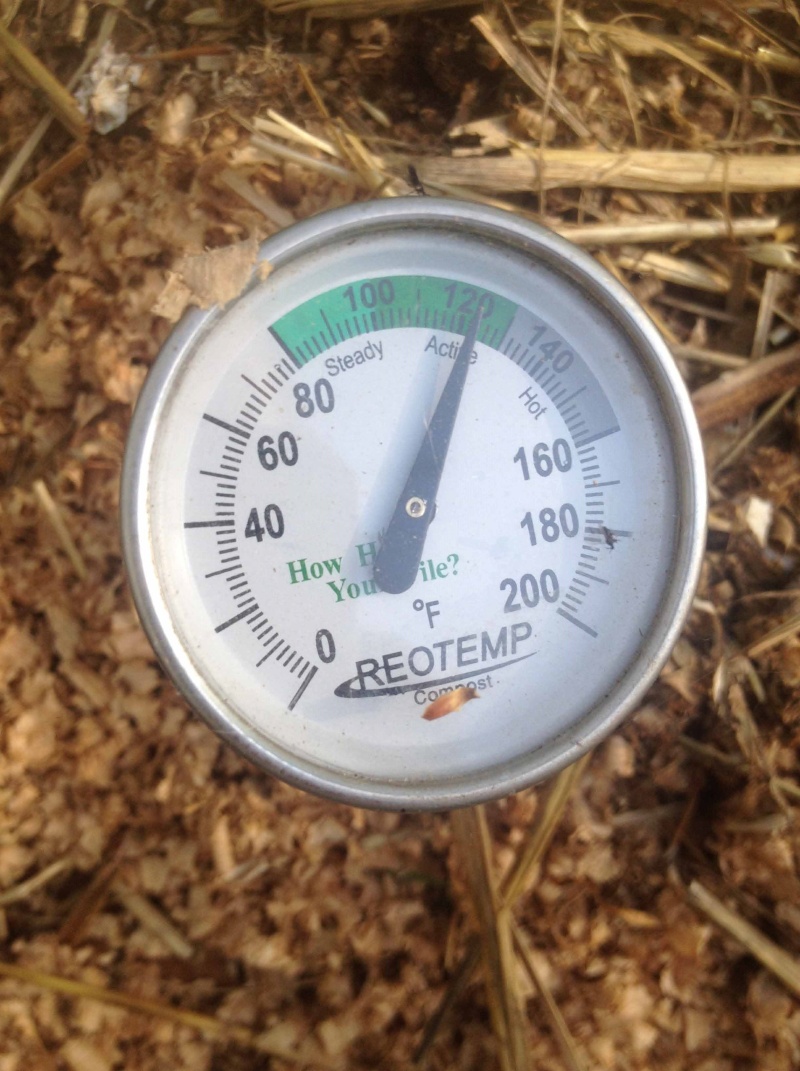 Posts

: 225


Join date

: 2015-04-14


Location

: Virginia Zone 7a




Forum Moderator Certified SFG Teacher




Posts

: 14199


Join date

: 2013-04-21


Age

: 68


Location

: Fresno CA Zone 8-9



Page 15 of 15 •

1 ... 9 ... 13, 14, 15
---
Permissions in this forum:
You
cannot
reply to topics in this forum