After last years brassica fiasco I am wanting to make row covers for them. I have 3 4x4 beds that will be full of them this spring (we really like our brassica family 

). My question is how do you know what size pieces I need to get? How high does it need to be for plants like broccoli, cauliflower, kale and collards? I don't want to hinder their growth or let in any of those munching buggers.



Posts

: 19


Join date

: 2015-05-09


Age

: 35


Location

: Yanceyville, North Carolina



Bridal tulle and other netting with 1/2 off coupons from JoAnn's or Hancocks. At least 2'-3' tall for some brassicas so that would be over 120" width or sew pieces together.

Can anyone post the links for the other topics where we discussed insect covers?? Thanks

Forum Moderator Certified SFG Teacher




Posts

: 14370


Join date

: 2013-04-21


Age

: 68


Location

: Fresno CA Zone 8-9



I made what I called "deer cages" for my beds.  My "munching buggers" were deer.  These could be adapted and covered with a mesh for bugs or plastic for frost protection.  The picture below is a 4x4 bed and the wire I used was 2x4 mesh (each rectangle in the wire is 2"x4").  You buy it in rolls and generally 50' is smallest roll and you can get it in widths of 3', 4', or.. 6' I think.  I bought a 4' wide roll.  To make 1 cage you need about 6-8' long piece to form an arch that peeks at about 2-3' in the center, then two 4' long pieces that you will cut to fit the end, so about 16' of 4' wide wire for each cage, takes about 48' or a 50' roll to make 3 cages.
I tacked one end of the wire to the box then just kind of looped it over until I got the height I wanted, a helper at this point is very handy.  Once you have your first piece cut to form the arch you just cut the others to match.  It's a bit tedious and time consuming "weaving" all the pieces together and be forewarned, wear gloves, man that wire is sharp where you cut it.
However (more to your question), I've seen other configurations where "hoop" supports are used spaced.. however long you're comfortable with.  If you go that route I think you would want a flexible support about 8' long, should give you about 3' in the center.  Just over 6' long (say 6.5') would give you about 2' high in the center.  For a 4' box I think one on each end and one in middle would be fine?  3 total. 
Broccoli and Cauliflower you'd want to keep in the center squares, kale and collards should be ok on the outside edges where it will be shorter.
This one I think is about 2.5 feet tall in the center and it's on a 4x4 box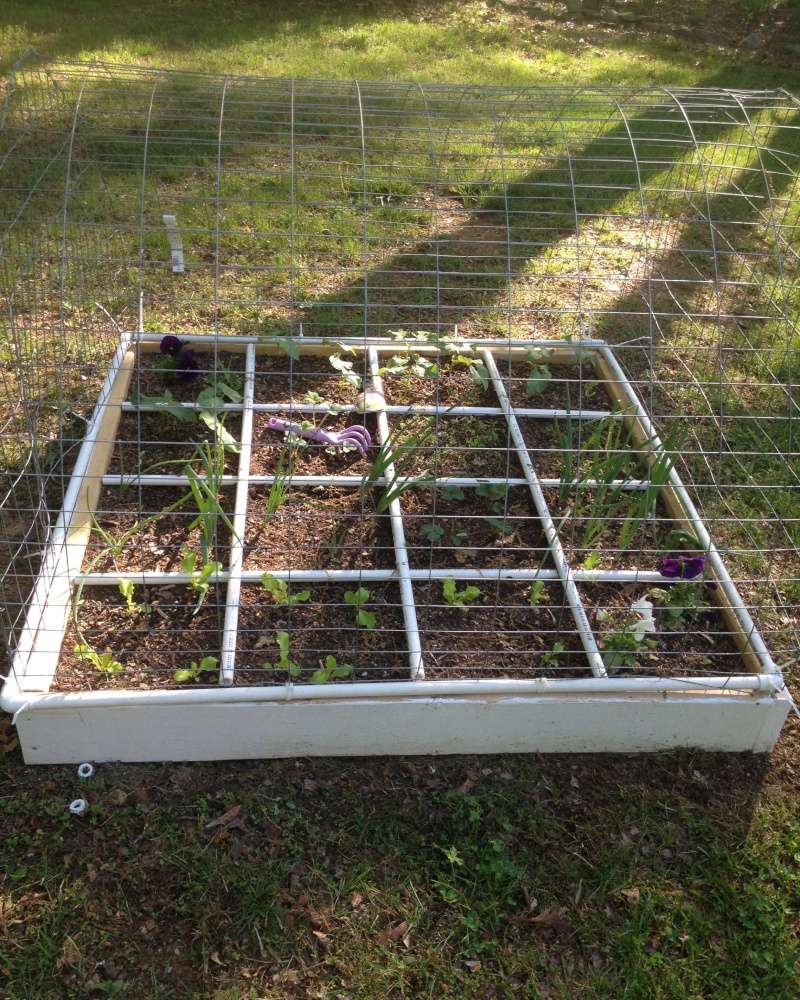 Different sized box, but you can see I have typical tomato cages in the center.  So, about 2.5-3' tall in the center.  Tomatos are hard to contain with this and they tend to grow through the wire.  Broccoli and Cauliflower though I think would be o.k.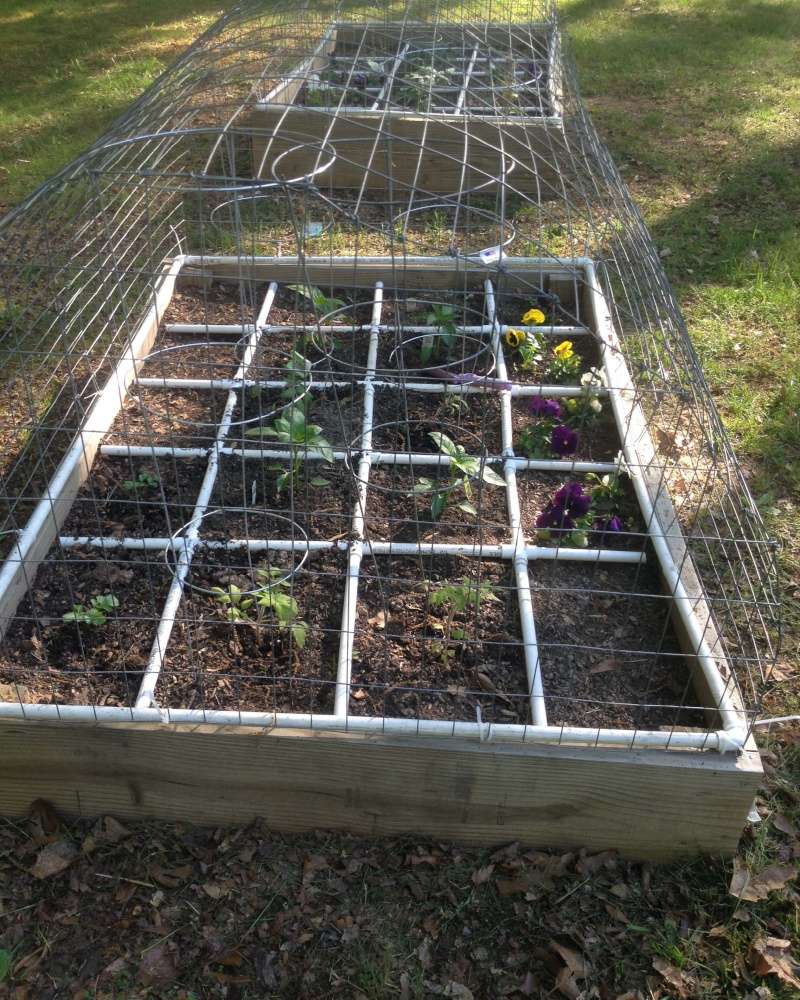 I think I originally saw thee on Pintrist, that's where I got the idea originally.



Posts

: 225


Join date

: 2015-04-14


Location

: Virginia Zone 7a






Posts

: 1632


Join date

: 2012-05-10


Location

: Denton, tx



Follow the link below to see what I use for the SVB on squash and caterpillars on brassicas.  About the third post down on the referenced thread.  The picture is of a 3 x 8 bed, using 108" wide Tulle, with 1/2 inch PVC ribs 8 ft long.
FALL PLANTING STARTING NOW  -  09/06/14
http://squarefoot.creatingforum.com/t17310p96-2014-sfg-in-brooks-ga
Kay has 4 x 4 and uses 54" wide tulle.  Maybe she will be along to help with dimensions.



Posts

: 3246


Join date

: 2011-11-20


Age

: 67


Location

: Brooks, Ga Zone 7B/8A



---
Permissions in this forum:
You
cannot
reply to topics in this forum