Page 4 of 4 •

1, 2, 3, 4
Speaking of composting...
I've been doing my composting this year in 18 (...or are they 22?) gallon totes - moved up from 5-gallon buckets I used last year.  Still not doing a lot of volume, but I guess I'm kinda picky about what to put in there.  I haven't been putting grass clippings in, because we have a few weeds and don't want weed seeds getting into it.  But we do have plenty of used coffee grinds, tea bags, vegetable scraps, dead leaves, shredded paper bags and used coffee filters, etc., and are continuing to find more good "stuff" to go in it.  The finished compost I've gotten so far has been some really good stuff.
This year, I've been experimenting with vermicomposting (sp?).  Since my SFG beds don't open up to the soil below them (Bermuda grass -  

), dropping the worms into the beds to fend for themselves for the winter would probably spell a death sentence for them, as it can get quite cold here during the winter.
So I started a worm farm in some bins that sit in the garage.  I haven't really done much with them since I got it set up, other than throwing rotten food in there every once in a while.  Been trying to avoid disturbing them much.  Friday, I decided it was time to replace half of the old bedding (which would hopefully be full of worm castings and other tasty munchies for my plants) and put in some fresh, and was an opportunity to really see how they're doing.
Wow.  All I can say is, those worms have been partying!  There are definitely a lot more of them in there now than I originally put in there - multitudes of babies - and sure enough, the bedding I pulled out was abundant with worm castings.  So now that has been added to my compost bins.
I still don't know if I'm going to keep doing this or not, though.  Just depends on what I see with the plants that are growing in my latest batch of compost.



Posts

: 769


Join date

: 2015-03-20


Location

: Northeast KS, USA; Zone 6a



Kate, I am interested in this. My boxes were old window boxes, some of the bottoms were partially broken out...I had worms in all my boxes this past summer. Hope they make it! Although, we have only had a fairly brief cold snap so far this winter.



Posts

: 5116


Join date

: 2015-06-12


Age

: 55


Location

: Ada, Ohio



@Scorpio Rising

wrote:It truly is amazing.  

Warm here today.  Tarp partially blew off compost piles, so need to dump a bucket and some leaves and re-cover the piles.  Isn't that pulse-poundingly exciting stuff?  
YES! Lol. And I would join you and play in mine, too, if it wasn't frozen solid.
OK, here are my 2016 Spring plans, for what it's worth.  I say that because they are always a work in progress and will change at least a dozen times before finishing. The sheet on the right is the planning stage.  The sheet on the left is what I add to once I've actually planted something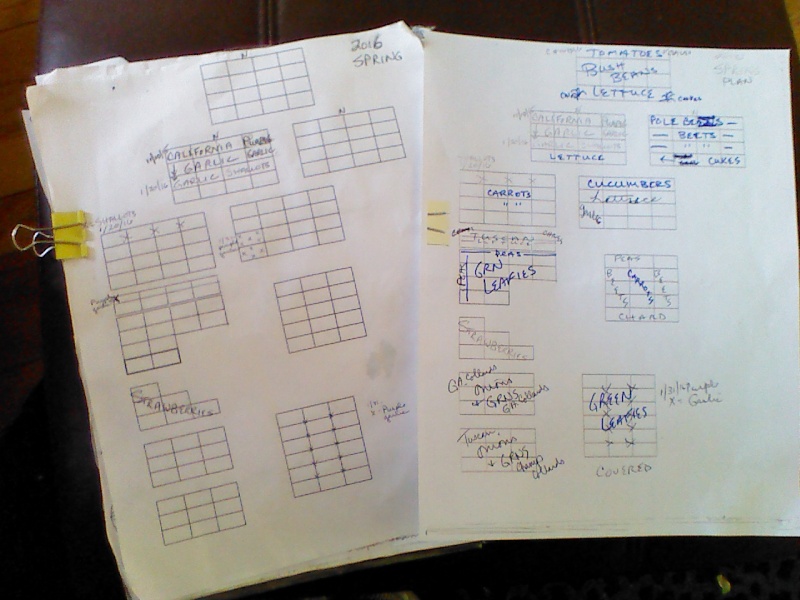 CC



Posts

: 6315


Join date

: 2012-05-20


Age

: 61


Location

: elbow of the Cape, MA, Zone 6b/7a



SR,

CC, The second plot plan for actual planting sounds like a good idea. Thanks

Forum Moderator Certified SFG Teacher




Posts

: 14410


Join date

: 2013-04-21


Age

: 68


Location

: Fresno CA Zone 8-9



Daytime temps have been in the 40's for 5 days now, supposedly to end tomorrow.  Snow is almost all gone, ordered my onion plants today, and gave away my compost barrel (homemade) to a neighbor who needed a good strong hasp.  I told him that if he was willing to take it off the barrel it was all his.  I didn't mean the entire barrel as well, but he was excited about it and said he could use it for a garbage can.  I haven't used it for 2 years, relying on my piles instead, so it is now one less thing to clean out of my yard this Spring!



Posts

: 3412


Join date

: 2011-02-16


Age

: 52


Location

: Zone 4A - NE SD



One less thing to get rid of in the busy season!



Posts

: 5116


Join date

: 2015-06-12


Age

: 55


Location

: Ada, Ohio



Page 4 of 4 •

1, 2, 3, 4
---
Permissions in this forum:
You
cannot
reply to topics in this forum