Has anyone used SIP sub-irrigation?  I have read the all new square foot gardening and was planning to start it up.  My sister-in-law is also starting a garden this year.  She is doing raised beds but is doing a self-watering SIP sub-irrigation system.

Has anyone here done that while also using Mel's other techniques?  I'm torn as to which way to go.  If it has to be all or none--one way or the other.

I was all set to go with the techniques in the All new SFG book, but not sure if I can (should) combine the SIP along with this.  Very confused and want to start off on the right foot.

Any personal experience with SIP would be greatly appreciated.
Bradleyswife, Welcome to the Forum from California!
There are many topics on the subjects of sub irrigation and drip irrigation that you can find through the Search box. This will be your personal choice. Some folks just water as needed with a hose wand. Others, like me, have drip irrigation on timers. I like drip irrigation as it is easy and can be modified as needed since it is on the top on the Mel's Mix. I use chopped up bedding straw on top of the drip lines as mulch to reduce surface evaporation.

Forum Moderator Certified SFG Teacher




Posts

: 14208


Join date

: 2013-04-21


Age

: 68


Location

: Fresno CA Zone 8-9



Thanks for info!  I searched for SIP and sub-irrigation but didn't find anything.
Our original plan was drip irrigation, like you mentioned.
searching now for just "irrigation"
Thanks again

Last edited by bradleyswife on 1/24/2016, 3:24 pm; edited 1 time in total
Hi, Bradley's wife--we have a waist height planter box at work that uses this type of underground water reservoir. We use it for occupational therapy with patients who are rehabbing. We put petunias and a dwarf tomato in it. Despite using and filling the reservoir, we still need to top water, or the plants suffer. The one we have is a brand name one that I can't remember, bought by the hospital. It is really nice otherwise, but then, it is just a deep nice table top.

That is my experience with that type of irrigation. Not worth the money.



Posts

: 4971


Join date

: 2015-06-12


Age

: 55


Location

: Ada, Ohio



Ah, great.  Thanks so much for that info!  I really appreciate it.
sub irrigation without the hyphen
This is an example of my 1/2" 6"-spaced drip irrigation from Dripworks, showing also spacing for bush beans.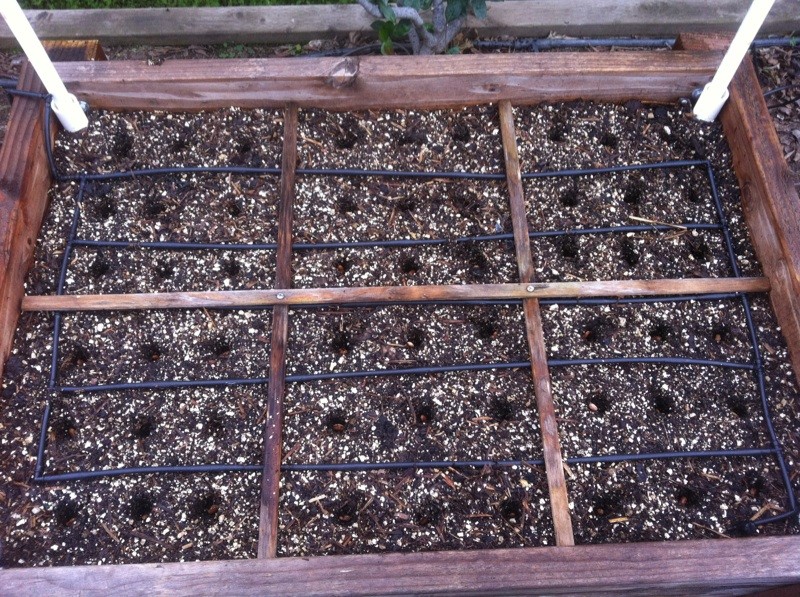 Forum Moderator Certified SFG Teacher




Posts

: 14208


Join date

: 2013-04-21


Age

: 68


Location

: Fresno CA Zone 8-9



Just tried to post the link to the youtube video explaining the method my SIL is using.  My husband watched and is intrigued.  Forum won't let me post link since I am new.  

It is a video by Albo Pepper called 
Self-watering SIP Sub-irrigated Raised Bed Construction (How to Build)


Sanderson, I think your set up is what we were originally leaning toward.
Wow! 9/sq for bush beans. I might have to do some yellow haricots, they are wonderful!

!



Posts

: 4971


Join date

: 2015-06-12


Age

: 55


Location

: Ada, Ohio



---
Permissions in this forum:
You
cannot
reply to topics in this forum