Latest topics
»
Any suggestions on the stump grinding sawdust plus soil?
by
trolleydriver
Today at 6:24 pm
»
SW Ohio (Cincinnati Area)
by
sanderson
Today at 6:23 pm
»
How many green beans per square foot?
by
sanderson
Today at 6:22 pm
»
2018 SFG in Brooks, GA
by
sanderson
Today at 6:17 pm
»
Sanderson's Urban SFG in Fresno, California
by
sanderson
Today at 6:14 pm
»
Hello from Hagerstown MD
by
sanderson
Today at 6:10 pm
»
Horsetail weed
by
Kate888
Today at 3:02 pm
»
How much time for gardening?
by
Kelejan
Today at 1:33 pm
»
Trellis mod
by
Kelejan
Today at 1:24 pm
»
CANADIAN REGION: What are you doing in March 2018
by
Kelejan
Today at 1:12 pm
»
Boat Gardening
by
mcddeb
Today at 10:07 am
»
A new SFG fan from Texas
by
AtlantaMarie
Today at 7:17 am
»
Potatoes: Yes or No?
by
AtlantaMarie
Today at 7:13 am
»
Do You Get The SFG Newsletter?
by
AtlantaMarie
Today at 7:05 am
»
Modesto, Central Valley, CA...
by
AtlantaMarie
Today at 7:03 am
»
What are you eating from your garden today?
by
Scorpio Rising
Yesterday at 8:45 pm
»
N&C Midwest—March and Spring is Here!
by
Scorpio Rising
Yesterday at 8:44 pm
»
Northern California & Coastal Valleys - What are you doing this month?
by
sanderson
Yesterday at 5:48 pm
»
How's the Weather Where You're At?
by
sanderson
Yesterday at 5:37 pm
»
has55's R & D Journey
by
sanderson
Yesterday at 3:28 pm
»
Hello from Houston
by
sanderson
Yesterday at 3:16 pm
»
Fourth Year SFG in Canada
by
Turan
Yesterday at 12:10 pm
»
New England Mar 2018
by
trolleydriver
Yesterday at 11:24 am
»
FREE WEBINAR - SFGF & PLANT PURE COMMUNITIES
by
AtlantaMarie
Yesterday at 6:40 am
»
Can you till Mel's mix?
by
sanderson
3/14/2018, 8:44 pm
»
SUGA 2018
by
countrynaturals
3/14/2018, 12:34 am
»
March Avatar: Spring Will Be Here Soon -- Promise!
by
yolos
3/13/2018, 9:32 pm
»
Mid-Atl - Feb 2018 - Anyone starting seed indoors yet?
by
Scorpio Rising
3/12/2018, 10:08 pm
»
March: What to plant in Northern California and Central Valley areas
by
sanderson
3/12/2018, 2:56 am
»
Recommended store bought compost - Photos of composts
by
Docwas
3/11/2018, 3:10 pm
Page 2 of 2 •

1, 2

I trellis my pole beans, cukes, and some melons. I use 8ft poles for my indeterminate tomato supports. They are still big bushy space hogs! I did nothing support-wise for my peppers and didn't need to.
I put my trellis on the north side, planted the beans, etc. and interplanted some chard in front of it. Other root crops or low growers can go there. There is some shade up close to the beans though.
I like the idea of squash boxes with the leftover lumber.
@Zmoore

wrote:Peppers you may not need trellis for, check what you got.  Tomatoes, are you going to do all vine type (indeterminate) or will you have bush also (determinate).  You can use a cage for bush type and that will allow you more flexibility on placement.  If you go all or primarily vine, then you can't do the "pretty" spacing one on each side, you need to slide them all preferably to north side.  Are all your beans vine or will you have bush beans?  Generally looking at your concept I'd be inclined to make sure my long beds had the long side north and build a trellis along that side.  Do beans all along the trellis in one and tomatoes in the other, then rotate/switch them next year.  Well, you have a lot of vines including a boat load of cucumbers.  Going to be a challenge to incorporate trellis for all of them.  Sandersons 2' wide idea may be a good one.  

Anyway, I digress.  What I really wanted to ask was about your lumber.  You've already dropped $100 on lumber, what size especially lengths did you by?  I'm just a little concerned that your box sizes are going to create a lot of waste of material/money.  Typically boards can be bought in 8' lengths, for a 3' box I can get 2 sides out of that with 2' of board left over.  What are you going to do with that 2'?  I see 6- 3'x3' boxes, that's 12 pieces of 2' board left over in a pile.  Total that's another 24 board feet that could easy make two more 3x3 boxes except that it's broken into 2' lengths.  What board lengths did you get?  Might want to rethink your bed sizes based on that to reduce waste.
My tomatoes are indeterminate. All the beans are pole beans. The peppers say upright so I assume those would be vertical?
For the boards I bought 10 5/4ft x 6ft x 12ft. So I cut 2 boards in half. and 7 boards in quarters, with some extra pieces that I may build another 3x3 for herbs.
@sanderson

wrote:Beebass,  I'm inclined to merge your topics on starting a new SFG into one, so you have just one site to document your journey.

One solution for ease of trellising is to limit the boxes to 4' lenths, or long boxes only 2' in width like Yolos has for beans, etc.   It looks like the 2 upper beds are 9' x 3' (did you mean 8' x 3'?)  The EMT trellises like shown in the book will last forever.

Home Depot prices for example:

The 5' long 1/2" tubing is cheap (<$2), 10' lengths are $2.30)  I have a few 8' high trellises for winter squash and cantaloupe.

The 1/2" EMT inside corner pull elbow with set screws are corner pieces more expensive, $4.62, but the metal frame you build will last forever.

The 5' wide netting comes in various lengths and will last a few years.  Mine are going on their 4th summer and are still in good condition.  5' x 30' = $9.88 -14.98.

A 100 count tube or packet of medium zip ties to secure the trellis netting to the metal tubes - $7.47.

For the tomatoes, you could have trellises on both the east and west sides.
I'm not sure what you mean by merging topics, I've never seen a forum do it like that, but that sounds good to me. The EMT was the way I was leaning towards. wasn't sure if I should move all the same plant next to each other like others had suggested. I was under the impression you wanted to separate them.
You want to separate them....unless they are sharing the trellis!
I messed up! my plan was for them to be 9x3 but I got material for 2 - 6x3 so I'm going to have to go back to the drawing.
Hey, at least you figured it out before you were in over your head!

I used my left over 2' pieces to build 2 x 2 beds.  I originally intended to plant artichokes in these boxes to give them room to grow.  Well my Artichokes all died the first year and I ended up using them for other things.  One year I experimented with different varieties of beans.  Another year, different varieties of lettuce, etc.  Here is a picture of my row of 2 x 2 boxes with different varieties of tomatoes.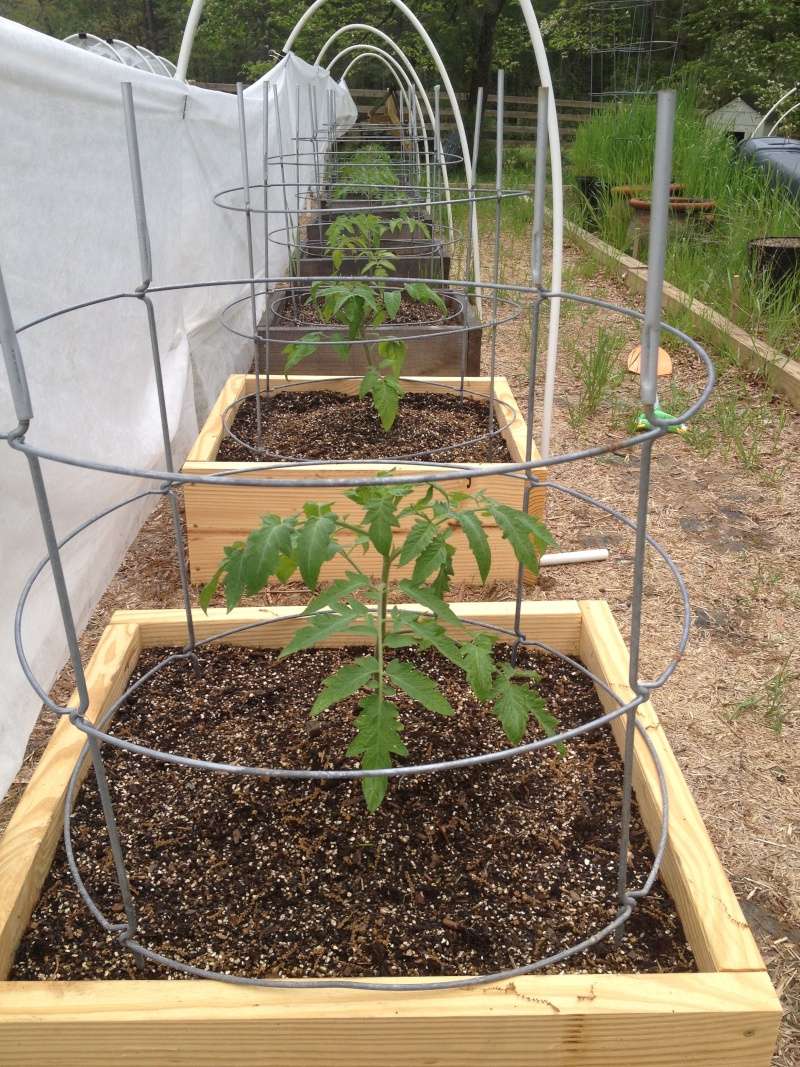 I found one of my favorite beds is a 2' x 8' bed.  I grew tomatoes in there one year, then two years with pole beans, and this year I plan to plant sweet potato vines and let the vines climb up the trellis.  The trellis is made from 3/4 inch EMT and nylon trellis material.  The nylon trellis lasted three years so far, when it deteriorates I will replace it with cattle panels.  A couple of pictures with my beans in my 2 x 8 box in 2014.



Posts

: 3371


Join date

: 2011-11-20


Age

: 68


Location

: Brooks, Ga Zone 7B/8A



Page 2 of 2 •

1, 2

---
Permissions in this forum:
You
cannot
reply to topics in this forum