I have an area that slopes down to the south where I want to place my garden.  How much of a slope is acceptable and not have your dirt and seeds wash out?  Thanks !
I'm also on a slope. While the MM may not wash OUT, it can make it rather difficult to get the seeds to stay in place. I'm specifically thinking of my carrots... Some of my other items do fine without correction.

This is assuming that you'll have a good amount of clearance at the top of your boxes for mulching...

If possible, put feet on the downward side of the boxes to even them out with the slope. My hard-won advice.

Certified SFG Instructor




Posts

: 4129


Join date

: 2014-03-18


Age

: 54


Location

: Buford, GA - Zones 7B/8A



Mel mentions in ANSFG that south sloping hill sides "may be worthwhile to develop it for your SFG."  pg 194 in the 2013 edition.  There are several ways to develop, keeping in mind you still have to access the interior of the beds.  Use the search box for Slope and you will find a few topics by members on this subject.  The lower side of each bed will be a deeper piece of wood or else you can support the boxes off the ground (table tops) with 2 different heights of legs.
Here are some stock photos I saved.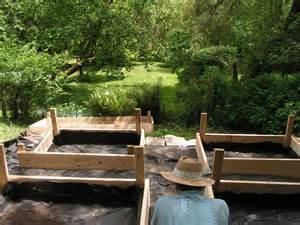 Forum Moderator Certified SFG Teacher




Posts

: 13985


Join date

: 2013-04-21


Age

: 68


Location

: Fresno CA Zone 8-9



Thanks this helps a lot !
@1loloblonde

wrote:I have an area that slopes down to the south where I want to place my garden.  How much of a slope is acceptable and not have your dirt and seeds wash out?  Thanks !
My 2 cents.  
Flatter is better and what AtlM and Sanderson have said and shown is good.
As civil engineer I'd say I use 5% as a maximum slope.  Just so we're "speaking" the same language here.  5% is an expression of slope being rise divided by run times 100 to convert it to percent for comparison purposes.  vertical change over horizontal change.  So, to say the same thing in different "languages" 5% = 5/8" per 1 foot or (5/8":12").  For a typical 4' long garden box that would be 2.5" of vertical ground change from one end of the box to the other (4').  To get an idea of what your slope is just take a short piece of wood like a 2x4, a level, and a measuring tape outside.  Mark on the piece of wood a measured distance from one end, can be 1', 2', whatever is comfortable.  Set one end of the wood on the ground on the "uphill" portion of the slope, set the level on the wood and just adjust the board up and down until you have it level, then measure from the bottom of the board to the ground at your measured mark on the board.  Now you know vertical distance (bottom of board to ground) and can divide that by you horizontal inches (distance from end of board to your mark) to get your slope, in this case your units would be inch:inch, multiply that by 100 and it'll be in percent(%). 
So, if you check your slope and find you're 5% or less, I say go for it, drop the box and run.  However, I will point out that for a typical 4'x4' box at a maximum 5% slope would only be 2.5" from one end to the other.  i.e. you'd only have to dig down about 2.5" on the uphill side and then out about level to the downhill side and you'd have an ideal flat box.  Kind of so close... why not.  If you use a board length equal to the width of garden box you plan to install then when you're checking vertical height from level to check your slope and it turns out it's over 5%, that vertical height is the amount you'd have to dig out on the uphill side to get flat, may also help in determining height of board you want to use.  
FUN WITH SLOPES:
My conclusion of 5% is based on local (Virginia) experience.  Typically around here natural ground at 5% or more is where you'll see erosion starting to happen and noticeable surface flow or run-off.  I'm not really concerned about the surface run-off on top of your box at 5%.  Sure, it's a concern, but the soil IN the box is more like a sponge and absorbs water generally better than the native soil it's on.  It takes more rain to make water run across the top of the box than it does at the bottom.  The bottom? you say.  Picture your box sitting on a slope, standard 6" tall box, as water comes down the slope it hits the "obstruction" that is your box.  Where does it go?  Some will bump around to the edge of the box and on down the slope, but some is going to find that "seam" between the bottom of your wood box and the ground, where the bottom of your soil and weed fabric are.  It will pass through one end of your box to the other and it will be joined by more water coming down through the top of the bed and it will weep out at the downstream end of your box at the "seam".  Problem is, as it is doing this it picks up fine particles of your Mels Mix and the native soil and takes it away in a "piping" or "leeching" effect.  Now, you have your weed fabric there and that helps reduce the effect and the combination of soil and fabric help reduce the rate of flow along the seam, its generally a small amount even at 5%, BUT it adds up over time.  The flatter the slope the less the effect, the steeper the more the effect.  As the small particles leech out under the box it creates larger voids, a widening or deepening of the seam if you will.  Over time this can lead to an actual measurable loss of material from your box as it kind of "squirts" out the downstream side of you box underneath.



Posts

: 225


Join date

: 2015-04-14


Location

: Virginia Zone 7a



Thanks, Zmoore.
I've always been fascinated by this photo of a hillside garden.  As a SFGer, I wondered where are the isles for walking and hauling new compost to the planting areas?  Where is the thick layer of ramial wood chips to keep the hill from eroding?  
Isles and lawn for erosion control!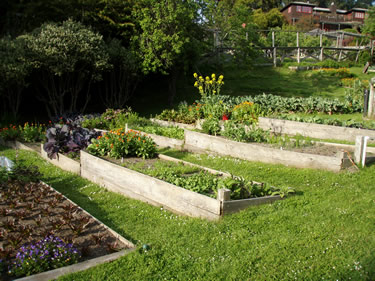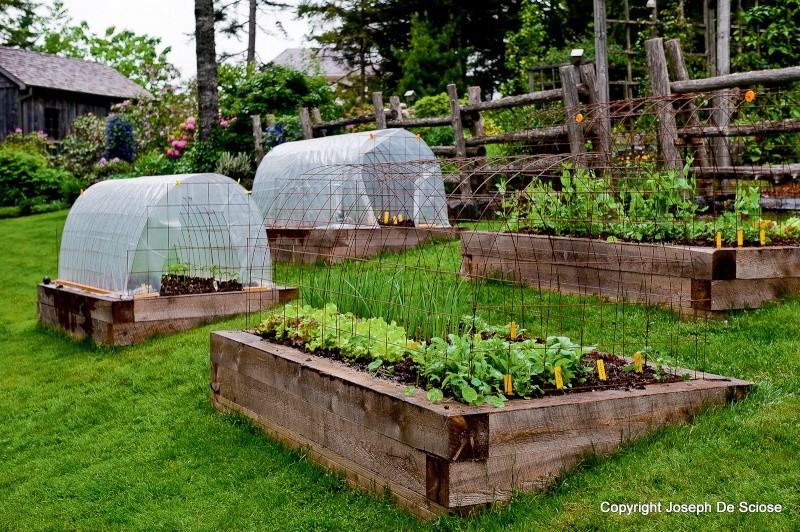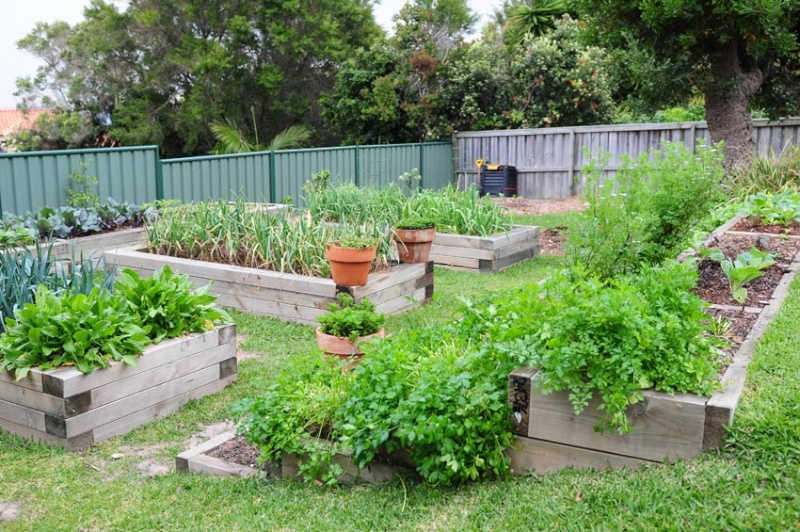 Forum Moderator Certified SFG Teacher




Posts

: 13985


Join date

: 2013-04-21


Age

: 68


Location

: Fresno CA Zone 8-9



Zmoore, you math ninja you! Lol!

I sure would hate to mow around all those boxes, and weed wack! Pretty though! And you are right, that curved garden looks difficult to manage, though beautiful!



Posts

: 4819


Join date

: 2015-06-12


Age

: 55


Location

: Ada, Ohio



@sanderson

wrote:
When seeing the topic, the concept in the above picture is what immediately came to mind.
Zmoore is right about runoff, but on something like the above I think you could use a little flashing on the uphill side to mind the gap between the ground and the bottom of the box. That should get any runoff to wander its way around the box.
As for runoff on top of the box itself, if the top the soil is level inside the box then you shouldn't have an issue.



Posts

: 81


Join date

: 2015-03-26


Location

: Midwest - Zone 6



You people are fantastic !!  appreciate the help !!!
Wow, everyone had such great input on this subject.  1loloblonde, my two 4x4 boxes are on a slight slope.  Four years ago I carved out and excavated our red clay to make them level.  It was very hard work.  However, I see from this post you have some options.  I wish you much success!



Posts

: 1425


Join date

: 2013-02-26


Age

: 48


Location

: Fayetteville, GA - Zone 7B - 8A



---
Permissions in this forum:
You
cannot
reply to topics in this forum