Hi everyone,
I'm located in central Jersey and transplanted my cucumber plant last Sat. 5/1 - and now the plant is producing more flowers then I expected, is that a problem?? Been researching and it seems I have male flowers growing since I don't see any fruit behind it....the plant hasn't grown much taller either since I transplanted it (my tomato plants and eggplant have though!).....I'm also not using Mels Mix - I don't have access to Vermiculate or the premixed Mels Mix from Lowes....so I just used the Miracle Grow Garden Soil and mixed in some compost...hopefully the soil has nothing to do with it, my other plants are doing great!
Any help would be appreciated, attached are some pics of the cucumber plant. Thanks!!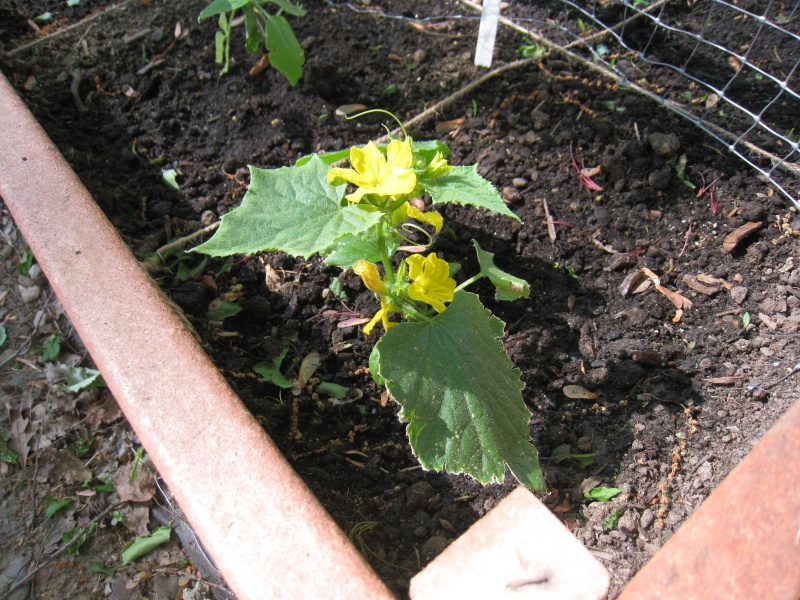 Posts

: 3


Join date

: 2010-04-22



Your plant looks fine. I wish mine was blooming as well. Don't worry about the all male blossoms right now -- the female ones will follow. I have sometimes have a problem telling the cuke males from females since the blossoms are so small, so there may be a female or two there. If not, they will come.



Posts

: 904


Join date

: 2010-03-03


Location

: USA



That sure is a pretty cuke plant!! It's coming along fine.

Forum Moderator Certified SFG Teacher




Posts

: 14167


Join date

: 2010-03-06


Age

: 55


Location

: Keene, NH, USA ~ Zone 5a



As has already been said, there's nothing wrong with your plant. It's looking good and you will see cukes forming very soon.


Certified SFG Instructor




Posts

: 778


Join date

: 2010-03-02


Location

: Frisco, Texas



That's good to know, since the book seemed to say that once a plant has flowered, it won't bear any more fruit.

Also I thought all cuke plants were vines but then I saw that the book says some are bush. How do you tell the difference?


Maybe in a year or two I won't feel so confused all the time with all the various details of gardening!! :scratch:



Posts

: 45


Join date

: 2011-06-22


Location

: Manchester, NH, Zone 5



cucumber plants will flower continuously...not one and done.

I have planted both bush-type and vine-type cucumbers the last couple of years. My bush-type grew to about 4' in ht but still needed a small trellis for support. My vine-type is currently about 5' tall and growing every day...on a large trellis.



Posts

: 1147


Join date

: 2012-01-22


Location

: kansas city



LtTawnyMadison don't worry about knowing everything, you will learn so much! Even if you know
it, you can forget it and have to refresh your memory. At least that is
the way I am!

Welcome to the SFG forum! You will like it here and if you have any questions, just ask! There are so many people willing to help and they know so much!

Your cucumber plant looks very healthy!



Posts

: 1632


Join date

: 2010-06-04


Age

: 63


Location

: Northern Utah




---
Permissions in this forum:
You
cannot
reply to topics in this forum