Just finished my first square foot gardening structure at my new house and neighborhood dogs insist on digging in it. I have not planted yet or I would be furious. Is there an effective way to stop this?
Thanks in advance and I look forward to enjoying this forum.
Doug
I use chicken wire cages on top of my 4x4 SFG beds to keep out the local critters. Mel shows how to do it in his All New Square Foot Gardening book. If the dogs are big and insistent you may have to tie the cages down so they do not move them out of the way.

Forum Moderator




Posts

: 3023


Join date

: 2015-05-04


Age

: 69


Location

: Ottawa, Ontario, Canada



Hi,
 Thanks for the reply. I had thought about that but, was really wondering if there is a repellent (home made or commercial) that really works?
Doug
We make a fence with chicken wire and those green fence post ya can get from a hardware store. We start the fence secure it across the 4 foot section run it along the 12 ft side of our main garden.  leaving the end loose then start a new wire in that corner across the 4 ft section and down the 12 ft length and hook it on top of the first wire for easy removal then attach the long section fo the first wire over the start of the other.  That way both wires are very easy to unroll and stand at the ends of the garden while ya work the box.  Works great for us and the dogs stay out.  leaving your grid on the garden helps too we use nylon fishing twine for our grids and the dogs hate walking through it.  I found this picture from last winter showin
g the fence.  This is looking down a row of our boxes ya can see the fences there.  They are dead easy to do and cheap to buy last years and work well for us.



Posts

: 615


Join date

: 2014-12-06


Age

: 59


Location

: South Louisiana zone 10



Tred, Welcome to the Forum from California!
It sounds like you have an open yard, unlike a city yard with fences for each property. What are your future plans? You have one 4' x 4' built at this point? Do you plan on making more boxes? Do you have deer or gophers in the area? I put "fences for gardens" in Bing search and found a lot of photos of ways people have fenced in garden areas. If you can provide more information and maybe a photo of the area, it will help the folks here, help you.
Have you tried the Search box in the upper left corner?

Forum Moderator Certified SFG Teacher




Posts

: 13770


Join date

: 2013-04-21


Age

: 68


Location

: Fresno CA Zone 8-9



HI,
 Will get pictures as soon as possible. May be a few days, start a 51 hour shift Thursday at 7am. I am an Firefighter/EMT, normally work 24 hour shifts but am covering for a friend.
I Just got back from Tractor Supply. Electric fence will be installed tomorrow

. May be a little painful but at least the intruders will avoid lead poisoning. Shouldn't take many encounters to decide it is better to dig ELSEWHERE !!!
Thanks for all the responses
Doug
Hi Tred. Welcome from Atlanta, GA.

We used an electric fence at an old house we lived in to keep the pups in the yard. So it should work for the garden as well...

And this sounds a little gross, but it worked... You might try peeing on the border yourself. My dear hubby (DH) did that on their dog house. They didn't pee on that thing for 6 months...! I bet it'd work for digging too.

Certified SFG Instructor




Posts

: 4081


Join date

: 2014-03-18


Age

: 54


Location

: Buford, GA - Zones 7B/8A



Hi Tred!  
We have had problems with our own dogs not wanting to stay out of the SF beds, so I built pvc cages and covered them with chicken wire to keep them out, not to mention rabbits, squirrels, birds, and who knows what else that comes to visit us at night.
They're very easy to make, and come in handy for other things, like frost protection, insect netting (tulle), shade cloth, etc.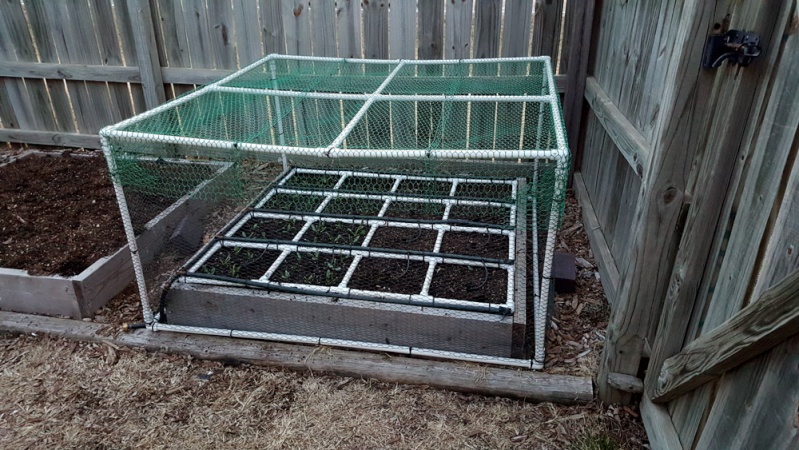 Posts

: 687


Join date

: 2015-03-20


Location

: Northeast KS, USA; Zone 6a



Kate, I love that thing but where to you store it in the winter?
CC



Posts

: 5926


Join date

: 2012-05-20


Age

: 61


Location

: elbow of the Cape, MA, Zone 6b/7a



Kate, It sounds like your frames are year-around. ??

Forum Moderator Certified SFG Teacher




Posts

: 13770


Join date

: 2013-04-21


Age

: 68


Location

: Fresno CA Zone 8-9



This winter, I stood them up next to a far corner of the house, filled them with patio containers and other gardening accessories, and covered them with tarps. When I get my shed to store all the accessories, I'll probably just leave them out on the beds. Haven't decided yet whether it's better to cover them or not.



Posts

: 687


Join date

: 2015-03-20


Location

: Northeast KS, USA; Zone 6a



---
Permissions in this forum:
You
cannot
reply to topics in this forum