Page 2 of 2 •

1, 2
@landarch

wrote:When I pot-up I kick my mix with a little home made compost and purchased soil mix with mycorrhizae (

Mycorrhizae

are symbiotic relationships that form between fungi and plants. The fungi colonize the root system of a host plant, providing increased water and nutrient absorption capabilities while the plant provides the fungus with carbohydrates formed from photosynthesis.).

You will find this marketed as Myke in garden centers...for trees, shrubs, veggies.

I try to get my seedlings hardened off and under natural sunlight as soon as possible...I typically set all my plants outside before heading to work in the morning...covering with Agribon when temps are in the 30's.  Easter morning it snowed then temps rose to low 50's, it was 75 degrees under the Agribon blanket.
Landarch
a picture of what you have described.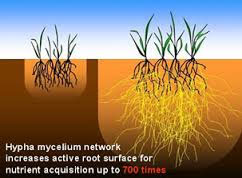 Certified SFG Instructor




Posts

: 1917


Join date

: 2013-02-16


Age

: 81


Location

: Indiana PA....zone 5



Thanks Yolos & Landarch, I had just watched a video on Scarification and was going to post it, but CK has that covered already. I may have to try starting some seeds, just to see it work.



Posts

: 1043


Join date

: 2010-04-04


Location

: Hampstead, NC



Previously I put spinach seeds in the fridge but did not soak and had much less than 50/50 success...with the method Kate described the germination went up tremendously...you basically pick all the successful seeds from the paper towel to plant/pot up...which kicks your ultimate success rate to near 100%.

My original seeds are slowly germinating over time, especially since I've been leaving out at night during really cold weather, rain, snow, etc.



Posts

: 1144


Join date

: 2012-01-22


Location

: kansas city



RT, the nice thing about starting your own is a bit of a jumpstart, as well as some variety that you would never even get to try. If you have a south or east facing window, might wanna give it a try!

Epic, "The Kate Method"! Love it! I am a believer; 18 of 21 for me, and I didn't wait for sprouting.



Posts

: 5116


Join date

: 2015-06-12


Age

: 55


Location

: Ada, Ohio



Haha! The Kate Method, seriously? I guess I like the sound of that, but I can't take much credit for thinking of it, since I got various pieces of it from other gardeners. This is just what happens when everyone shares what they discover. I'm glad you found what I posted to be helpful.



Posts

: 769


Join date

: 2015-03-20


Location

: Northeast KS, USA; Zone 6a



Page 2 of 2 •

1, 2
---
Permissions in this forum:
You
cannot
reply to topics in this forum