Latest topics
»
Hail Damage (Pics) - Am I in Trouble?
by
yolos
Today at 10:02 am
»
Third Year SFG in Canada
by
yolos
Today at 9:18 am
»
Impossible Gardener in Delaware
by
stealthmayhem
Today at 9:16 am
»
CANADIAN REGION: What are you doing in JUNE 2017
by
Jaffa55
Today at 9:06 am
»
Recommendations for balcony plants
by
AtlantaMarie
Today at 8:17 am
»
Newbie in North Carolina!
by
AtlantaMarie
Today at 8:14 am
»
2017 SFG in Brooks, Ga
by
yolos
Yesterday at 10:48 pm
»
New England June 2017
by
Scorpio Rising
Yesterday at 9:20 pm
»
Gardening in Central Pennsylvania, 3rd year SFG
by
Scorpio Rising
Yesterday at 9:10 pm
»
table identity
by
Scorpio Rising
Yesterday at 9:07 pm
»
Things You Never Knew Existed Until SFG...
by
Scorpio Rising
Yesterday at 8:59 pm
»
15 bean soup mix - can the beans be used for planting?
by
walshevak
Yesterday at 8:34 pm
»
Red plastic tomato trays, anyone?
by
AtlantaMarie
Yesterday at 2:42 pm
»
Pea blight
by
sanderson
Yesterday at 2:19 pm
»
Cinnamon, Fungus, and Gnats
by
Fiz
Yesterday at 2:16 pm
»
What are you eating from your garden today?
by
CapeCoddess
Yesterday at 1:04 pm
»
TrolleyDriver's Compost Thermometer
by
trolleydriver
Yesterday at 12:52 pm
»
Coconut Coir
by
No_Such_Reality
Yesterday at 10:13 am
»
Trellis
by
trolleydriver
Yesterday at 7:30 am
»
Pesticide use?
by
jimmy cee
6/27/2017, 10:32 pm
»
N & C Midwest--It is JUNE!!!! Garden Time!
by
Scorpio Rising
6/27/2017, 9:16 pm
»
AtlantaMarie's Garden
by
AtlantaMarie
6/27/2017, 12:54 pm
»
Tips for compost tumbler
by
BeetlesPerSqFt
6/27/2017, 12:33 pm
»
New Green House
by
Hoggar
6/27/2017, 12:28 pm
»
to mulch or not to mulch
by
sanderson
6/27/2017, 11:40 am
»
who has chickens
by
sanderson
6/27/2017, 10:23 am
»
Bug Identification
by
Robbomb116
6/27/2017, 9:17 am
»
update pics
by
llama momma
6/27/2017, 7:29 am
»
Plans for 2017 revisited
by
Judy McConnell
6/26/2017, 1:48 pm
»
What won't you grow next year or are still trying to grow??
by
countrynaturals
6/26/2017, 1:13 pm
Page 6 of 6 •

1, 2, 3, 4, 5, 6
@BeetlesPerSqFt

wrote:

@CitizenKate

wrote:Meanwhile, back in Kansas...  


Today (like I do just about every year at planting time), I was starting to think, "What have I gotten myself into???"  Once again, I got a little too carried away, but it will be fun again when all the plants are in and I don't have to babysit them constantly any more.

Then it'll be time for green beans!

Thanks for letting me prattle on about this.  And my family thanks you for the free group therapy.  

Ha! Yup, babysitting plants. "I need more light, the eggplant is hogging it all!" "I'm hungry can I have some fertilizer?" *wiggles roots through a drainage hole* "I'm out growing my pot." "Look at me, I'm growing into the light fixture and frying my leaves!" Ugh, can't you plants go outside to play? "No... it's too cold and we're too little. And can we have a drink of water? We're

thirsty." *

overly-dramatic leaf flopping*

They'll grow up soon.
LOLROFLMAO! 




Posts

: 2063


Join date

: 2016-04-12


Location

: Redding, CA



Lovely day if you are a duck. Can do nothing outside. Prom is literally a wash....kids still have fun though!

Put my marigolds outside for a drink, they are big, and I will need to put them in their permanent homes next weekend! Pinched off 3 flower buds until they get seated where they can grow. Everything else stayed inside. Sunflowers are coming up, put them under lights. Melons up except for the Minnesota Midgets. Am going down to thin them later.

Need to get my Annex filled with MM. And my local nursery has rhubarb, the red kind! No blueberry bushes yet she said soon.




Posts

: 4848


Join date

: 2015-06-12


Age

: 55


Location

: Ada, Ohio



Sounds like you got some of the rain we got yesterday.
An unexpected (but very welcome) break from the rain here today.  We got a total of 6-1/4 inches of rain in the past week, so the yard is a muddy mess.  All the foot traffic around the raised beds has killed off the nice fescue we once had covering that entire area, plus now the weeds and bermuda grass have been greatly encouraged.  So now I'm really unhappy with the landscaping around the beds.  I finally arrived at the decision to just kill off everything and mulch the entire area.
But not this week.
Today, I put in pepper plants in the same box with the tomatoes, so now that's a full house.  For this bed, I changed the drip irrigation slightly, so it doesn't have pvc going around the perimeter of the box, and have the irrigation tubes so they sit on the edge of the box.  This added about another 1/2-inch or so to each square, but I also had to some up with a different way to anchor the tubing along the edge of the box.  I found some cheap clamps (for PEX pipe) that mount where I need them, so it looks like this variation is going to work, too.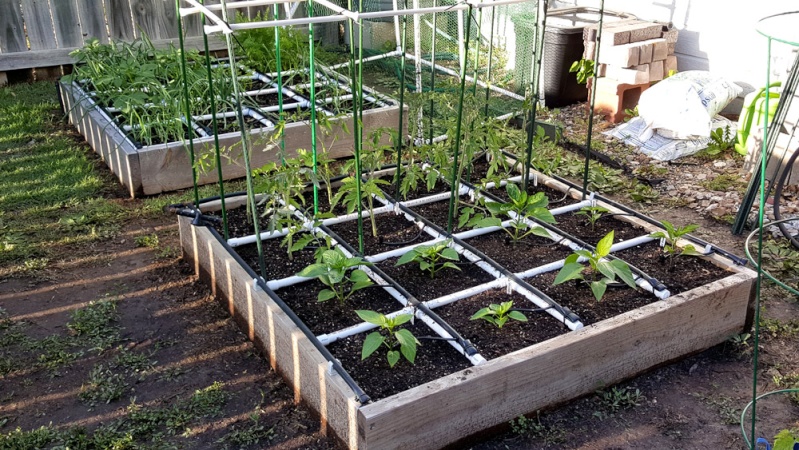 Meanwhile, I was so busy getting plants in, the leafy bed got a little neglected, and with all the rain we've had... let's just say they seem pretty happy over there.
The two cabbages are the best I've had yet.  The tulle has done a wonderful job of keeping out the cabbage moths.  The couple of nibbles you see on the front cabbage occurred while they were sitting in pots outdoors waiting to be put in.  I squirted the plant with water to remove anything crawling on it and made sure it went into the bed clean.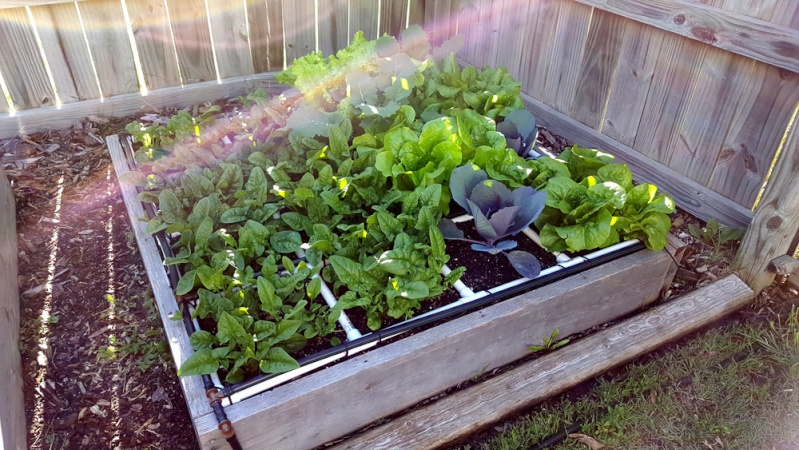 I also wanted to mention how many worms I'm finding as I put plants in the beds. Remember a while back, when I mentioned tearing out the bed linings on a couple of my beds to see if that would encourage worms to move in? Well, wow. At one point, four of them popped out of the mix as I was planting something, scattered, and plunged back into the mix. So yeah, I think we're going to have a good partnership. Eat up, little wormies, and poop your hearts out!



Posts

: 712


Join date

: 2015-03-20


Location

: Northeast KS, USA; Zone 6a



Looks great, Kate! You have a lot of salads in your future! My one experimental cabbage made it through the cold. I was surprised! I haven't even ventured out to the main beds, just rained all day. Hopefully a reprieve tomorrow?
Yeah, I have bottomless beds, so I have worms galore too. They adore MM, I assume because it is easy to get around in! Like gliding!




Posts

: 4848


Join date

: 2015-06-12


Age

: 55


Location

: Ada, Ohio



WOW! Beautiful beds, Kate. 




Posts

: 2063


Join date

: 2016-04-12


Location

: Redding, CA



Page 6 of 6 •

1, 2, 3, 4, 5, 6
---
Permissions in this forum:
You
cannot
reply to topics in this forum