Depends what variety you are growing.  My large indeterminate tomatoes grow over 8 feet high so I have 8 ft high tomato cages.  This is July 5 and they just kept growing.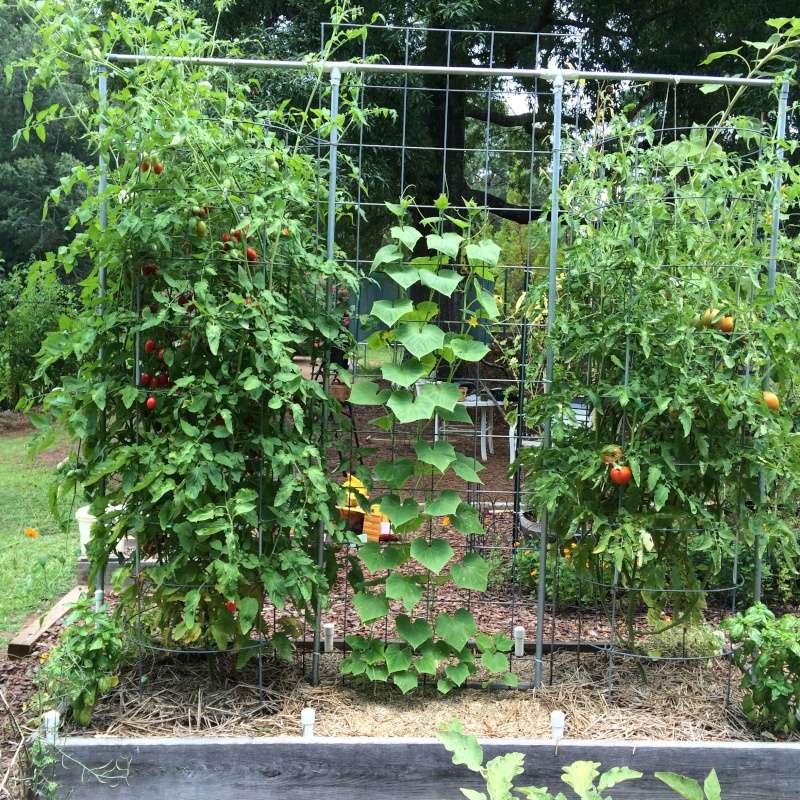 In between the the two tomato plants is a cucumber on a trellis.  It looks like about 5 ft tall July 5.
I grow rattlesnake beans and they grow over 10 feet tall.  I have an 8 ft high trellis and they grow over the top of this and get all tangled together at the top.
This will be my first summer growing vining squash so I can't help you with that.  I do have an 8 ft tall trellis that I will be growing on though.
Warning
- most gardeners do not have trellises this tall so someone else will probably chime in shortly with different heights.



Posts

: 3098


Join date

: 2011-11-20


Age

: 67


Location

: Brooks, Ga Zone 7B/8A



I have 8' trellises for cantaloupe, winter squash, and Rattle Snake beans. The 5' trellises are a little short for the Kentucky Wonder beans and cucumbers. The problem is, EMC and PVC come in 5' and 10' lengths and 10' lengths, respectively. So 5' and 8' trellises seem to be the most common.


Forum Moderator Certified SFG Teacher




Posts

: 13769


Join date

: 2013-04-21


Age

: 68


Location

: Fresno CA Zone 8-9



I use a 6 foot trellis for my cherry tomatoes.  But sometimes, like last year, they grow to 15 ft. So I have to weave them down and back up thru the trellis.  Not a bad problem to have.

Indeterminate tomatoes go on a 5 footer.  Mine don't get much taller than that.
Cukes also go on 5 footers.  They can be woven also if necessary but I don't usually have that nice problem with cukes.
Pole bean go on a 6 footer but get all tangled and bunched up at the top.  Doesn't affect the harvest though.
CC



Posts

: 5926


Join date

: 2012-05-20


Age

: 61


Location

: elbow of the Cape, MA, Zone 6b/7a



When I was at the farm I kept a garden of about an acre in size.  For tomatoes and other vine crops I liked to trellis I would use cow panels bought at the local TSC store.

To use these 16 feet long by 5 feet high panels I would lay them flat then mark the at 6 feet from each end.  Then with some help I would bend the two six feet parts to a right angle to the 4 feet middle.  Stood up there was an arbor 6 feet tall and 4 feet wide.  This was set in the garden bed and plants were put on each of the 6 feet side.  Tomatoes and other vine crops would grow up the sides and over the top of the arbors.  They were anchored with "T" post.

Tomatoes, cukes, squashes and cantaloupes were some of the crops grown on these arbors.  The cow panels were cheap at about $15.00 each and are still being used by the kids 30 years later.

Cow panels can also be used in place of string or wire.  You need a good pair of bolt cutters to cut them to size if you need a shorter than 16 feet piece.  Go check these out at a local farm store.  BTW the TSC stores are the cheapest for these around here.



Posts

: 5


Join date

: 2016-12-11


Location

: Southwest Indiana



Cow panels can also be curved to create an arbor-trellis.  This stock photo with pipe and trellis could be recreated with cow panels??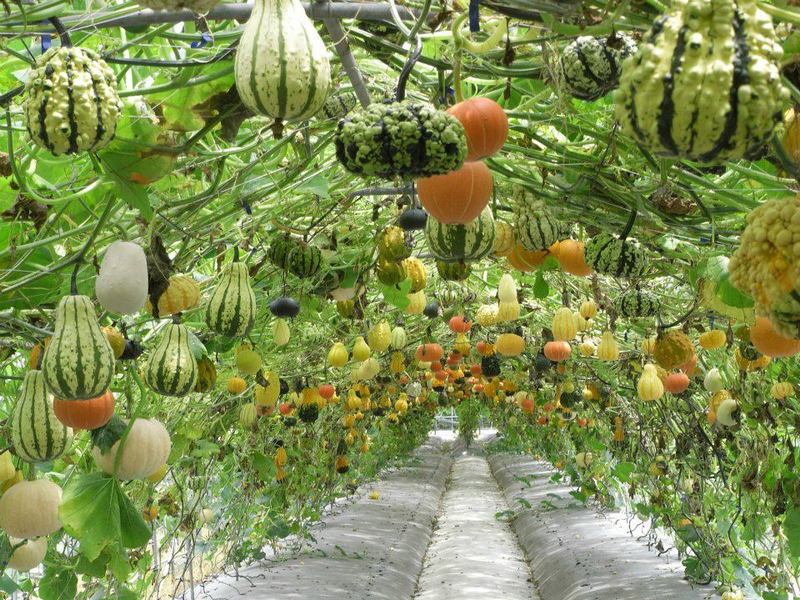 Forum Moderator Certified SFG Teacher




Posts

: 13769


Join date

: 2013-04-21


Age

: 68


Location

: Fresno CA Zone 8-9



Gib, TSC is my go to for stuff like that too.  

I could copy CCs post for what I have.



Posts

: 4672


Join date

: 2015-06-12


Age

: 55


Location

: Ada, Ohio



---
Permissions in this forum:
You
cannot
reply to topics in this forum