Tried to do some more work in the community garden this weekend before rain forecast for the next day or so.  I was interrupted by a flat tire on Saturday, wife out of town, and a 3.5 mile walk back home 'cause I can't stand a 4 hour wait at the tire center.
Anyway, here are pics from my community garden plot this evening.  I kinda do a twist on the SFG method.
Here is a pic showing corners of two 4x4 boxes.  I eliminate the grids because I tend to mass plant the same thing in a full or half box...I can get a higher plant count without the grid.  The space between the boxes is native soil that I plant in green beans in summer and spinach in winter.  Upper left box is cylindra beets from seed, lower left is cylindra beets from transplant, upper right is onions, lower right is a baby leaf spinach. I use the tomato cage in between boxes to keep people from walking through the bean seed.  This year I'm trying Dragon Tongue beans from Baker Creek.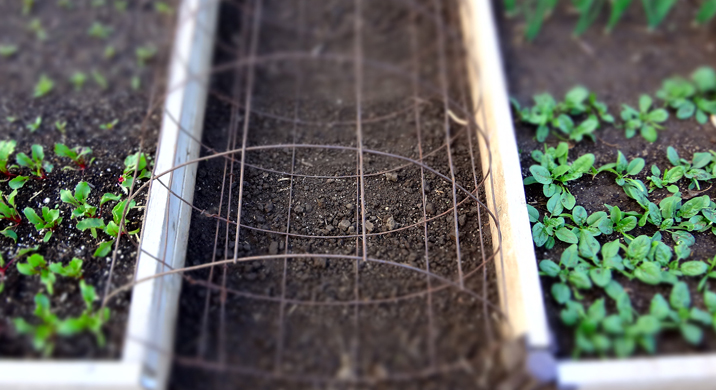 Here's a shot of my 4x8 box with cole crops (broccoli, cabbage, cauliflower in the middle and lettuce on the sides (buttercrunch and igloo).  Linear plantings of the same plant type lets me cover with Agribon...you can see the small hoop loops for frost protection...after the hopeful rain, I'll go to an 4' metal or pvc conduit hoop for protection from the cabbage looper (seeing the first dreaded moths in the last day or so).  Short plants like lettuce is good for the edges.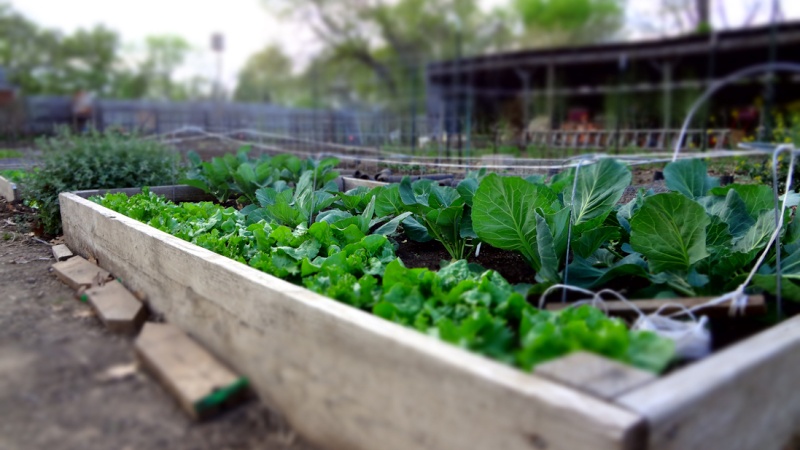 First Sugar Ann pea blossom of the season.  I started these indoors and transplanted a few weeks ago...also used a pea innoculant.
Cattle panel trellis with new Sugar Ann pea transplants...I start these indoors and get good germination in about 3 days.  Other trellis veggies can go in on the other side in mid-May.
25' long trellis with Sugar Ann peas...tendrils starting to grab.

Last edited by camprn on 4/18/2016, 1:54 pm; edited 1 time in total (Reason for editing : expanded title)
Nice, Landarch! My peas are hardly up, and the ones that are a re maybe an inch above ground.

Your layout is very thoughtful. Can't wait to see your season!



Posts

: 4825


Join date

: 2015-06-12


Age

: 55


Location

: Ada, Ohio



Lotta good stuff going on there, landarch. Your cabbage looks great. How long do you let them grow indoors before transplanting them?



Posts

: 712


Join date

: 2015-03-20


Location

: Northeast KS, USA; Zone 6a



So this is at the community garden. I bet your plot looks nicer than anyone else.

Forum Moderator Certified SFG Teacher




Posts

: 13989


Join date

: 2013-04-21


Age

: 68


Location

: Fresno CA Zone 8-9



@Kate - this year I started early and experimented with weather/wind protection.  Basically potted up plants once true leaves appeared and planted when plants looked strong and healthy...then covered with Agribon.

@Sanderson - we have about 17 25x25 plots in the community garden...they all look pretty good in the beginning, however the beauty of SFG methods is weed control later in the season...more harvesting than down on hands and knees battling crabgrass, foxtail, dandelions, etc.

I wish my plant spacing were more consistent...my tomato cages tend to lean, etc.  I have some things to work on.  Need to scatter some wildflowers for the bees over the next week or so.
Cool photos landarch, thanks for sharing!



Posts

: 21


Join date

: 2016-04-05


Location

: Columbus, OH




Forum Moderator




Posts

: 3212


Join date

: 2015-05-04


Age

: 69


Location

: Ottawa, Ontario, Canada



Yes your plot looks great




Posts

: 223


Join date

: 2015-09-10


Age

: 44


Location

: Ottawa, Ontario



we finally had a great soaking rain all day yesterday...more in the forecast this evening.  Plants should be jumping out of the ground after this.
---
Permissions in this forum:
You
cannot
reply to topics in this forum