Latest topics
»
MD Home & Garden Ticket Drawing (until 2/24/18)
by
sfg4uKim
Today at 8:41 am
»
A new SFG fan from Texas
by
Mastogarden
Today at 8:16 am
»
N&C Midwest: When are your starting seeds?
by
aliceingardenland
Today at 7:26 am
»
Hi Everyone
by
AtlantaMarie
Today at 4:19 am
»
Happy Birthday!!
by
AtlantaMarie
Today at 4:16 am
»
Mid-Atl - Feb 2018 - Anyone starting seed indoors yet?
by
BeetlesPerSqFt
Today at 12:22 am
»
Path Width
by
BeetlesPerSqFt
Yesterday at 11:49 pm
»
Hello from Northern Ontario Eh!
by
skidmoca
Yesterday at 9:04 pm
»
Eggplant - (Japanese) Millionaire
by
Scorpio Rising
Yesterday at 8:57 pm
»
Floating Away and New Seeds!
by
Scorpio Rising
Yesterday at 8:55 pm
»
How's the Weather Where You're At?
by
Scorpio Rising
Yesterday at 8:47 pm
»
ahoy mateys from Arkansas
by
Scorpio Rising
Yesterday at 8:45 pm
»
N&C Midwest: February 2018 !
by
Scorpio Rising
Yesterday at 8:37 pm
»
Northern California & Coastal Valleys - What are you doing this month?
by
sanderson
Yesterday at 4:22 pm
»
Sowing Experiment! Anyone Tried This?
by
Scorpio Rising
2/21/2018, 8:49 pm
»
Fourth Year SFG in Canada
by
trolleydriver
2/21/2018, 5:13 pm
»
Your favorite blackberries or raspberries?
by
AtlantaMarie
2/21/2018, 7:07 am
»
Aerogrow by Miracle Grow
by
AtlantaMarie
2/21/2018, 7:05 am
»
Seed Organizing Ideas
by
AtlantaMarie
2/21/2018, 7:04 am
»
Areogardening
by
BeetlesPerSqFt
2/20/2018, 9:54 pm
»
2018 SFG in Brooks, GA
by
Scorpio Rising
2/20/2018, 9:39 pm
»
has55's R & D Journey
by
sanderson
2/20/2018, 1:55 am
»
parsnips in square foot garden?
by
sanderson
2/20/2018, 1:43 am
»
WANTED: Pictures of Compost Bins
by
bigdogrock
2/19/2018, 10:28 pm
»
The New Square Foot Gardening Foundation page is now online!
by
sanderson
2/19/2018, 6:40 pm
»
February: What to plant in Northern California and Central Valley areas
by
sanderson
2/19/2018, 6:31 pm
»
Invasive Tree Roots - Very important topic for newbies.
by
sanderson
2/19/2018, 6:23 pm
»
excited to be here!
by
Kate888
2/19/2018, 2:57 pm
»
Butterfly Junction
by
sanderson
2/18/2018, 12:16 am
»
New England Feb 2018
by
sanderson
2/17/2018, 8:14 pm

Hey everyone! 
Great to be here, this is my first post in the SFG Forum! 
I'm working on an urban agriculture project called AKER, and was hoping for some feedback on an idea. At AKER, we design and fabricate small growing kits using digital tools, and share the designs online for free (everything is open source). 
I'm developing a micro-growing system for taking plants/veggies from seeds to produce in small interior / exterior spaces. The idea is build around the concept of Soil Blocks (you may be familiar with them) which we are calling Soil Cubes (why not?). I've attached a simple visual diagram that shows the concept, but I'll go into some more detail by referencing the numbers in the diagram below. 
I would like to know what you guys think of this system, because if we move ahead with it, it will become the foundational concept upon which we build a bunch of new designs this year. 
Is it practical for urban dwellers who only have interior space (perhaps balconies)? Is it efficient and likely to succeed in your opinion? Is soil valid for urbanites in the face of aquaponic and hydroponic systems? 
(5mm=50mm / 10mm=100mm -- I messed up!)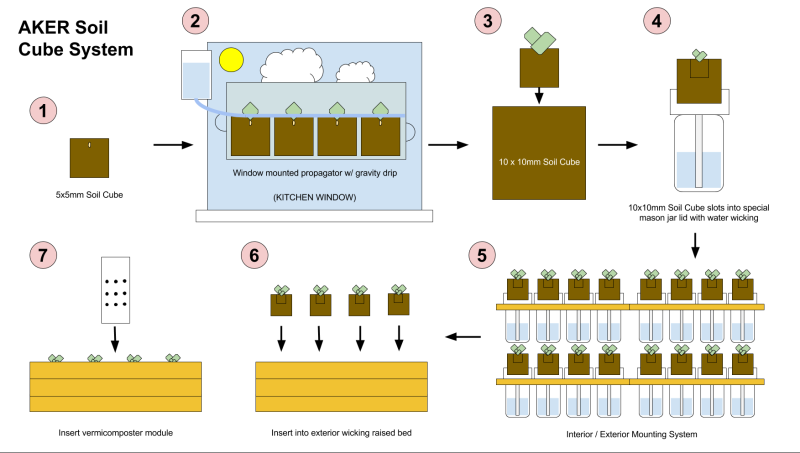 Here are the numbers on the diagram outlined in more detail: 
1. We have a 50mm Soil Cube Maker that I designed and tested recently. See it here: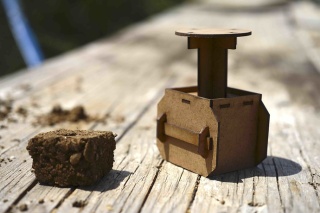 2. The idea here is that the propagator sticks to any window with a couple suction pads. This helps heat the cubes and keeps the air around them moist (if we can achieve a tight seal against the glass). We have a Soil Cube Propagator design that needs work, but is almost ready. The final version will be made from clear acrylic, not the material you see here:
3. Haven't started work on the 100mm Soil Cube Maker yet, but this would be similar to no. 1, but larger. Also, I would like to add wick feed, so when you press a 100mm Cube, the wick is stamped into it. 
4. I want to design a little holder that a mason jar cap can screw through onto the jar. The 100mm Soil Cube would slot onto this, and the wick would drape into the jar with water inside. 
5. The mounting system can be modular, and hang onto a wall near an interior window or on an exterior. 
6. The cubes can be placed into the soil using the Square Foot Gardening method, allowing users to plan and anticipate how much produce they can create. 1 Square Foot is roughly the same as 300mm x 300mm, so 3 x 100mm cubes by 3 x 100mm soil cubes (depending on space needed by plant) can piggyback on this same methodology. 
7. This is not necessarily representative of how we would add a Vermicomposter, but conceptually the idea is we could add different module to the Wicking raised bed. Also things like a "Greenhouse Cover" and a structural matrix to stack these beds vertically. 
Please let me know what you guys think of this concept and if you have any questions! We would love you to visit our forum and introduce yourselves (I can't post links but it's www (dot) community (dot) aker (dot) me) if you're interested in what we're doing -- there are many opportunities to collaborate and all our designs are freely available to everyone. 
Many thanks for your time! 
Tristan



Posts

: 2


Join date

: 2016-06-09


Location

: USA



Triastn, interesting concept...at first glance 1) windows may not always be warm, 2) hours of sunlight may be a concern - not enough 3) it may work for something like microgreens, 4) water is heavy...is the system designed to suction to glass at every step?

This concept reminds me of a couple things 1) Urbio - a product on Shark tank, modular system that lets on grow plants on a wall, 2) my sister is a grade school teacher, to germinate seeds, they tape clear zip lock bags to the classroom window.



Posts

: 1146


Join date

: 2012-01-22


Location

: kansas city



Thanks Landarch.

1 & 2) Yes I suppose this would be the problem outside too no? So would have to be environment / season appropriate...but still emulates a micro-greenhouse system, would you agree? 

3) Will look into microgreens, thanks

4) Only the 50 cm cubes would mount to the window with suckers, testing indicates this is light enough to work with 4 x cubes at a time. The larger cubes and the raised wicking bed would be either wall mounted / placed on the floor or stacked respectively.

Will look into Urbio, thanks.

Any other comments would be awesome! Thanks.



Posts

: 2


Join date

: 2016-06-09


Location

: USA



It looks interesting - I don't do anything indoors as I have a greenhouse and 5 acres but I WELL remember the early days when all I had was a 1 bedroom condo and a balcony and would have loved to have some kind of option to grow things :-)

Keep up the good work!



Posts

: 1918


Join date

: 2012-12-07


Location

: Central Calif Mtns.






Posts

: 68


Join date

: 2015-03-19


Location

: Hawaii



Tristan, I would be concerned that the suction cups would fail with indoor/outdoor temperature differences. I know all of my Christmas lights fell off the window one Christmas. I personally don't see competition with hydroponics, which requires electricity. Your design appears to involve passive watering. Different appeal.

Forum Moderator Certified SFG Teacher




Posts

: 15400


Join date

: 2013-04-21


Age

: 69


Location

: Fresno CA Zone 8-9




---
Permissions in this forum:
You
cannot
reply to topics in this forum