My garden is doing well , except my tomato and cucumber leaves are turning yellow/brown. I looked around on the internet and there seems to be a variety of things could be causing this. I was hoping if I posted a couple pictures someone here could narrow it down for me.
Thanks
Dan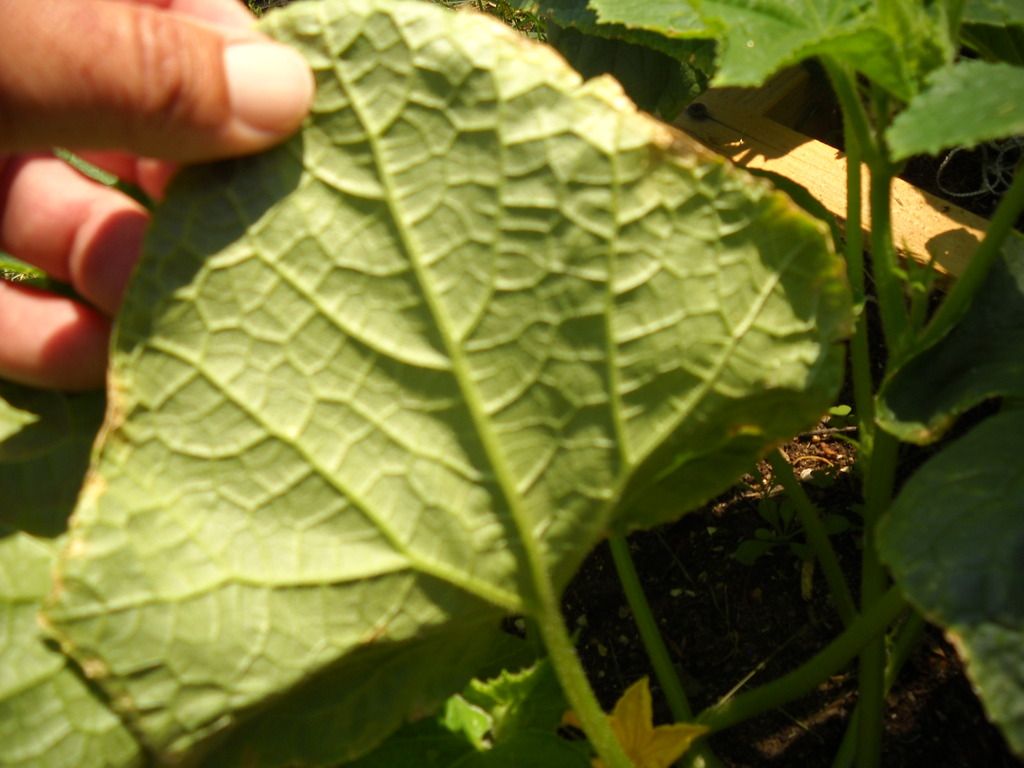 Posts

: 7


Join date

: 2016-05-15


Location

: Burlington County, NJ



Dan, I put this thread out earlier. It may be helpful.
 

Cucumbers Growing Problems: Troubleshooting


Tomato Disease Identification Key By Affected Plant Part: Stem and Whole Plant Symptoms
great photo gallery for cucumber, tomatoes and other plants. I didn't see pictures of your cucumbers, it may be nutritional.

Vegetable Pathology – Long Island Horticultural Research & Extension Center
Hi, Dan--Looks like 2 different things to me. Are the new leaves on the cukes looking normal? Just the older leaves affected? If so, may be transplant shock which will just go away if this is the case. If all the leaves have the narrow brown area on the edge. I need to think further.
The tomatoes; Are all of them affected similarly? Or only one variety? Looks a little like a mosaic virus, I need to refresh myself on that...will let you know!
Tell us as much as you can, especially about the leaves that are affected.



Posts

: 4508


Join date

: 2015-06-12


Age

: 55


Location

: Ada, Ohio



Tomatoes: Early Blight, need to get yourself a fungicide! Number 11 is my best guess!

http://www.saferbrand.com/blog/common-tomato-plant-problems-how-to-fix-them/

Still working on the cukes....





Posts

: 4508


Join date

: 2015-06-12


Age

: 55


Location

: Ada, Ohio



Thank you SR. Very Good site.

Forum Moderator Certified SFG Teacher




Posts

: 13536


Join date

: 2013-04-21


Age

: 68


Location

: Fresno CA Zone 8-9



Don't forget to check the stickies in the disease section as there are some links to some good information there.

____________________________
41 years a gardener and going strong with SFG.
http://squarefoot.creatingforum.com/t3574-the-end-of-july-7-weeks-until-frost
There are certain pursuits which, if not wholly poetic and true, do at least suggest a nobler and finer relation to nature than we know. The keeping of bees, for instance. ~ Henry David Thoreau
http://squarefoot.creatingforum.com/t1306-other-gardening-books

Forum Moderator Certified SFG Teacher




Posts

: 14111


Join date

: 2010-03-06


Age

: 54


Location

: Keene, NH, USA ~ Zone 5a



---
Permissions in this forum:
You
cannot
reply to topics in this forum