Found my camera cord so here are some pics of our 2016 effort.
My garden "greenhouse".
Far from perfection but I'm loving it. I call it
Sails in The Wind
.
It keeps my garden from melting/scorching and the plants seem to like it.
The sails are movable pieces of light filtering fabric that I can adjust as the plants ask for it.
Tomatoes and basil enjoying the filtered lattice light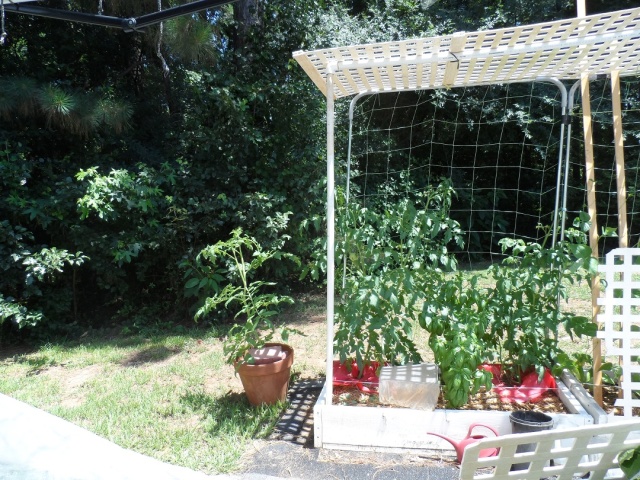 My first attempt at growing some corn. Shown also is the edge of the strawberries bed which went wild & crazy this year... finally!



Posts

: 142


Join date

: 2014-05-06


Location

: Georgia



I like your shade arrangement.  I tried Agribon 19 and the first storm that blew by ripped it to shreds (which I figured would happen but I hoped it would last a while).  I like how you have that cattle panel holding up one part of the shade cloth.  Also that white latice.  That might work in my garden.  I will have to copy a few of your ideas.  My cucubrits are just baking and going limp every afternoon.  Yesterday I set up an umbrella next to the squash.



Posts

: 3186


Join date

: 2011-11-20


Age

: 67


Location

: Brooks, Ga Zone 7B/8A



I've done the old umbrella thing, too. Whatever it takes to keep my plants from roasting.
Even this is a mish mash of things we already had sitting around. Except the cloth, I bought that.
Seems like we're both at a latitude where the sun's rays are very intense.

Almost forgot. DH made sure there was screen right above the boxes so rain gets in. It works.



Posts

: 142


Join date

: 2014-05-06


Location

: Georgia



Nice job shading your garden.


Forum Moderator Certified SFG Teacher




Posts

: 13989


Join date

: 2013-04-21


Age

: 68


Location

: Fresno CA Zone 8-9



Very attractive and functional! Your plants are looking great, too! Food!




Posts

: 4825


Join date

: 2015-06-12


Age

: 55


Location

: Ada, Ohio



---
Permissions in this forum:
You
cannot
reply to topics in this forum