I have been under the weather in a big way, just got back out to the garden. Everything looks really good to me. I did notice one tomato plant had a very few and very minor bug bites. Never seen this before, maybe because it is so minor and it grows into something worse. But, maybe some experienced eyes might see something I don't.
I don't understand the brown edge of this.
Just holes, no bugs, eggs, dots, etc, I even used a magnifying glass.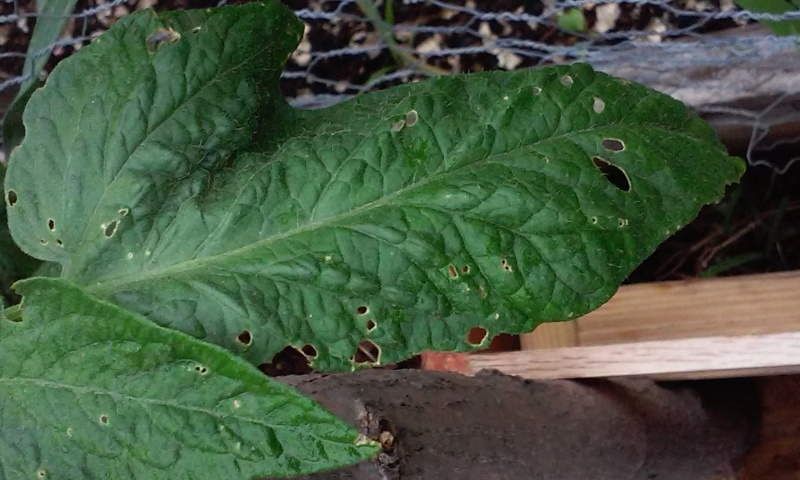 Thanks for any feedback, Rock



Posts

: 362


Join date

: 2016-04-17


Location

: NH



Maybe flea beetle damage?  I've noticed something similar on my eggplant and bush beans.

https://www.google.com/search?q=flea+beetle+damage+in+tomatoes&tbm=isch&tbo=u&source=univ&sa=X&ved=0ahUKEwi1sPanuMvNAhWDQD4KHVvLA5oQsAQITQ&biw=1366&bih=672



Posts

: 215


Join date

: 2016-06-02


Location

: New Hampshire, Zone 5



I was thinking flea beetle for the tiny holes, too.  Altho the 1st photo made me think slugs. But now that I've enlarged it it looks more like leaf miners...or both.

CC



Posts

: 6191


Join date

: 2012-05-20


Age

: 61


Location

: elbow of the Cape, MA, Zone 6b/7a



Thank you GB and CC. I looked again today and there was no change. If it was some kind of beetle, then I must have taken it out with the DE (food grade ) a few weeks ago. That stuff works so well for me. I have had only two new sprouts getting molested since I started using it, and both have made it.
Rock



Posts

: 362


Join date

: 2016-04-17


Location

: NH



@bigdogrock

wrote:I don't understand the brown edge of this.
I agree with CC's first guess of slug (or snail) damage as being the first one. Instead of biting with mandibles or teeth, slugs and snails lick their food with a very rough tongue and scrape leaf bits off. If they sit on the leaf and scrape against the flat of it (rather than perpendicular to the edge) and don't eat all the way through, there can be scraped-up/only-partially-eaten leaf bits at the edges of the feeding holes. The damaged parts die and turn brown. Guess some slugs don't like to eat the leaf "crusts"... they just want the tasty green parts inside. Leafminers do the same thing - but live between the crusts. Old leafminer damage can look similar if the crusts dry out enough that they fall away, but I'd expect more interconnection between the damaged parts for leafminers.
(And I agree with both GB and CC as to the second photo likely showing flea-beetle damage.)



Posts

: 1106


Join date

: 2016-04-11


Location

: Port Matilda, PA Zone 5b/6a



That looks like slug damage. Put out a few board traps and that should help take care of the problem.

____________________________
41 years a gardener and going strong with SFG.
http://squarefoot.creatingforum.com/t3574-the-end-of-july-7-weeks-until-frost
There are certain pursuits which, if not wholly poetic and true, do at least suggest a nobler and finer relation to nature than we know. The keeping of bees, for instance. ~ Henry David Thoreau
http://squarefoot.creatingforum.com/t1306-other-gardening-books

Forum Moderator Certified SFG Teacher




Posts

: 14165


Join date

: 2010-03-06


Age

: 54


Location

: Keene, NH, USA ~ Zone 5a



---
Permissions in this forum:
You
cannot
reply to topics in this forum