Hi Folks,

My Cosmos don't seem to be doing very well.

I planted the seeds a little more than a month and a half ago. To date the tallest plant is about 8" tall and the smallest about 3". With all the others somewhere in between. Is this normal for them? I would have thought that by now they would have been much bigger. I've read that they like poor soil and are very drought resistant. With the recommendation being don't fertilize or water them. Well, I got poor soil. Mostly clay with some mulch on top. They are planted outside the SFG. And as for watering, only when it rains. But, I have cheated twice and watered them because they looked like that were on their last legs.

So please, enlighten me. Is this normal for the buggers? What am I doing wrong or right and shouldn't they be two or three feet tall by now?

I know this issue isn't quite SFG, but is it okay to ask in this forum?

Thanks
Bart
Bart, we'll make it relevant by saying that's just a pre-ANSFG bed. You're, ah, preparing the surface.

My cosmos are in slightly amended dirt, somewhat clay heavy, too. My journal says I transplanted them at the end of May. (I recall they were very tiny transplants.) Mine may be getting less than full sun between the tree shadow and the surrounding... uhm... wildflowers. But, for what it's worth, they are in the height range you describe. No flowers yet. I haven't grown them before, either, so I we're in the same boat -- so maybe my report indicates "normal for the conditions." The zinnias in the same bed are being slow, too, but the bachelor buttons are flowering. The beans at the front of the same bed seem to be doing well.
Drought resistant isn't drought proof; I've been giving mine minimal water.
A high nitrogen fertilizer probably isn't a great idea, but a little bone meal might help -- you could try it on one or two, and re-evaluate in 2-3 weeks.



Posts

: 1375


Join date

: 2016-04-11


Location

: Port Matilda, PA Zone 5b/6a LF:5/11-FF:10/10



Cosmos don't hit their full potential in my garden until late summer /early fall. Then they go crazy. Although I have seen some in the neighborhood that are already tall and flowering. There must be different varieties.
CC



Posts

: 6550


Join date

: 2012-05-20


Age

: 62


Location

: elbow of the Cape, MA, Zone 6b/7a



Thanks for the encouragement folks.

I guess mine are on track then. Looking forward to the fall

Thanks
Bart
I have 2 kinds; a pink/white/red mix that is about 3ft tall, and a perennial yellow variety.  I think the pink mix self-seeds.  They have both flowered for the year, but they are established.  I would let it ride.  And maybe water.  The first year (did you start from seed?) they need some TLC.  But mine are in the worlds worst soil.  Really.  Not even sunflowers will grow there!  Perennials will.  But no annuals at all.  
Stay the course.  Water unless God helps you out (He hasn't been helping me out much, must have better things to do...lol)
They are such a happy flower!




Posts

: 5786


Join date

: 2015-06-12


Age

: 56


Location

: Ada, Ohio






Posts

: 3372


Join date

: 2011-11-20


Age

: 68


Location

: Brooks, Ga Zone 7B/8A



Update for you, Bart: One of my cosmos bloomed at little over a week ago at about 3ft. The other is about 4.5ft, and hasn't bloomed yet.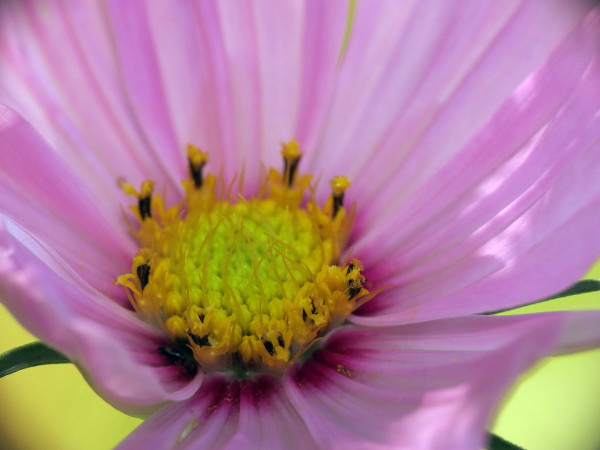 I planted one per square because I neglected my seedlings and didn't have many left -- the single plume looks very lonely by itself in the square.
What do others plant these at? 4/square? 9? Or is there some other flower that works well on the corners (i.e. 4/sq other plant + cosmos in the center) and is out of the way by the time the cosmos needs the rest of the square, if it actually does?



Posts

: 1375


Join date

: 2016-04-11


Location

: Port Matilda, PA Zone 5b/6a LF:5/11-FF:10/10



Mine are finally blooming. But none are over a foot and a half tall. I must have gotten defective Cosmos.....

Mine aren't tall this year either. And I planted them thinking I was planting marigolds so imagine my surprise when these lanky little things came up, one here and one over there and way over there....

I'm sure they'd be stellar if I watered more often.

CC



Posts

: 6550


Join date

: 2012-05-20


Age

: 62


Location

: elbow of the Cape, MA, Zone 6b/7a




---
Permissions in this forum:
You
cannot
reply to topics in this forum