I don't know what variety we're growing cuz the momma tree was already in production when our daughter bought the property where she was definitely the reigning queen of the yard. One year a storm broke a huge branch that lay on the ground all winter. The following spring, Katie discovered several babies sprouted from that downed branch. Friends and relatives stood in line to barter for those babies -- that's how good these figs are. This variety is very small. The figs are no bigger than apricots.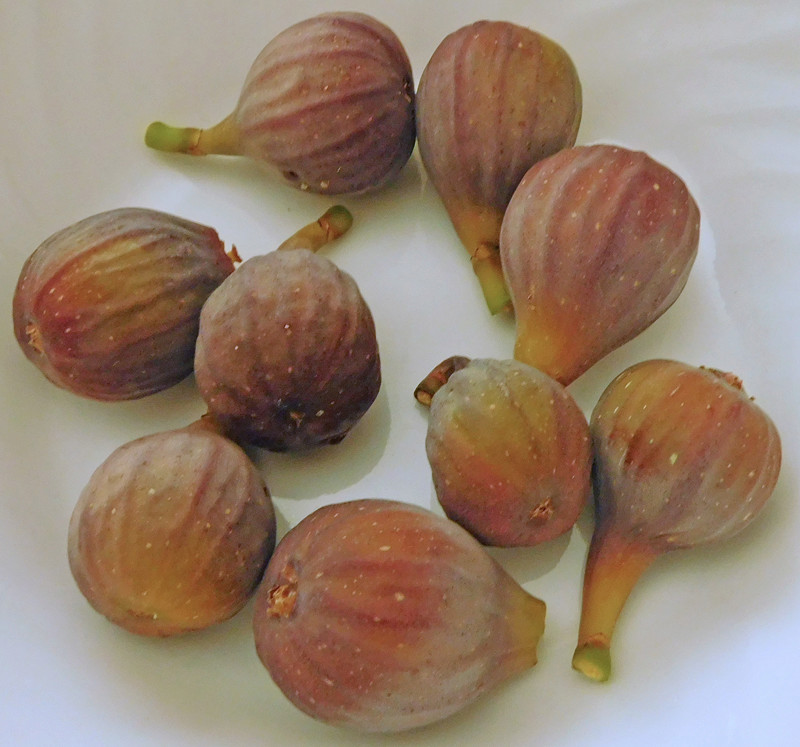 When you take cuttings or plant suckers, the leaves curl up and die, but don't give up. Keep watering and wait. Most times, in a few weeks/months, you'll see new growth sprout up from the dirt. This shot was from one we rooted last year. It should have been transplanted by now, but it will still probably produce fruit next year. It's amazing how fast they grow and they don't need any other pollination. We grew one of Katie's first babies in the house without a clue what to do and got 2 figs within a year. This guy is still in a 1 quart pot.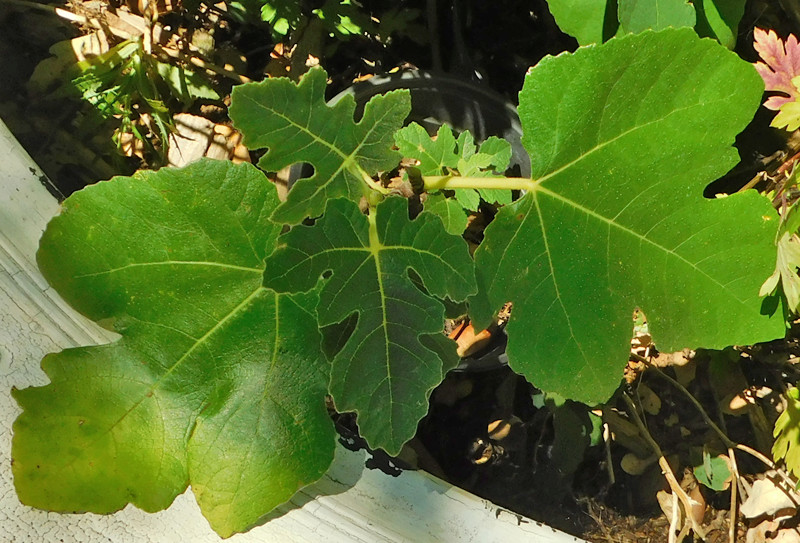 Here is our youngest producing tree. It's about 5' tall. It's figs are still green, but looking good. I think this one is about 3 years old.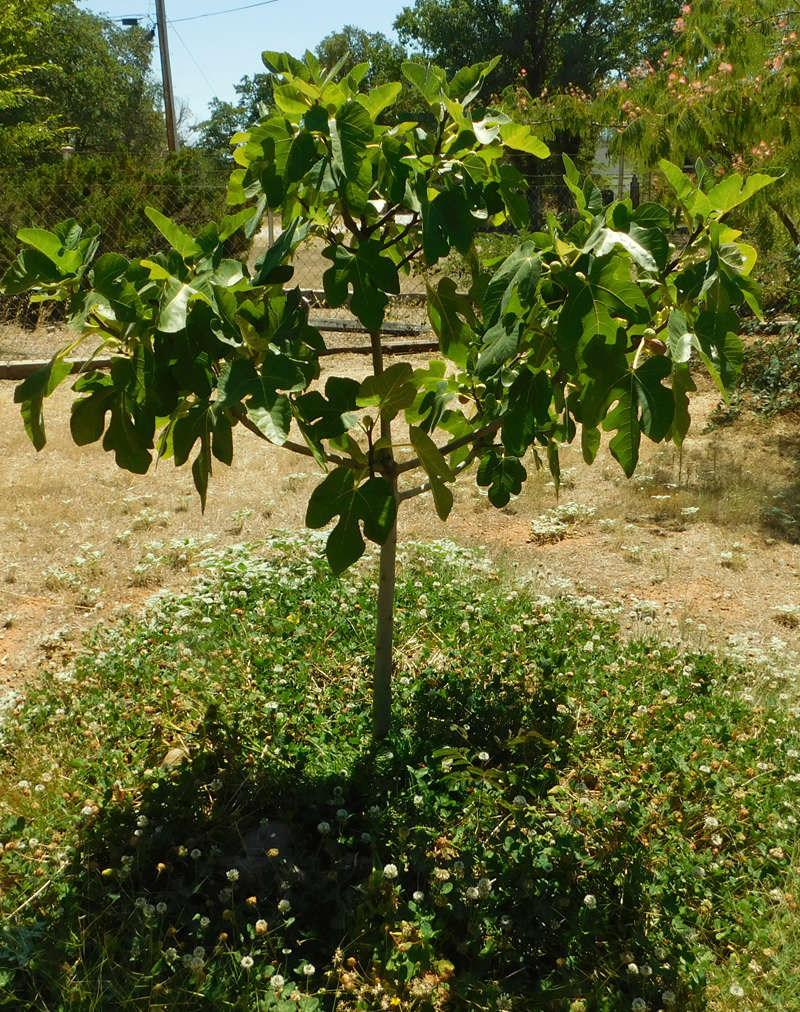 This one may be a year older. It's in full production right now, along with 2 more on the other side of the property. It's about 7' tall. The momma tree was huge. We had to climb a ladder to get the mid-height figs. The top ones went to the birds.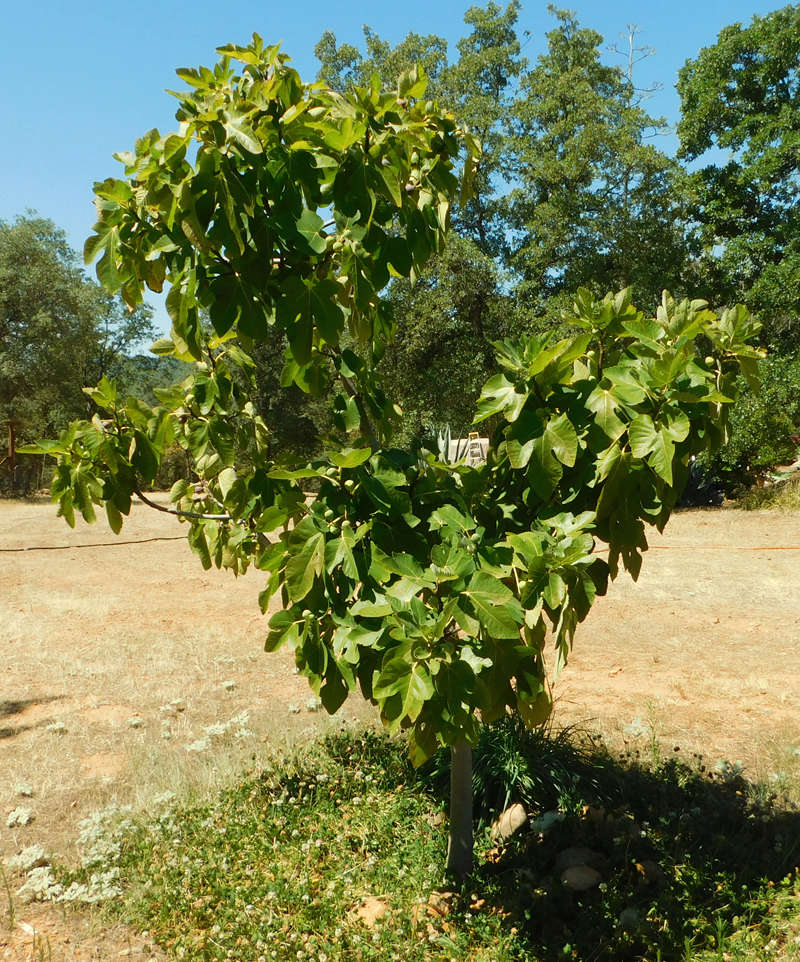 You can tell when the figs are ripe because they turn brown, bend and hang down from their stems. You can see one in the middle that's ready to pick and one in the lower left that still needs a few more days. They ripen fast, so be diligent or the birds will get them all.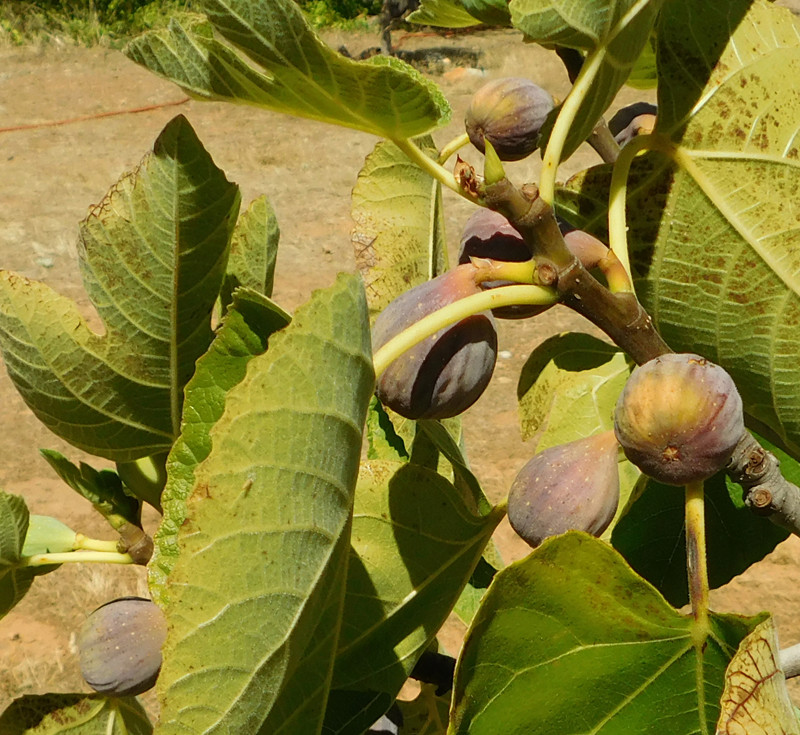 One more thing -- sometimes weather conditions will mess up a harvest -- like an early spring followed by a late winter (

). If the trees drop their early fruit, don't worry -- they'll try again later. 

 Fig trees are
amazing
.
Wow!  That IS amazing!  What a beautiful tutorial, CN.  Thank you so much!
I got the power!  
But probably need the extended heat. Got my fingers crossed.
Turkey Fig trees are the ones that grow in my area, zone 7. I have the momma in a tree sized pot and 2 two yr olds in the ground, all only about 1ft tall at the moment  They all die back in winter and have to start over every year.  I'm supposed to take the potted mom inside the garage for the winter and back out again in spring to get fruit, but it's SO heavy...even to get onto the dolly.  I really want to put her in the ground and see what happens. I've read that some people around here have producing fig trees and I don't see why I can't have one, except for the fact that I live in a wind tunnel buy a cold lake. ..
Thoughts?
CC



Posts

: 6047


Join date

: 2012-05-20


Age

: 61


Location

: elbow of the Cape, MA, Zone 6b/7a



Just planted my last fig tree today.  That's number 3  a Celeste, a Desert King, and an Ischia green.  Hope it survives the heat wave next week.  I had 2" rootlings that I planted in 5 gal buckets 3 years ago.  I finally got moved and decided on locations this summer.  Two plants have 2 or 3 fruits on them.  Hoping for more next year.  If all goes well, I'll have figs, blueberries, pomegranates and grapes within 2 years and plums and pears in 3-4 from the trees I just planted last month.  Only the blueberries and the pomegranate  need planting now.   

Kay
____________________________
A WEED IS A FLOWER GROWING IN THE WRONG PLACE
Elizabeth City, NC
Click for weather forecast

Certified SFG Instructor




Posts

: 4349


Join date

: 2010-10-17


Age

: 74


Location

: wilmington, nc zone 8



CN, Nice trees with their little green belts!

Forum Moderator Certified SFG Teacher




Posts

: 13980


Join date

: 2013-04-21


Age

: 68


Location

: Fresno CA Zone 8-9



Great tutorial! Thanks, CN! Now you've got me wanting to add a fig tree to our orchard.... Hubby will be SO pleased (rolling eyes, lol)

Certified SFG Instructor




Posts

: 4126


Join date

: 2014-03-18


Age

: 54


Location

: Buford, GA - Zones 7B/8A



Thank you for all the nice comments. As you've probably guessed, figs are my favorite crop.

 I'm off to pick some more for breakfast.

The Lovely!  Too far north....alas.  Kroger's, take me away!  Lol



Posts

: 4819


Join date

: 2015-06-12


Age

: 55


Location

: Ada, Ohio



@Scorpio Rising

wrote:The Lovely!  Too far north....alas.  Kroger's, take me away!  Lol

 We really are spoiled by our supermarkets. We can have anything we want, anytime we want it, if we're willing to drive and spend $.

---
Permissions in this forum:
You
cannot
reply to topics in this forum