It's a long story with pictures and videos and if I cant laugh at me who can.  
Here ya go:
http://cappyandpegody.blogspot.com/2016/08/what-i-planted-in-heat-of-summer.html
I have wanted one for a long time.

It the net version better than the canvas? How far apart are the poles? Just may get one now that the weather is down in the 90's.

Forum Moderator Certified SFG Teacher




Posts

: 14369


Join date

: 2013-04-21


Age

: 68


Location

: Fresno CA Zone 8-9



I'll measure for ya.  My technique was to plant a pole let it set then stretch the hammock out to determine the location of the other.  I prefer the net ones cause they are not as hot.  The hammock wasn't but thirty few $ at amazon.  The hardware and poles and quickcrete not much more at Lowes.  The eyes work well 4 ft high.  I'll measure the distance for ya when it dries up a bit.
Cappy,
 I really enjoy your story telling. This picture was taken about 8 years back. My wife took it right before the pup clawed her way off my chest. It's a packable hammock from my camping days, used to stretch it out between a couple of pine trees in the back yard.We had finished a day working in the garden, we were both a lot younger then. You can also see my hammock was hanging pretty low.
 Craig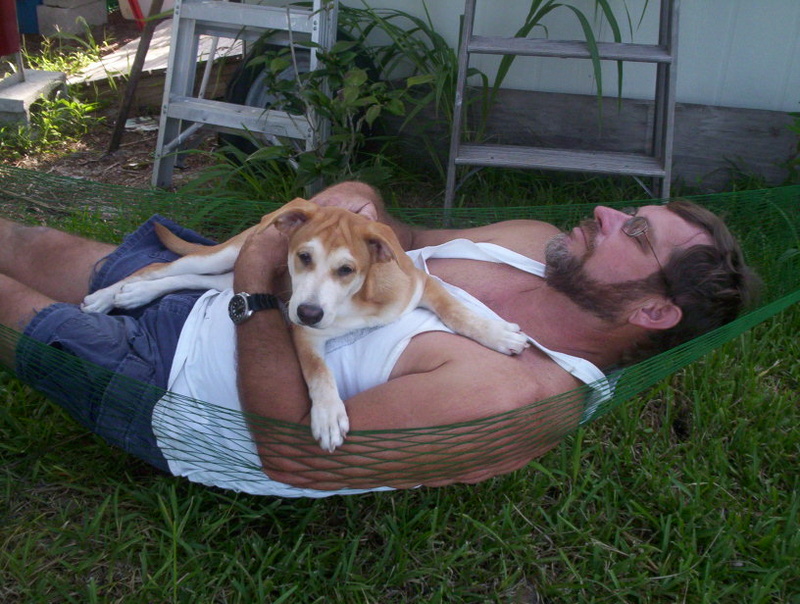 Posts

: 200


Join date

: 2013-12-28


Age

: 60


Location

: Zone 10a Stuart, Fla



Great pic of you and the pup thanks for sharing.  As a kid I camped lots in the swamps of south Louisiana in jungle hammocks they had canvas beds mosquito net walls and a tarp roof like a hanging cocoon.  That was many years and many beers ago.  Now that the hammock is stretched out and hangs higher its much easier to get intl and out of I love sitting side saddle and reading in the late afternoon shade
WE really do need a video of you getting out of your hammock, Cappy.  The description was enough.




They look kinda hard getting in and out. 




Posts

: 4930


Join date

: 2011-04-24


Age

: 82


Location

: Castlegar, British Columbia



Pleeeeeeese do not encourage my mischievous Wife.  You will have her searching her trash can for the video.
Sorry Cappy; I meant to write "We really do NOT need a video etc..."

As if I would ever encourage your wife?  Tut! Tut!



Posts

: 4930


Join date

: 2011-04-24


Age

: 82


Location

: Castlegar, British Columbia



---
Permissions in this forum:
You
cannot
reply to topics in this forum