This showed up last fall in the garden with my swiss chard and lettuce. The leaves get about 8-10" long and are tender. It has a wonderful sweet taste and I've been adding it to my salads all winter. I cooked some and it turned a dark brownish-green but was delish. It is now bolting so I'm posting 2 pics -- one unbolted and one bolted. I have no idea what it is and surmise it is not poisonous since I'm still here. But I'd love to know what it is. I tried looking it up on a site describing weeds but couldn't describe it well enough to figure it out.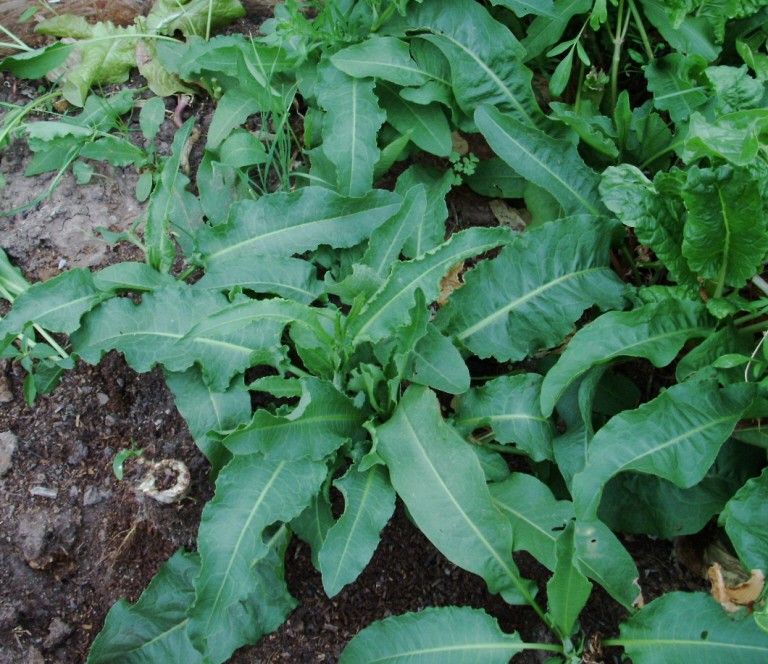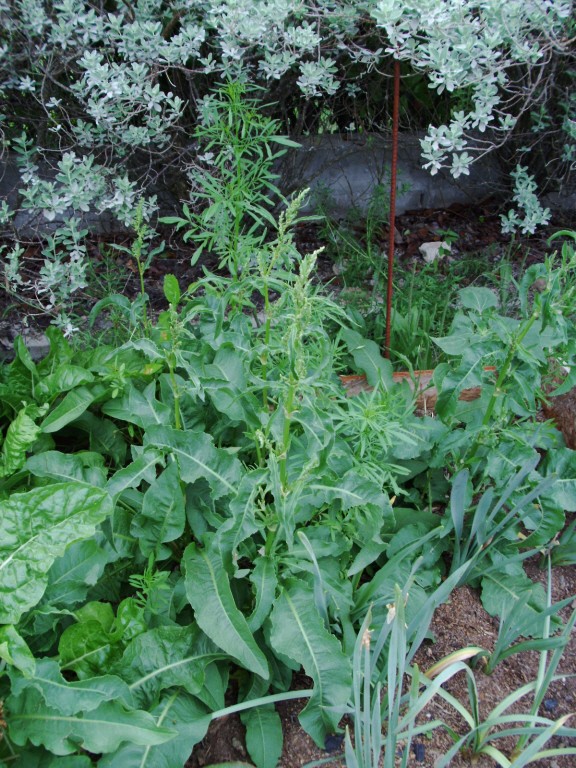 It looks to me like it's a type of dock which is an edible weed.



Posts

: 122


Join date

: 2010-03-10


Age

: 46


Location

: Nebraska (Zone 5a)



I used to be so much better at this game...

do we know what colour the flower is?

Forum Moderator Certified SFG Teacher




Posts

: 14165


Join date

: 2010-03-06


Age

: 54


Location

: Keene, NH, USA ~ Zone 5a



Dock, huh? Nice to know it is edible since that is exactly what I've been doing for a few months. I went on the premis that since it tasts good it probably isn't poisonous since our early ancestors wouldn't have survived if good tasting plants were poisonous.

Have no idea if it flowers or not -- I'm letting it go to seed so will keep you posted. In the meantime I'm off to Dogpile.com to look up dock.
I looked up dock (thank you, Titans), and discovered this is curly or yellow dock (so named because of the yellow root). Not only are the leaves good raw or cooked, but back East it grows up to 4' tall and the stalks are used as a rhubarb substitute. I tasted a larger stalk and and sure enough, it has a similar taste to rhubarb, just not as sweet. The root is used medicinally and the dried seeds can be ground into flour (both of which I'll skip). So I'm going to save the seed and intentionally grow it next year to see if I can get some large enough to use the stalks as well. What a wonderful find!

Yes, curly dock. And it can reseed so be careful.
Dock is related to sorrel which can be grown as a perennial green. Both have oxalic acid so be careful how much you eat especially if prone to kidney stones.
You might want to read more about it in these two articles

http://www.santafebotanicalgarden.org/subpages/POM%20Nov09%20Curly%20dock.html

http://www.florahealth.com/flora/home/Canada/HealthInformation/Encyclopedias/YellowDockHerbandRoot.htm

Certified SFG Instructor




Posts

: 150


Join date

: 2010-03-04


Age

: 59


Location

: Bountiful, Utah Zone 6



---
Permissions in this forum:
You
cannot
reply to topics in this forum