I enjoyed these videos. They did a great job of introducing more knowledge about the soil. The first video is fun.
 I'm doing some plant cover crops within my beds, but it limited as I learned how to do it. I'm going to plant daikon , Austrian winter peas and probably rye cereal in my peepers and tomatoes beds. I plan to cut down the daikon plants at the surface and plant tomatoes, etc next to the root in the spring. this root will decompose by fungi activity and should give a great boost to the tomato plant. the peas and rye is for the nitrogen and increasing soil tilth. 
I will be adding the recommendation for soil improvement Dr. Elaine Ingham recommended to increase my fungi and nematodes level for the vegetables. see below. 
Two possible ways to improve life in these beds would be to 1) improve protozoa, which eat bacteria and then release nutrients to feed your plants.  Additionally, actinobacteria often do very well in protozoan infusions, and would increase the actinobacterial biomass at the same time, and 2) add fungal inocula and foods to the soil to increase fungal biomass.  
To improve protozoa, as protozoan infusion can be made.  Apply 1 to 10 gallons of the following per acre (irrigation systems are fine for doing this):
1)
On the bottom of a tank that can hold water and which has a mixing or aeration system (a compost tea brewer works great for this purpose), place a layer (about ¼ to ½ inch thick) of chopped hay, grass clippings, or other plant material, which preferably has not been treated with pesticide.
2)
Add water to the half to ¾ full mark.  Treat the water with humic acid to deal with any chlorine, or chloramine or sulfur or salts BEFORE adding the water to the tank with the plant material.  No contaminants in the water that could kill the protozoa, please.
3)
Let aerate or mix gently for about 48 hours, at which time protozoan numbers should be teeming in the water. 
4)
Strain to remove the plant residue, and apply the water, containing billions of protozoa to the alfalfa.  If the water hits the alfalfa surfaces, that is good, as the alfalfa can probably use the increased nutrient cycling that can happen on the leaf surfaces. 
Beneficial nematode
numbers need to be improved as well, to increase nutrient availability for the plants.  Add fungal foods to improve fungal biomass, and this may attract the fungal-feeding nematodes.      
Fungal biomass can be improved by adding some additional fungal foods, which are materials such as humic acids, fish hydrolysate with chitin and chitosan (insect exoskeletons), insect frass (high in chitin), rice hulls, steel ground oats (mostly the seed coat of the oat), or other high-cellulose or lignin containing materials which beneficial fungi enjoy.   
In the first video, They mention a plot with organic matter at 6%.It look great.  My soil tested  at 12.5%. see below.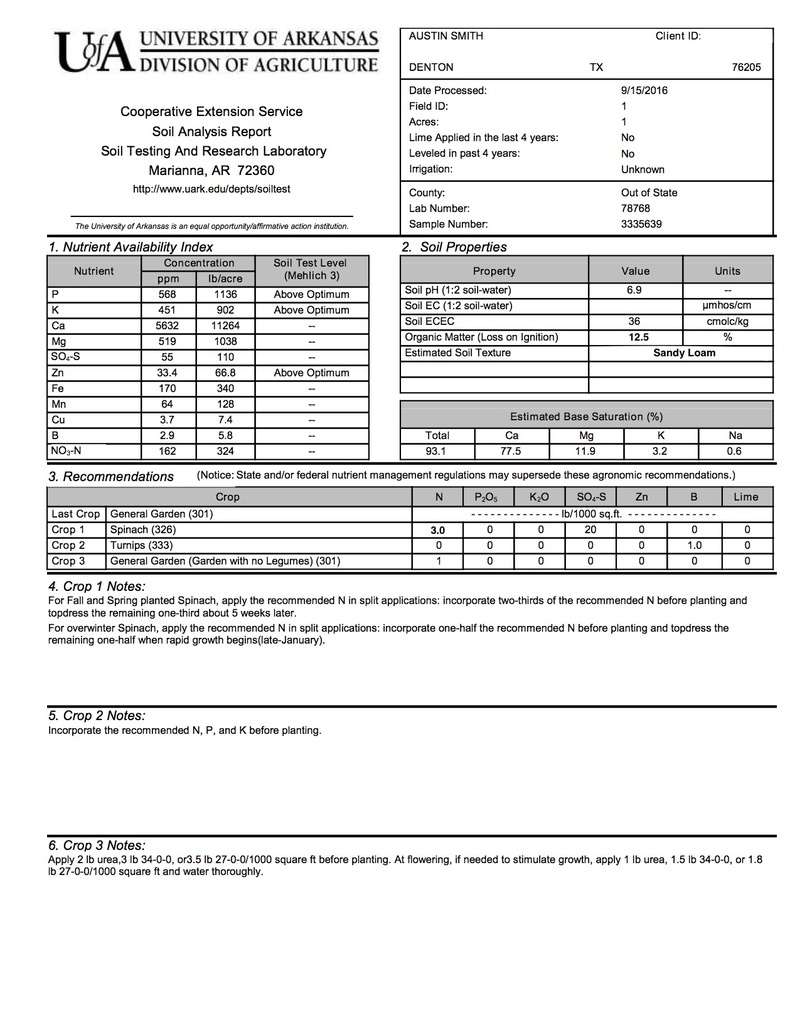 Interesting. I watched 2 and will probably watch the rest as time allows.

Forum Moderator Certified SFG Teacher




Posts

: 12638


Join date

: 2013-04-21


Age

: 68


Location

: Fresno CA Zone 8-9



@sanderson

wrote:Interesting.  I watched 2 and will probably watch the rest as time allows.
I thought the first one was a lot of fun. I'm still going through the last one. they are outdoor and seeing a lot visually.
this is were I'm going with this project. Base on what I'm seeing , the seed mixed diversity simply put manual composting to the back burner, I think. It a work in progress, so don't go blow your top. It a project. What I'm seeing they are rebuilding the soil with the soil diversity with seed mixed s a living mulched, then terminated by rolling , not cutting, allowing it to break down by the soil food web. these seed mixes break down fast, thus providing the new active compost material. You decide what you want your seed mix do do, ex. scavenge nitrogen, produce nitrogen, break up the soil, produce long root to mined micro minerals and create deep tunnels for our garden vegetable roots, kill bad nematodes,bring in bees and other pollinators, etc...  We SFG's don't need to break up the soil, prevent weeds, but we could benefit from the other problem solvers.
I'm going to test part of the idea out on 4 of my long beds for the spring crops. they won't be growing anything , but the cover crop of diverse seed mixed. You can cut it, because you will end up pushing the material into the seed hole when planting seeds. this may decrease your seed germination rate according to the videos. You have to push the crop over somehow. haven't figure that one out yet. I'll let some of the mad scientist , I mean engineers on this forum help solve that problems. I hope you have time to view the videos. i'm taking the concept from the farm to small 4 x 4 SFG's beds. . A tall order, but I think it can be done. I'll keep composting the other beds
I know my ideas can get wild, but gardening is always evolving.that's the fun of it. It's still the wild ,wild west, a bucking horse, but has been tame significantly by SFG. Whoa, there boy. I said whoa!! Them darn earthworm, they keep digging under my vegetables.

Has, You sure have a lot of fun experimenting.

I know I am biased towards SFG because it eliminates so many problems, as long as the compost is premium. However, I think the video series you posted is critical viewing for farmers to change commercial agriculture in CA. We are losing our topsoil with all the bare fields.
Regarding pushing seeds into the bed, I though in one of the videos they used a small combo disker/planter to make a small trench down a row and insert the seeds. I did not see any implement that covers the tiny trench??

Forum Moderator Certified SFG Teacher




Posts

: 12638


Join date

: 2013-04-21


Age

: 68


Location

: Fresno CA Zone 8-9



Sanderson, I'm not sure how that defies work? I was going to keep it simple, just moves things around, use my finger to makes holes and plant, like I do now in SFG. I really what to see how it affect the insect pest. I try to plant plants of similarity in different squares and away from each other, but some are still close, because there so many in the same family , like greens and brassica. I going to using my garlic, onions and oregano around them to see how that works. That will be one of my seed mixed. also I going to sprinkle  mustard seedling later after the plants are larger. I will be cutting all plants to the ground and leave the  roots in. this is for my active beds. I might try some oats, since it will winter kill.

Forum Moderator Certified SFG Teacher




Posts

: 12638


Join date

: 2013-04-21


Age

: 68


Location

: Fresno CA Zone 8-9



Sanderson, I'm not sure how that defies work?   
i guess I was sleepy, when i wrote that response, poor proof read.. remember , i work nights. i thought i wrote , I'm not sure how the thing or machine work, not how it defies work. didn't catch that. sorry.

Forum Moderator Certified SFG Teacher




Posts

: 12638


Join date

: 2013-04-21


Age

: 68


Location

: Fresno CA Zone 8-9



yes, the elusive sleep. I can see it now, almost within my reach,zzzzzzzzzzzzzzz
---
Permissions in this forum:
You
cannot
reply to topics in this forum