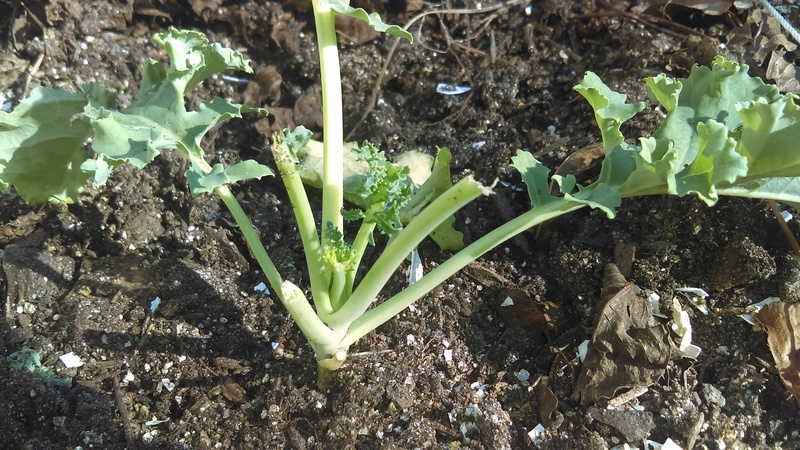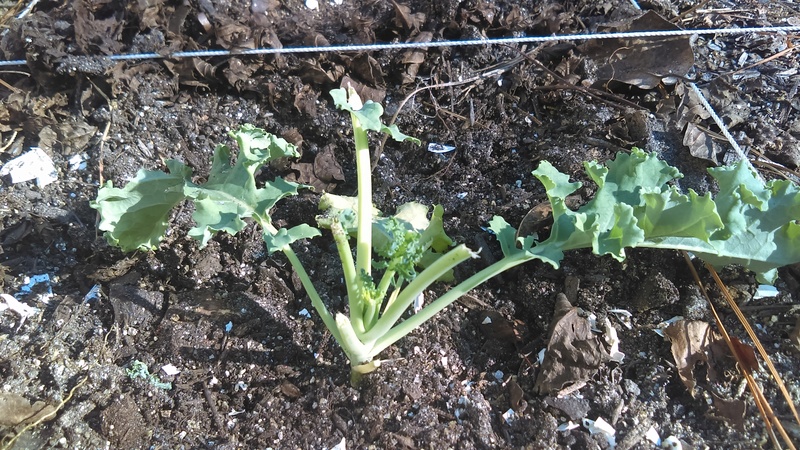 What is eating my plants?   I have lost all my fall seedlings and this is the 2nd Kale plant to die.  It looked great 2 days ago.   I have seen a few snails and slugs.  The garden is fenced.  I tried putting out broken egg shells.  I have picked and threw away slugs.  I went out last evening with a flashlight and didn't see anything on or around this plant and today multiple leaves are gone.   
I am a new square foot gardener.  I have been gardening since July and my total vegetable crop so far is 2 snap beans.... not 2 handfuls or cups but 2 beans.   
Thanks for your help.



Posts

: 6


Join date

: 2016-07-31


Location

: WilmingtonNC



Looks like slugs or could be the white cabbage butterfly's larvae eating the leaves.  She's still flitting around my garden.  The larvae are the same green color as the kale and start out really small so are hard to see.  Squish em!
http://www.bing.com/images/search?q=white+cabbage+butterfly&FORM=HDRSC2

I use netting on hoops to close in my leafy greens bed and keep her out.
Since your box is fenced I have no idea what is eating the leaves down to the stalks like that unless dear can eat in over the top.  Not sure if they even like kale.  Sorry I can't help with that, but hopefully someone in the know will come along.
Don't give up hope. Gardening is a learning experience and once you know what's bugging ya you'll know what to do...because we'll share with you what we do.

CC



Posts

: 6061


Join date

: 2012-05-20


Age

: 61


Location

: elbow of the Cape, MA, Zone 6b/7a



Gosh, looks like mini critter eating...try some critter away spray?



Posts

: 4825


Join date

: 2015-06-12


Age

: 55


Location

: Ada, Ohio



Doesn't look like caterpillar or slug damage to me.  More like some animal eating the stems.  Rabbits, Deer ???  Rabbits will usually leave poop behind.  Deer will usually leave tracks in the soil.



Posts

: 3186


Join date

: 2011-11-20


Age

: 67


Location

: Brooks, Ga Zone 7B/8A



Have you seen any groundhogs( woodchucks)?  They are voracious.

Certified SFG Instructor




Posts

: 4792


Join date

: 2010-08-20


Age

: 60


Location

: Central Ohio zone 6a



I agree with Yolos and LM that the damage probably was caused by deer, rabbits, or woodchucks.

Personally, I'd vote for deer.  They typically, in my experience at least, nip off the tender heads or sprouts of broccoli, roses, pansies, etc.  They do usually leave footprints, and sometimes a gift of poop.  If the latter, I suggest scooping it up and adding it to your compost pile.

Certified SFG Instructor




Posts

: 2120


Join date

: 2010-03-02


Age

: 69


Location

: Bend, OR (Zone 5-6)



---
Permissions in this forum:
You
cannot
reply to topics in this forum