Hi, I posted a couple times since I joined, but haven't formally introduced myself. I started my first Square Foot garden last year, and had fair success with it. My tomatoes and cucumbers were great, but I had a few crops that didn't do much. Hopefully I've learned from my mistakes, so I'm expecting better results this year. This year Spring got an early start in Minnesota, but the last week has been cold and rainy. I'm really itching to get out and get planting. I have my seeds and transplants bought, ready for the weekend which is supposed to be nice. I have a 4 x 4 x 8 box, and then in the middle of last summer added a 2 x 8 x 4 because my sister gave me a number of raspberry plants. Only one of them survived. I might add another 4 x 4 x 4 box this year if my finances allow. Here is an picture of my garden from last June 2009. Soon after this I added fencing around it because the rabbits were nibbling my beans down to the ground.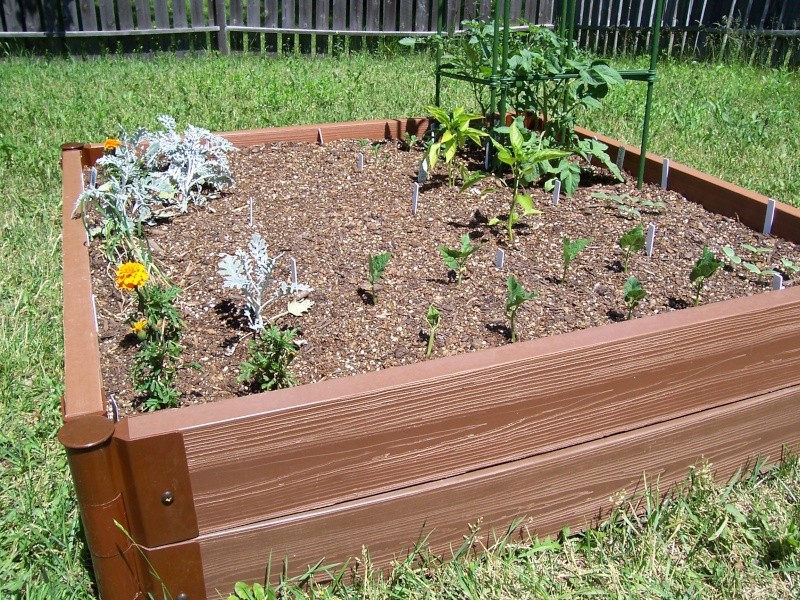 Faith



Posts

: 6


Join date

: 2010-05-10


Location

: Twin Cities, MN (zone 4)



Hi Faith,
Welcome (formally).

If you've been hanging around you probably already know that we have several other SFG'ers from your state here. I'm sure you'll find some neighbors to compare notes with (not that you can't share with the rest of us, I'm just saying).


Certified SFG Instructor




Posts

: 778


Join date

: 2010-03-02


Location

: Frisco, Texas



Welcome, Faith. Glad to see you are posting.
One of our sons-in-law hails from MN. He's truly Minnesota-nice, but we're still trying to straighten him out on that hot-dish thing.

Your box in the photo looks great. What is it made of?
This is my first year with SFG. Looking forward to hearing more from you.



Posts

: 1450


Join date

: 2010-03-16


Age

: 62


Location

: Southeastern Missouri (6b)



Welcome Faith! I can't remember if I've said hi to one of your posts already...I'm excited for the sun to finally come back out this weekend, it's gonna be hard to get thru work tomorrow!!




Posts

: 107


Join date

: 2010-04-05


Age

: 38


Location

: Hastings, MN (zone 4a)



For the raised bed, I used a product called "FrameItAll" - you can do a google search to find more information. It's pricey, but nice looking. Because I was only putting in one raised bed, I decided I could afford it. I notice that the price has gone up since last year, but they have added a number of additional items to the product lineup - trellis and animal barrier and other sizes and shapes of frames. I bought mine at my local Fleet Farm, but I saw them last year at Menards, and this year on Home Depot's website.

The second raised bed I added last summer for my raspberries is made from wood. The two beds are pretty much side by side and don't look great together, but, oh well.

Faith



Posts

: 6


Join date

: 2010-05-10


Location

: Twin Cities, MN (zone 4)



Hi from another twin cities area gardener. Your beds looks great!! I broke down yesterday and planted the rest of me seeds and the tomato and peppers I started this winter from seed for the first time. Fingers crossed it stays warm here. I held off planting only because I was too busy trying to finish making the beds, LOL!



Posts

: 420


Join date

: 2010-03-18


Location

: MN Zone 4



---
Permissions in this forum:
You
cannot
reply to topics in this forum