Hello!  I am a 1st time SF gardener.  Before now I have grown tomatoes and herbs in containers, but that was about it. Last fall we built three 4x8 raised beds and filled them with Mel's mix. I started seedlings a few weeks ago and I think I'm ready to transplant cabbage, romanesco and kale in a couple weeks, weather permitting!  I have peppers and slow-growing herbs also started... tomatoes and rainbow chard are next.  So far plants are coming along great - I'm most anxious about wildlife and pest.



Posts

: 2


Join date

: 2017-01-08


Age

: 42


Location

: Andover, MN



Welcome tschida42!
It sounds like your timing is on a track similar to mine. I'm in central Pennsylvania; I've been using May 11th as my last frost date, which works pretty well for not killing my tomatoes.
Advice for insect and other small pests varies with with what sort of pest it is. The kale, cabbage, and romanesco may have problems with green caterpillars. Different people deal with them in different ways. Some of us use netting supported around and above the plants to keep the moths and butterflies away so they can't lay the eggs that hatch into caterpillars. Some of us pick the caterpillars off by hand. Some of us use Bt (a bacterial preparation that specifically infects and kills caterpillars). Some of us use other pesticides.
Keep an eye out for damage on your plants, and if you find any, people here on the forum can often suggest what may be causing it and offer solutions. Photos help!
Regarding wildlife, I recommend putting up a simple fence before you have problems rather than after. Putting up a fence after the animals know there's something worth working for on the otherwise makes it harder to succeed. I use cheap 7ft plastic deer netting, just tied with yarn to a random assortment of 4-7ft stakes (some wood, some metal, some handles that broke off tools, some extra wood trim) pounded just enough into the ground that they usually don't fall over, with the top left floppy, and the bottom edge weighed down with bricks between the stakes. I have rabbits, groundhogs, and deer in my yard, but haven't had problems with them getting in the garden. They could dig under it, and the deer could probably jump it, but either I've been lucky or they don't know that it's worth the bother. I've had minor problems with voles, partly because there isn't enough lawn between my garden and the wild part of the yard. Voles don't like running across open spaces with short grass, and lacking that they end up finding the edge of my garden and they probably like the cardboard I have around the edges, because it makes a roof when they tunnel under it. 
Here's a rabbit that would often dine just outside my garden, you can just make out the corner of the fence; this section got decorative edging bricks (other sections have plain ones), and I have cardboard around the edge to keep down the grass because the cheap fencing doesn't hold up to weed-whacking: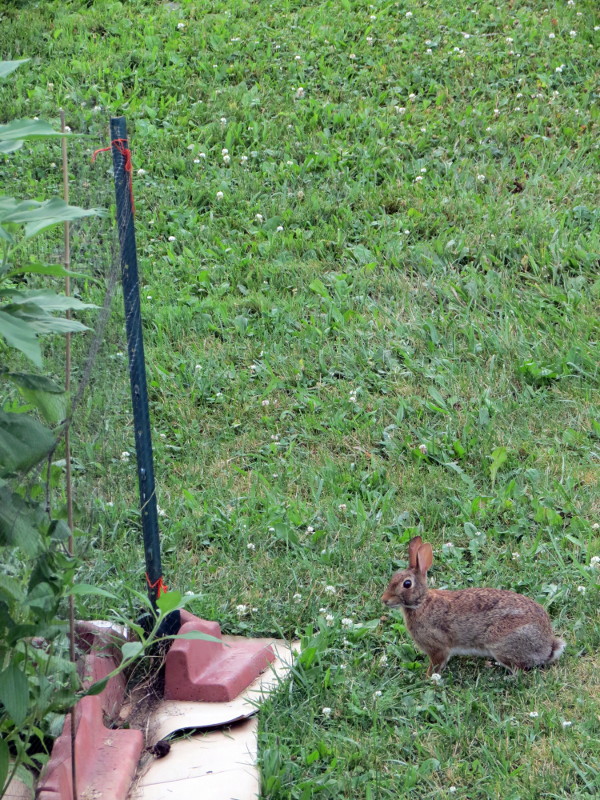 What else are you planning to grow this year? Do you have a plan, or are you just filling squares as you go for your first try? Your beds are probably pretty empty just yet, but we love photos!



Posts

: 1020


Join date

: 2016-04-11


Location

: Port Matilda, PA Zone 5b/6a



Welcome, tschida42!  Sounds like you have some ideas!  HAve you done traditional gardening?  It is not necessary at all, and you will be amazed at how easy SFGing is comparatively speaking!
Glad you found us, post often and pictures are worth 1000 words!



Posts

: 4831


Join date

: 2015-06-12


Age

: 55


Location

: Ada, Ohio



Welcome from Coastal NC.
sounds like you are well on your way...keep us posted



Posts

: 1043


Join date

: 2010-04-04


Location

: Hampstead, NC



---
Permissions in this forum:
You
cannot
reply to topics in this forum