We built three 4x8 raised beds last fall and filled them will MM.  I'm hoping I can transplant cabbage, romanesco and kale in a couple weeks!  Any feedback on these plans would be much appreciated, I tried to take companion plants into consideration.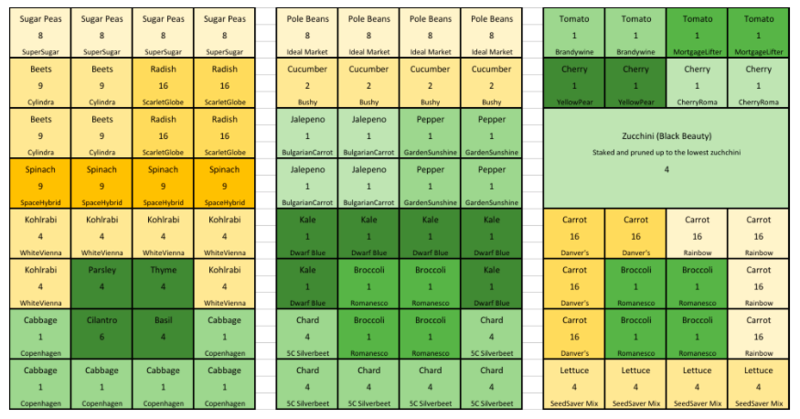 Posts

: 2


Join date

: 2017-01-08


Age

: 42


Location

: Andover, MN



Looks good to me with one exception. My basil would happily take over 4 squares with no sympathy for its neighbors. I don't know what I planted, but it turned into a small tree before the end of the season last year.

 This is only my second year, so I can't offer any other suggestions. I made too many mistakes last year.




Posts

: 2035


Join date

: 2016-04-12


Location

: Redding, CA



So far, I haven't been as lucky with basil as has Country Naturals.  My parsley and sage, on the other hand, grew too big for my SFG and are about to be transplanted to a different space.

I did, however, find that four cilantro per square foot generally suffices, and that it will eagerly re-seed.

Certified SFG Instructor




Posts

: 2120


Join date

: 2010-03-02


Age

: 69


Location

: Bend, OR (Zone 5-6)



Looks really nice, tschida42.  My only concern would be the top two rows of beds 2 & 3.  I'm wondering if the cukes would shade out the beans, and if the first row of tomatoes would shade out 2nd row of tomatoes. That's assuming that the top of your beds are facing the north.
CC



Posts

: 6061


Join date

: 2012-05-20


Age

: 61


Location

: elbow of the Cape, MA, Zone 6b/7a



Depends on what side of the garden is south facing but the peas may shade out the short radishes.



Posts

: 3185


Join date

: 2011-11-20


Age

: 67


Location

: Brooks, Ga Zone 7B/8A



Chida, Welcome to the Forum from California!
I think you did a good job on your planning. Mel stated to put the trellises on the north side and I am assuming you did. Here are my concerns. Four (4) zucchinis in 9 squares is really tight, as they can get 3' wide. For this year, try just 2, one in each 4 squares. There are 4 cherry tomatoes in 4 squares. I would try 2 in that area your first year. Usually supported with tomato cages. Dwarf kale can be 2-4 per square if you harvest outer leaves. Parsley and cilantro 2/sq max. Oh, I would move those 4 broccoli over with the rest of the broccoli/kohlrobi/cabbages in the 4 herb squares and put the 4 herb square over in the far right 4 squares with carrots, lettuce etc. It's easier to cover
all
of the cabbage family against the white cabbage butterfly if they are grouped together. Cover those squares tightly with bridal tulle or other light-weight netting. Their green caterpillars can decimate those crops.
Best wishes and keep us updated with photos!


Forum Moderator Certified SFG Teacher




Posts

: 13985


Join date

: 2013-04-21


Age

: 68


Location

: Fresno CA Zone 8-9



Nice plans!  I think you will be swimming in veggies!

Only concerns other than a few already voiced:  What comes after your radishes and spinach?  They will be done pretty early, so make a plan for those squares...taters?  I usually put potatoes in after peas, radishes, spinach.  

Other thing you can do is interplant.  So you put your peppers in, but around them you already have planted a bunch of radishes...which will be long gone when your peppers need to get going....I get a lot of mileage out of my minuscule square footage with this method.  Also spinach.  It can go in 4 corners of late season plants, peppers or tomatoes.  

I put 2 dwarf kales/SF.  Plenty of room.  

Can't wait to hear how your garden grows!



Posts

: 4819


Join date

: 2015-06-12


Age

: 55


Location

: Ada, Ohio



Tschida42, welcome from Atlanta, GA. Glad you've joined us!

Like Donna, my basil has not done as well as CountryNaturals, lol But it does get quite large...

With the changes mentioned, it looks like you have a good plan!

Certified SFG Instructor




Posts

: 4129


Join date

: 2014-03-18


Age

: 54


Location

: Buford, GA - Zones 7B/8A



I grow lots of herbs, none in my SFG.  In my zone, 5b/6a; sage, thyme, oregano, and chives are perennials, so they are interplanted in the flower beds.  I plant basils in front of my tomatoes; they are good garden friends as well as tasty on the plate!  Parsley and rosemary go in a big pot on the deck right outside the door since I use lots of both. 
Basils, sage, thyme and oregano will spread in the right conditions; far beyond the confines of an SFG square.  HTH



Posts

: 567


Join date

: 2010-03-27


Age

: 54


Location

: Central OH



---
Permissions in this forum:
You
cannot
reply to topics in this forum