We have issues with several enemies of vegetable gardens.  Urban deer with no fear of humans and who have become accustomed to free handouts will eat out of your garden like it belongs to them, even when you are outside in another square.  Raccoons wait until you turn your lights out, and they are little monsters.  We have to feed them high protein dogfood up in the woods to keep them at bay.
We have opposums, bobcats, coyotes, wild turkey, and rumor has it that there is one cougar in the area.
However, by far, our worst enemies are the insects and other bugs that outnumber the human population like Texas versus Rhode Island.
Last year, we noticed that our bug issues seemed to go away without us having to do much.  We only use integrative methods and won't even use organic pesticides, and it is virtually impossible to use deterrents to keep them away, since rain and dew wash away things like essential oils.
Earlier this year, we discovered what it was that was taking care of our insect issues.  We tested our theory out by depositing a grub on a paper plate placed on a table and waited to see if there was a taker.
Here is the buddy that has been doing the hard work for us.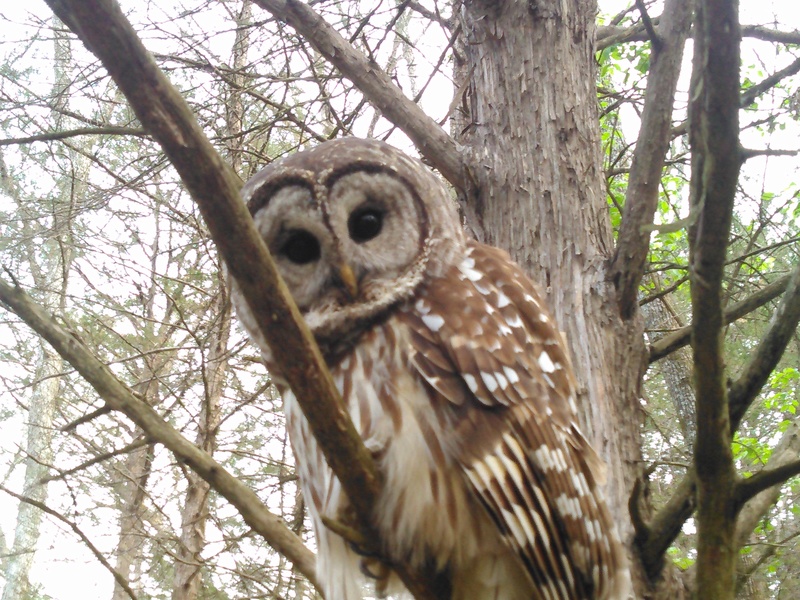 Posts

: 145


Join date

: 2017-03-30


Location

: Yerucham



He's beautiful! My nemisis right now are the squirrels. I planted and they dug it all up.

Your post would be perfect in the 'Any Strange and Wonderful Visitors' thread!



Posts

: 6083


Join date

: 2012-05-20


Age

: 61


Location

: elbow of the Cape, MA, Zone 6b/7a



Beautiful! He can come on down to my part of FL and help out too!



Posts

: 37


Join date

: 2017-03-11


Location

: Central Florida Zone 9b



You are so fortunate. This may.be a Barred Owl. If so, its call is a nine-note hoot. Also called a Hoot Owl. Have you identified it?



Posts

: 14


Join date

: 2017-03-14


Location

: Jalisco, Mexico



Yes, Catalina, it is a barred owl, and it has been living in our yard for the last three years.  My wife thinks it is a female, but I don't know why, but we refer to her as a her.

She is friendly, docile, and inquisitive.  We talk to her, and she acts like she is doing her best to understand.  She likes to watch us garden.  If we are at one in of the yard, she will sit on the tree at that end.  If we move to the other end, she flies over to the tree at that end.  We can get within two or three inches of her, and she will not  move.  She's even closed her eyes while we were close enough to touch her.

We had some grubs this year in our real dirt/compost garden that have been original SFG squares, because I still like to work with real dirt, and it would be a sin not to use these since they are 18 inches deep with pure black soil/compost.

I took a grub and placed it at her feet, and she took it and ate it quickly.  The next grub that I removed, I was ready to do the same thing, and she hopped out of the tree and came up to eat it.  I tossed it to her, and she took it off the ground.

She is not the only barred owl in the neighborhood.  When she hoots, there are maybe 2 or 3 other owls that reply.



Posts

: 145


Join date

: 2017-03-30


Location

: Yerucham



I'm a serious birder, and have never seen a Barred Owl. The books show that they are where we live, in the Sierra Madre Mountains of the west-central part of Mexico, so I'm on the look-out. I love their call, as recorded in this Wiki article. They are also good mousers.
https://en.m.wikipedia.org/wiki/Barred_owl.
It is obvious that not only do you have a relationship with this owl, but he/she has one with you, as well. 
BTW, male and female owls appear identical in color and markings, but the male is somewhat larger.
BTW #2, My beds are all the original SFG formula, sort of, as I can't get peat moss or vermiculite. I follow the original formula as closely as I can, adding more compost to make up for lack of peat moss and vermiculite. So far, so good.



Posts

: 14


Join date

: 2017-03-14


Location

: Jalisco, Mexico




Forum Moderator Certified SFG Teacher




Posts

: 14015


Join date

: 2013-04-21


Age

: 68


Location

: Fresno CA Zone 8-9



---
Permissions in this forum:
You
cannot
reply to topics in this forum