Latest topics
»
Taking on 4 Season Gardening
by
AtlantaMarie
Today at 5:48 am
»
Weight Watchers Turkey, Bean and Vegetable Chili
by
sanderson
Today at 4:28 am
»
How's the Weather Where You're At?
by
No_Such_Reality
Yesterday at 11:16 pm
»
Senseless Banter...
by
sanderson
Yesterday at 9:42 pm
»
Butternut squash, turkey Italian sausage, cannelini bean soup
by
yolos
Yesterday at 9:25 pm
»
Happy Birthday!!
by
yolos
Yesterday at 9:12 pm
»
N&C Midwest—January 2018!!!
by
Scorpio Rising
Yesterday at 7:08 pm
»
Fourth Year SFG in Canada
by
sanderson
Yesterday at 5:00 pm
»
Colored Mulch
by
SQWIB
Yesterday at 1:50 pm
»
Is there ever enough compost?
by
has55
Yesterday at 2:41 am
»
What are you eating from your garden today?
by
Scorpio Rising
1/16/2018, 9:10 pm
»
2018 - First Annual Seed Swap Week - January 20-28
by
Ginger Blue
1/16/2018, 4:02 pm
»
Gophers
by
countrynaturals
1/16/2018, 12:32 pm
»
SUGA 2017
by
SQWIB
1/16/2018, 7:09 am
»
High heat tolerant tomatoes
by
walshevak
1/16/2018, 6:03 am
»
Mid-Atl - Jan 2018 - Brrrrrrrrrr! and Happy New Year
by
AtlantaMarie
1/15/2018, 6:43 am
»
CANADIAN REGION: What are you doing in January 2018
by
sanderson
1/15/2018, 3:53 am
»
New England Jan 2018
by
hammock gal
1/13/2018, 5:50 pm
»
My first Attempt
by
21Actual
1/13/2018, 5:05 pm
»
Air Fryer! HELP!
by
sanderson
1/13/2018, 3:26 pm
»
New SFG box-Humanitarian way
by
sanderson
1/13/2018, 3:24 pm
»
Drafts?
by
trolleydriver
1/13/2018, 1:18 pm
»
Hello from Northern Ontario Eh!
by
BeetlesPerSqFt
1/13/2018, 1:07 pm
»
January 2018 Avatar: Surprise Us
by
sanderson
1/12/2018, 4:57 pm
»
Review of Terms of Service
by
Ginger Blue
1/12/2018, 4:02 pm
»
DIY Plant Markers
by
countrynaturals
1/11/2018, 7:32 pm
»
Non flowering sugar and snow peas
by
sanderson
1/11/2018, 3:21 pm
»
has55's R & D Journey
by
has55
1/10/2018, 11:19 pm
»
California's Drought
by
toledobend
1/9/2018, 11:55 pm
»
Trellis mod
by
brianj555
1/9/2018, 9:19 pm
Always seeming to be in need of more compost when all we have left is unfinished compost, I have been tinkering with a couple of ideas. 

Please tell me if you think this is worth the effort, and if it will even work.  Here goes.

First, after we bought our Vitamix, we put our two old blenders upstairs in boxes in the attic.  One was no longer really usable, since my wife had made homemade Italian gravy, and the garlic and onion smell never fully went away.

What I was thinking was to take the two blenders and make them compost blenders.  We would take all our kitchen scraps, mix a little water, and blend them into a puree.

Since they would not be used any more for any other purpose, I would get our mowed grass, dried leaves, and all the other outside things and blend those as well.

I would then fill up a couple of small metal containers with perforation, adding maybe some dried acceptable animal poop, some alfalfa, and some shredded newspaper.  

Once it was full, I would place the cans out in the sun with clear plastic sheeting on top to increase the temperature up to well over 100 degrees, just like it gets inside a car that has no windows down on a sunny day.

Might this give me hot compost in just a matter of 10-14 days?  Would the compost be the same as regular hot compost in nutritive value?
Last edited by camprn on 4/2/2017, 9:43 am; edited 1 time in total (Reason for editing : Expanded title)
To each his own, but in my opinion a big waste of time and energy. If nothing else, dump all your food scrapes and grass clippings, leaves, straw or whatever else and mow over it collecting in the mowers catcher bag. Dump and repeat. I've done it and it does work fairly well to get things shredded up, but only done it in a pinch.
If you want to keep things hot as it cools down, add alfalfa pellets, blood meal, poop, cornmeal, etc. Properly done, you can get your pile up to 140-150f with minimal effort.
You can buy a 50# bag of alfalfa pellets for about $15.
I'd leave the blenders in the attic, but that's just me.

Forum Administrator




Posts

: 4316


Join date

: 2011-10-04


Location

: Colorado Front Range



Thanks.  I needed a voice of reason.

We only have a Scott's reel push mower, but it is easy enough to rake up the clippings.  I think there is a grass catcher option for this at Amazon.
Hey TNGeezer, I like the way you think outside the bin (pun intended.) While it is beneficial to cut things up as small as possible, and the outcome of the stuff being blended would probably speed up the process, I think it would be quite a bit of work and energy for the amounts of added composting pleasure you would receive.
     I like and sometimes use RoOsTeR's idea of adding things like adding alfalfa pellets, blood meal, etc., then making sure is wet enough but not too wet, then covering with a clear plastic (or any covering) for a time before mixing it up again. Anyway you do it, if you want compost in a short time, (unless you have a tractor) the faster you want compost the more work needs to be put into it. 
     (Is it just me or am I using a l lot of run on sentences?

) 
   Just remember, compost is your (everyone's) friend and you are on the right track! 
On the other hand, if you could find a blender the size of a washing machine...




Posts

: 435


Join date

: 2016-04-17


Location

: NH



Geezer,  As Rooster wrote, the lawn mower works fine for compost.  Kitchen scraps are usually in smaller pieces so those are good as it.  If you get a boondoggle of a box of culls, you can chop up with large kitchen knife.  Pureeing is not necessary! A small amount of blood meal can help with heating the compost.  


Forum Moderator Certified SFG Teacher




Posts

: 15200


Join date

: 2013-04-21


Age

: 69


Location

: Fresno CA Zone 8-9



Geezer, do you think your push mower would chop leaves or would it get stuck? I have both types of mowers and I have never used my push mower to chop up leaves and such. Also, there is a thread or 2 on fast hot composting. I forget the name of the process but maybe you could find it if you put hot compost in the search box at the top left.
Found it!
http://squarefoot.creatingforum.com/t18500-compost-berkeley-18-day-hot-method?highlight=Compost
Also saving up kitchen scraps in a bag in the freezer will help to break them down faster.
I'm lazy and my compost pile takes a year... but it's gigantic!
CC



Posts

: 6522


Join date

: 2012-05-20


Age

: 61


Location

: elbow of the Cape, MA, Zone 6b/7a




Forum Administrator




Posts

: 4316


Join date

: 2011-10-04


Location

: Colorado Front Range



Not quite a blender, but close...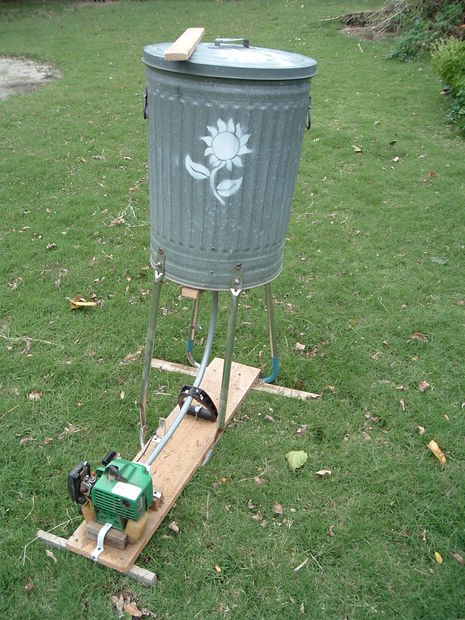 Gas Powered Shredder / Wildflower Seed Thresher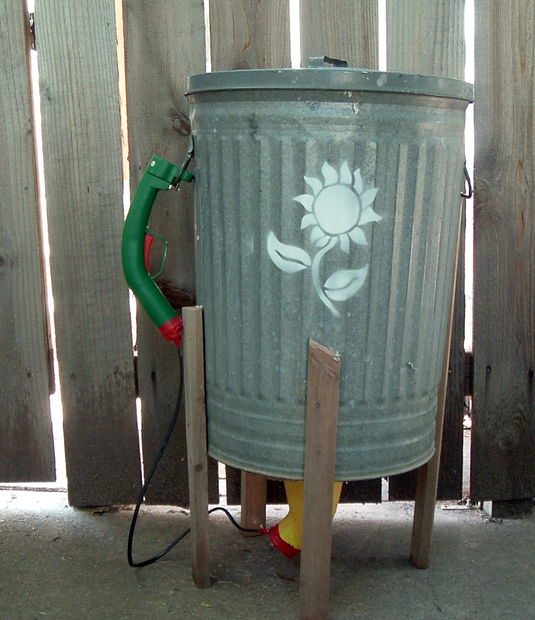 Electric Wildflower Seed Processor / Leaf Shredder



Posts

: 1046


Join date

: 2010-04-04


Location

: Hampstead, NC



OMG such ingenuity!  I hope you teach mechanical engineering somewhere.  

To answer other questions in this thread, I do not have a lot of success cutting the leaves with my push mower, but I get enough to make a difference in the hot compost.

What I do is pile dry leaves up as high as I can and then push quickly into the pile.  Rinse and repeat, and you get maybe 10% of the leaves shredded.  When I am not lazy, I will pick up leaves and tear them with my hands before dropping them into hot compost cans.

I cannot yet post links to Youtube, but I have seen at least 5 or 6 different ways to make hot compost.  The one that seems to work best for me is one called "Drunken Compost."  This guy takes mostly grass clippings and shredded leaves and piles them up on the ground.  He adds a combination of beer, soda, and ammonia and wets the pile with it.  It speeds up the process to where if you turn it after 4 days and then again and again on the 6th, 8th, and 10th day, you can have finished compost in 10-14 days.

I also like the composting videos on Vlogger Calikim29's site.  She is my muse.  I watch her videos and then feel motivated to get off the couch and go outside to work.
TNGeezer wrote:OMG such ingenuity!  I hope you teach mechanical engineering somewhere.
Just to be clear here, those are not mine. I found them online at Instructables. Now if only I didn't throw out my old electric weedeater I would make one.



Posts

: 1046


Join date

: 2010-04-04


Location

: Hampstead, NC




Forum Moderator Certified SFG Teacher




Posts

: 15200


Join date

: 2013-04-21


Age

: 69


Location

: Fresno CA Zone 8-9



---
Permissions in this forum:
You
cannot
reply to topics in this forum