Sorry for another newbie question. A couple of my spinach plants have started branching out. I have been harvesting lower leaves to eat off all spinach plants. This one in particular has almost half a square to itself and has started to grow branches and is much bigger than most of it's neighbors. Is it trying to tell me something like harvest me or should I just let it grow?
it's rained a couple of times in the last few weeks and things are talking off. Carrots, radishes, and onions are really growing well and acing like they are supposed to. Squash and zucchini are blooming. Some of the bok choi I planted a couple of weeks ago are growing well, others not so much. My swiss chard may be big enough by this time next year, still only about two inches tall after 3 months.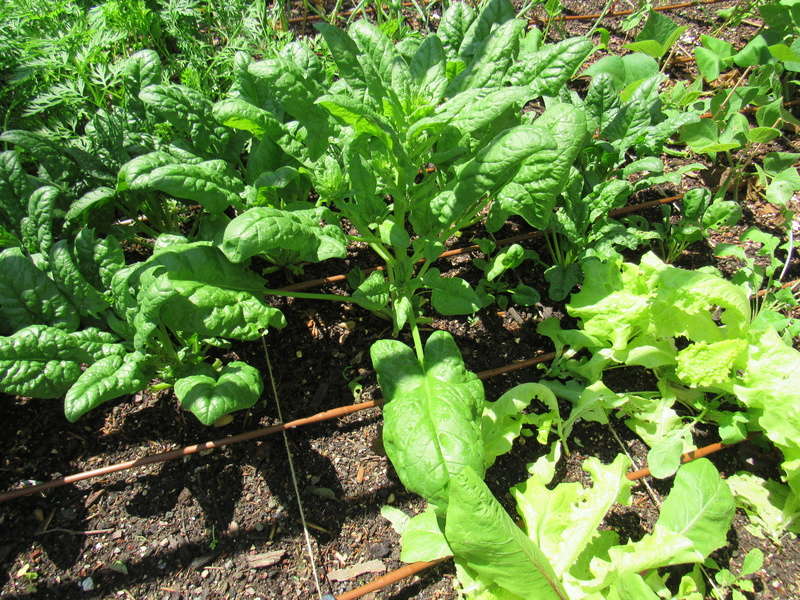 By growing and extending its branches, it's telling you that it's time to harvest, unless you want it to bolt and go to seed.

Certified SFG Instructor




Posts

: 2068


Join date

: 2010-03-02


Age

: 69


Location

: Bend, OR (Zone 5-6)



Thanks, Kind of what I was thinking. Never grown spinach before and wasn't sure.
Thanks for asking!  Nice spinach!  Did you enjoy it?  You really got a good run, did you direct seed, or start them indoors?



Posts

: 4508


Join date

: 2015-06-12


Age

: 55


Location

: Ada, Ohio



I started a few indoors then realized there weren't near enough so most were direct planted. The ones that were direct planted did better. Bloomsdale long standing. Had some cold back in December but don't remember having a freeze this year, maybe early in January can't remember. I left a few that weren't as big and didn't look like they were bolting yet(all were transplants). Usually eat it in a salad, pretty good tasting. Have more than I can eat right now. Going to have to figure out how to save some.
You can blanch and freeze it.  

I really do think I will direct seed at least one variety....early.



Posts

: 4508


Join date

: 2015-06-12


Age

: 55


Location

: Ada, Ohio




Forum Moderator Certified SFG Teacher




Posts

: 13539


Join date

: 2013-04-21


Age

: 68


Location

: Fresno CA Zone 8-9



---
Permissions in this forum:
You
cannot
reply to topics in this forum