Hello...I apologize if this is a silly question. I am a newbie to SFG. My SFG is not exactly 4'x4'. Can I still divide the box into 16 squares, even though each square will be less than 1'x1'? How imperative is it that it be 1'x1'?
Thanks in advance!



Posts

: 2


Join date

: 2010-05-15


Location

: Zone 5A



Hi,

I have 11 boxes; only one is 4x4. I fudge an inch or two here and there on square sizes.

For your box, I would lay out 3x3 squares. That will leave you with 6x12 inch rectangles on two sides. Just plant half the recommendations for a sq foot. You'll get one square in a corner that's 6x6 which is 1/4 square.

Happy gardening



Posts

: 7392


Join date

: 2010-02-26


Age

: 64


Location

: yelm, wa, usa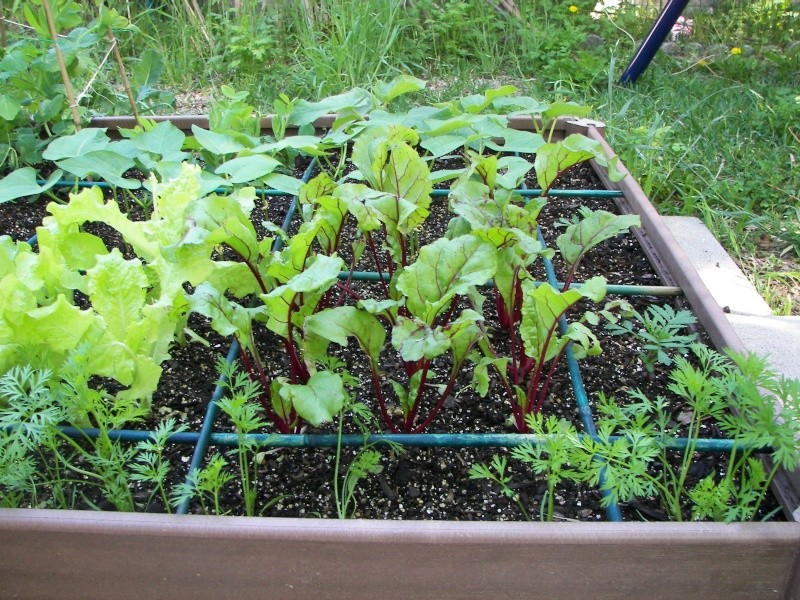 I've done exactly what Boffer suggested! I bought raised bed kits at Sam's Club that had two conjoined 3.5 X 3.5 boxes. I planted marigolds, onions, and carrots in the 6"X12" spots. I also planted an extra cucumber in the six inches next to the two cucumbers in the adjacent square. I hope that you can see how I've marked the squares from the image. It's an older photo. Everything has grown since I took it.
Thanks for the division ideas--I will do what you two have done. I also bought the raised bed kits from Sam's Club. Your bed looks great from your pic, trustingHim! I hope to get everything planted this weekend.



Posts

: 2


Join date

: 2010-05-15


Location

: Zone 5A



I have the three of the same kits from Sam's - 6 boxes joined in pairs. I opted for 14" squares in a 3x3 grid for the first season.



Posts

: 7


Join date

: 2010-05-17


Location

: DFW, TX (AHS Heat Zone 9)



Your garden looks great! What did you use to hold down your grid?



Posts

: 439


Join date

: 2010-03-19



I have the same boxes---TrustingHim--what did you make your grids out of?? I already planted my boxes by measuring squares but don't have the grids in because I wasn't sure what to use. I used the extra few inches along the top edge of each box for a little more room for my roma tomato plants ( I have two on the the north side of each 3.5 box). On the side I used it to plant a few extra of what is planted in the adjoining square, if that makes sense.



Posts

: 420


Join date

: 2010-03-18


Location

: MN Zone 4



I didn't recieve a reminder about the topic, so I am a little late in response.

I used bamboo shoots purchased at Home Depot. They come in different lengths. These just happened to be stained green. My dad picked them up for me. I just cut them to be pretty tight and wove them through one another in the grid pattern. The great thing about these boxes is that there are grooves in the inner sides of the panels. They hold the bamboo poles in place perfectly!
I was a little late in putting them out, so I had to maneuver around already growing plants.
I hope that this helps. Sorry again for being so late.
... and thanks for all the kind comments about my garden. I wish it still looked as pretty. Cabbage loopers have done some serious damage. Now I know how to control them. You live and learn to grow another day...

I will have to wait until next year to put in the grids, but I am definately going to do the bamboo. I measured mine out and planted too and at this point don't want to weave around the already growing plants. I figured I would give it a year and see how it went.



Posts

: 420


Join date

: 2010-03-18


Location

: MN Zone 4



---
Permissions in this forum:
You
cannot
reply to topics in this forum