Hello everyone! 

I tried square foot gardening awhile ago when the first book was released. It worked but I did not continue it because the plants that I had grown were not the correct type for my climate. 

This January, I went to the Square Foot Gardening site, joined the forum, and decided that I was going to purchase the new book and look at the differences. What a difference that made in my understanding! In any case, I wanted to let you know my progress with the following plants: 

Started from seed onions and seed potatoes: 
Stuttgarter Onions
Snowball Onions
Yukon Gold Potatoes

I labeled which were the potatoes, different onions, etc and kept the seed starter boxes so I know when to harvest. I cannot really tell the difference from the top greenery how the stuttgarter and snowball onions will look when I dig them up. But with all the rain and sunshine we have been getting, I will need some supports for the potatoes because I have filled the containers with soil. I started them with 3 inches and have expanded to 12 inches and now need to get a top hat to support them or a climbing trellis. 

Also, I built a planter from wall blocks from Home Depot and 2" x 6" boards like the instructions said. It was really simple and I don't mind that my planter is on a slope, because that helps the drainage toward the drain that is next to it and covered with ivy. 

I also purchased some mondo grass, pictured on the bench, and some rosemary and italian parsley. None of these are doing well under the grow lights inside so I moved them outside as soon as the weather permitted and now they are going pretty well including watering frequently. I will be planting them around the border of the concrete pad the containers are on. The containers are a foot on each side so they count as dividers and some of them are placed on cement blocks for height. 

Here is the progress on filling up the planter. I had many many boxes that are biodegradeable and cut them up to raise the area under the soil I plan to use. Then I placed weed paper, then on top of that, used up some perlite from the first attempt at square foot gardening, where I mixed my own soil. 

I put some square foot gardening soil I purchased from Home Depot on top. The boxes may sag as they wet down and rot, but I don't really expect that they will leach through the weed paper and perlite. I expect to plant herbs, flowers, and gourds in that planter once I divide it up with small boards. I also need more soil to fill it up a bit more and get six inches of depth.
Here are the the progress pictures: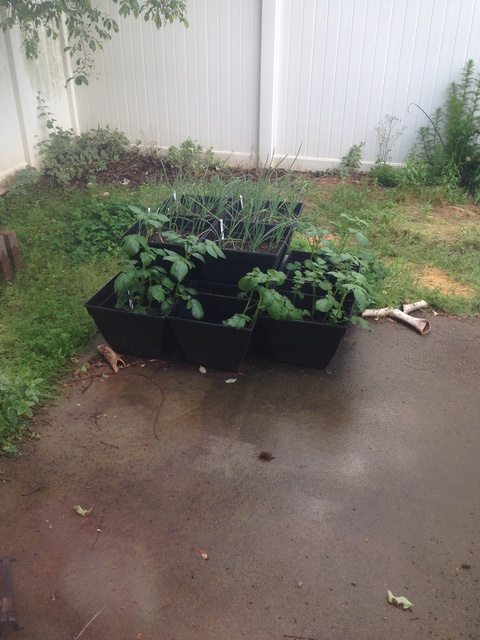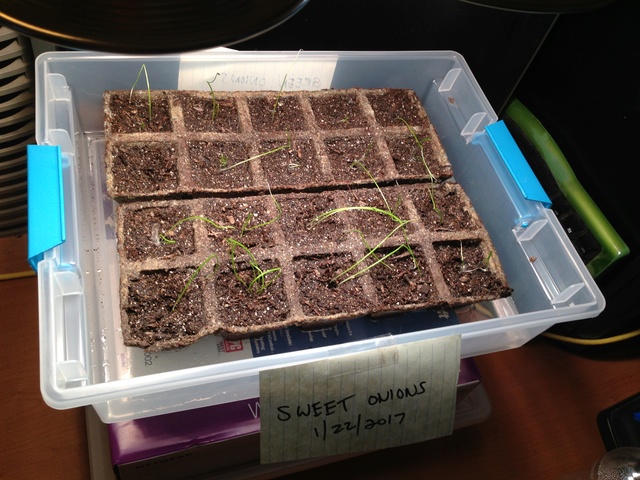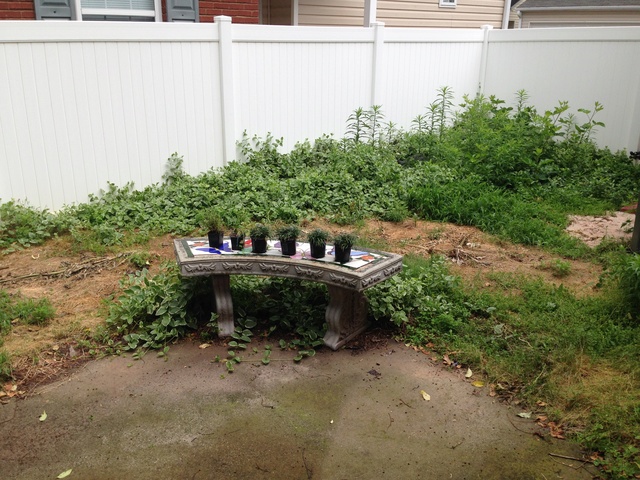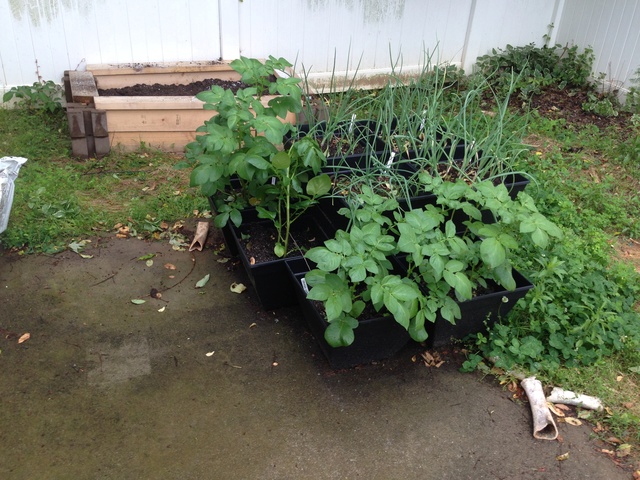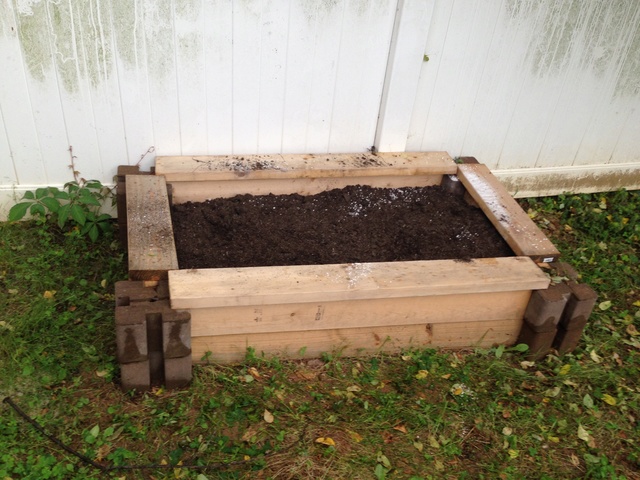 Boy, you are moving right along.  Did you grow the sweet onions from seed?



Posts

: 6058


Join date

: 2012-05-20


Age

: 61


Location

: elbow of the Cape, MA, Zone 6b/7a



Thanks! I grew them from onion sets and potato sets. I tried growing them by seed and it didn't work out.
I never could grow onions of any decent size from sets.  So when did you plant out the sets??



Posts

: 3184


Join date

: 2011-11-20


Age

: 67


Location

: Brooks, Ga Zone 7B/8A



You are moving right along. I like the cement garden blocks. They could even be used for table tops if done correctly.

Forum Moderator Certified SFG Teacher




Posts

: 13983


Join date

: 2013-04-21


Age

: 68


Location

: Fresno CA Zone 8-9



---
Permissions in this forum:
You
cannot
reply to topics in this forum