Hello everyone - Owen here from Knoxville, Tn (zone 7). My wife and I recently bought our first house, which is overrun by as many vines and invasives you can think of, but we're excited to prep the soil and get our land looking nice for next year - looking forward to all the advice I can find here!
Hi Owen, Welcome from Ottawa, Canada. Do you have the All New Square Foot Gardening Book (ANSFG)? There's lots of good information on the forum and many people willing to answer questions and provide advice. But the key to everything is Mel's ANSFG. So join in the conversation and post photos.
____________________________
Ottawa, Canada
Click for weather forecast

Forum Moderator




Posts

: 3526


Join date

: 2015-05-04


Age

: 70


Location

: Ottawa, Ontario, Canada



I don't have it yet. We've been focused this summer on weeding and upping the soil quality (mostly clay). Does it contain information on terracing? Our lot only has ample sunlight on our hillside.
Hi Flowinowen. Welcome from Atlanta, GA! Glad you've joined us.

Have you read the All New SFG 2nd Edition? I see you talking about modifying your soil... With Mel's new system, we don't need to dig (unless we like it old-style)..... Just a thought....

I'm sure there is info on terracing in the archives. Go to the upper left corner, the white blank area. Put in terracing & hit go. It should pull up all sorts of ideas for you.

We like pictures...... :-)

Certified SFG Instructor




Posts

: 4216


Join date

: 2014-03-18


Age

: 54


Location

: Buford, GA - Zones 7B/8A



Owen,  Welcome to the Forum from California!  
  The great thing about All New Square Foot Gardening is that you don't have to even think about clay (because we don't use any dirt or natural fill). The boxes can be elevated above ground with 2 short legs uphill and 2 long legs downhill. Lots of different ways. There are several threads regarding SFG on slopes if you enter 'slope' in the search box.  I just posted a Facebook photo on the thread "boxes on a slope".
Here are 2 stock photos: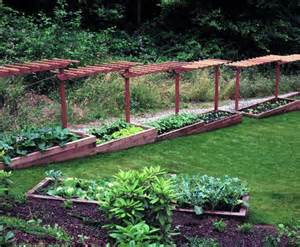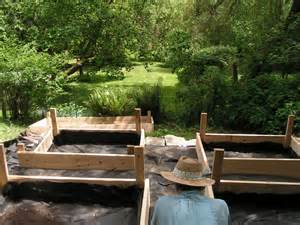 Forum Moderator Certified SFG Teacher




Posts

: 14410


Join date

: 2013-04-21


Age

: 68


Location

: Fresno CA Zone 8-9



Thank you all! We're focused on the front of house for our open house night - just found some yellow and green hostas in our jungle we transplanted. Once I figure out pictures, I'll send some before shots.
---
Permissions in this forum:
You
cannot
reply to topics in this forum