Helps if I do my Google searches before posting. Leaf miners. Suggested to immediately trash (not compost) affected leaves. Sad day:(
My beet leaves have had a lot of leaf miners this year. I've been using scissors to just cut off the affected part of the leaf, with some margin. Usually that removes all the maggots. A few times I think I must have missed some that were right at the edge of the cleared spot. But removing only part of the leaf means the plant still has part of a leaf for photosynthesis, and enough of the leaves on my plants were affected I didn't think I could get away with removing all the affected leaves and still get beets.
The not composting the leaves strikes me as odd for this sort of pest. If you remove just leaf pieces and place them distant from other potential host plants (swiss chard, other related plants like spinach, beets, orach, amaranth) I'd think the maggots will starve or dry up and die. Give the leaves (or pieces) a good stomp or pinching squish first and you'll kill the maggots inside, that way even if a big one is done feeding and almost ready to pupate it won't make it.
Lost a couple chard leaves, and a few beet leaves, but got it taken care of. Looked under every single leaf, and every one had leaf miner eggs! Squished the eggs well, and carried on. Will keep a careful eye on them from now on.
Silly me, not looking for eggs.

 I harvested a few beets and took a look. Sure enough... and WOW those are tiny eggs.

  They are so small that they were hard to photograph. For anyone following along, wondering what these things look like: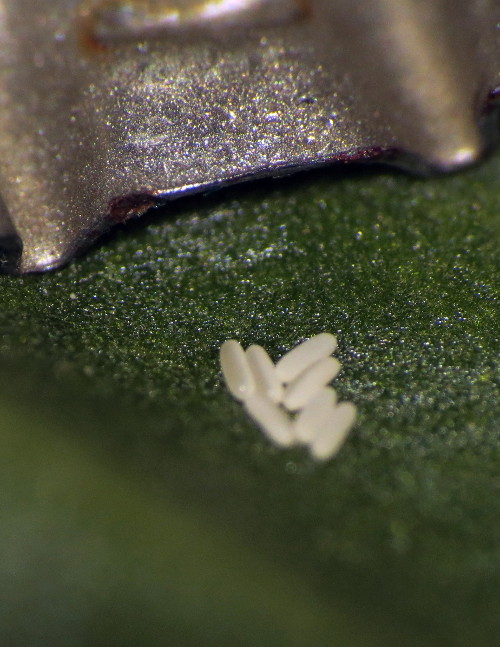 That's the edge of a bottle cap for scale!
Robbomb - did your eggs squish easily? Some of mine were easier to remove than others and I felt I was damaging the leaves when I tried squishing. This might be a case where I try the tape trick I've heard of, using the sticky side to remove the eggs.
Those be the eggs I squished! And yes, some seemed harder than others. Some needed a couple of rounds of squishin'. Tape trick sound interesting.

Still nice to know what to look for!

They are tiny. No wonder I never see them. Thank you for posting the photo.

Forum Moderator Certified SFG Teacher




Posts

: 15067


Join date

: 2013-04-21


Age

: 69


Location

: Fresno CA Zone 8-9



They are also hidden on the undersides of the leaves!
The upside is they are quite, and to me stand out pretty well against the dark green beat and chard leaves. But yes, hidden on the underside.
---
Permissions in this forum:
You
cannot
reply to topics in this forum