I have planted seeds twice for Sugar Bon, still no luck.  I have kept the beds under shade cloth & kept the beds moist.  I'm thinking it's too hot for them to germinate.  Has anyone else had any luck? 

Also, my cabbage seeds aren't germinating well.

2017 Fresh seeds used.
Hi Dixie. Don't think we've met...

I'd agree it's too hot for peas right now. But you might try starting them inside. Same with cabbage....

Certified SFG Instructor




Posts

: 4216


Join date

: 2014-03-18


Age

: 54


Location

: Buford, GA - Zones 7B/8A



I usually grow English Shell peas in the fall.  I am a little further south than you are so planting times may differ.  I try to sow seed by 9/1.  Last year it was way too hot to plant on 9/1 so I planted about 9/15.  The trick is to find peas with short maturity dates.  As far as English Shell Peas, I have found Strike Peas is the best variety as far as maturity goes.  But they are not as prolific as Alaska.  Alaska is a pole pea and strike does not need a pole but likes a 2 - 3 foot fence surrounding them.



Posts

: 3248


Join date

: 2011-11-20


Age

: 67


Location

: Brooks, Ga Zone 7B/8A



Atlanta Marie:  I'm pleased to meet you!

I think I'll try again in September.  I'll soak the seeds overnight.  Maturity is 56 days, so they might not make it. 

Thanks y'all
I'm in 6A. I wasn't successful last year with fall peas, but every year is different. It was hotter last year, and I really started too late, and was using taller peas. I think short peas might be better in the fall because they have less far to grow before they are big enough to flower??
This year I started Laxton's Progress #9 Peas inside on the 2nd - I didn't soak them, but had them in a wet paper towel, so they could absorb the water slowly and not drown. They germinated and I sowed them on the 9th. I think they were ready before that but rain and/or other things prevented me from getting them out sooner.
Here's what they looked like on the 16th (they look thick because I sow about 20/sq; the other plants are pakchoy and cabbages, and that's a jewel weed plant leaning over the bed in the back):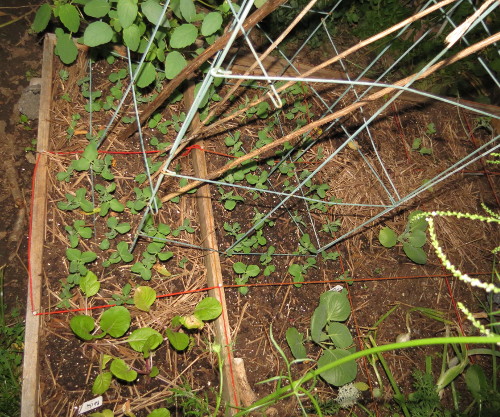 Posts

: 1142


Join date

: 2016-04-11


Location

: Port Matilda, PA Zone 5b/6a



Lookin' good.  It was 94 degrees yesterday, so I don't think I'll bother with it & just wait for spring.  My turnips & rutabagas sprouted well & my cabbages & cauliflower finally sprouted.  I did them in flats & kept them in the shade.  The cauliflower might not mature in time, but I started Frigga cabbage, which is a January King type, & should be OK during the winter.

Good luck
---
Permissions in this forum:
You
cannot
reply to topics in this forum