Hey all! I've had the unfortunate problem of green tomatoes that have fallen off my plants. I have 3 of them sitting on my counter next to my ripe ones. I heard that you can put them with a banana or other tomatoes that are already producing ethelyne gas to speed up the process of ripening but how long could this take? And will they even taste good after? Wondering if I should even bother hanging onto them. They're small compared to the others and I have no clue how long they will take to break color.
Thanks muchly!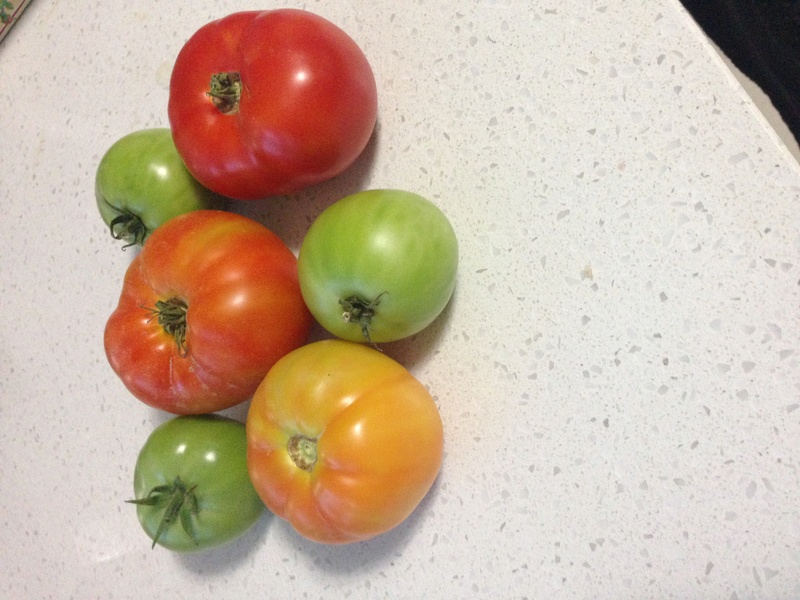 Last edited by Fiz on Mon 21 Aug 2017 - 17:00; edited 1 time in total (Reason for editing : Added picture)



Posts

: 147


Join date

: 2017-05-09


Age

: 37


Location

: Markham, ON



Give it a go!

I've had green tomatoes ripen in paper bags on my countertop, to be eaten at Thanksgiving.

Certified SFG Instructor




Posts

: 2175


Join date

: 2010-03-02


Age

: 70


Location

: Bend, OR (Zone 5-6)



I eat them! That might sound weird and be not much help to you, but those green tomatoes have a tartness and firmness that I enjoy. Makes for a good, unexpected snack when I accidentally knock a few off.



Posts

: 28


Join date

: 2017-08-10


Age

: 47


Location

: MA (just south of Boston, zone 6b)



Fried green tomatoes of course

I've also dehydrated green tomatoes. They slice up thin and make a great garnish or chips.

Forum Administrator




Posts

: 4316


Join date

: 2011-10-04


Location

: Colorado Front Range



One year when I had a lot of green tomatoes at the end of the season, I took up canning and turned them into salsa.
____________________________
Ottawa, Canada
Click for weather forecast

Forum Moderator




Posts

: 3871


Join date

: 2015-05-04


Age

: 70


Location

: Ottawa, Ontario, Canada



Thanks for the suggestions everyone! I read somewhere that unripe tomatoes can cause upset stomach the in some people so I thought better to play it safe. I always wondered about fried green tomatoes, maybe I'll consider that. In the meantime I shoved them all into a brown paper bag with a couple of semi ripe ones. I guess I'll check on them every couple of days and will rotate out the semi ripes as I pick them!



Posts

: 147


Join date

: 2017-05-09


Age

: 37


Location

: Markham, ON




Forum Moderator Certified SFG Teacher




Posts

: 14946


Join date

: 2013-04-21


Age

: 69


Location

: Fresno CA Zone 8-9



---
Permissions in this forum:
You
cannot
reply to topics in this forum