Hi everyone,
I'm relatively new here. My SFG is on my rooftop. So far I haven't come across anyone else on the forum doing this, and I'd be interested to hear from anyone who is and get your advice.
Thanks!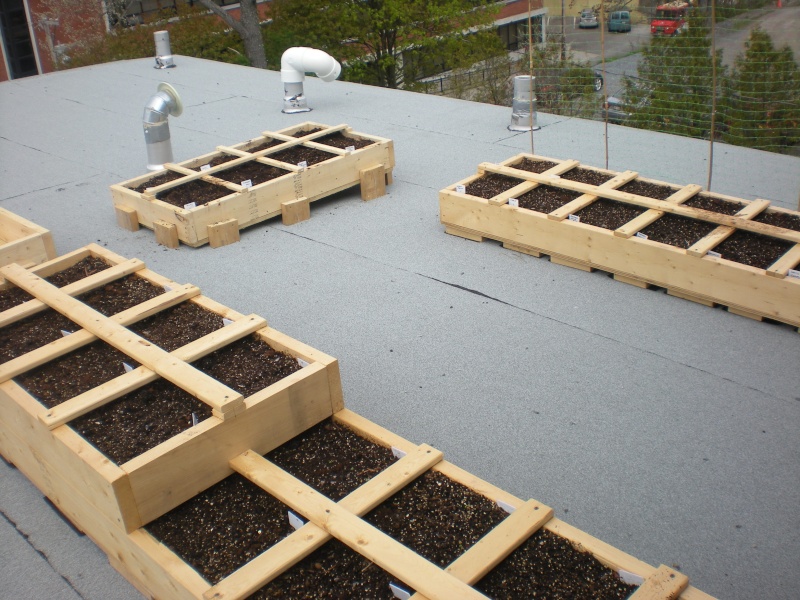 I am curious, did you check with the building owner and was there any issue with the extra weight on the roof? Was there an engineering analysis? Those are the issues I am aware of in rooftop gardens.

Also, what about security? Is this a group thing or just you? Do your neighbors know about it? Anyone else in the building interested?

I doubt you will find any other rooftop gardners here, but except for the height, your issues should be the same as any other table top SFGardner.



Posts

: 2467


Join date

: 2010-05-05


Age

: 61


Location

: Warner Springs, CA USDA Zone 8a, Sunset Zone 7 (I think)



Hi Chopper,

Good questions. I own the building and it's just my family in it, so no issues with permission. The immediate next door neighbours on one side (it's an end unit rowhouse) could get up there, but no one else. (I told the neighbours about the garden plans before I built it). I did think about weight load, so I am limiting my garden to the four raised boxes, all of which are just 6" deep except for 4 squares of 12" in one box, and that one is positioned close to the structure of 3rd story of the house (the front half is one story taller). I didn't have an actual engineering assessment, but I know the building pretty well, having renovated it extensively and I'd say there's no comparison between 1870's building standards and today's -- everything was far more solidly built then and the beams are huge. I am actually more concerned about the roof surface as it was newly done a couple of years ago and I don't want to damage it. I have all the beds raised on feet to allow for very easy drainage for that reason.

I guess the main difference I have noticed is that it's windier up there. I built my trellis out of bamboo stakes rather than metal conduit, as the bamboo will flex a bit. The bamboo stakes are attached to the outside of my box with the metal strapping used to hold pipes to a wall. Once the plants get growing and up on to the tresslis I may need to figure out a way to anchor the top of the trellis to something else, probably the roof of the 3rd storey. It will also get more sun, I think, but that's ok as the little bit of yard I have is heavily shaded and my neighbourhood is prone to fog, so the more sun, the better. My SFG gets sun from about 11 am on until evening because it is shaded on the east side by the 3rd storey of my house and partially shaded by a taller building on the south side. Most of the exposure is north and west.
That's interesting. Great way to make use of space (or lack of).
I have to ask....

.....where are you located? NB? is it in Canada?



Posts

: 215


Join date

: 2010-03-05


Age

: 42


Location

: southeast MN, zone 4a



New Brunswick is a small province on the Atlantic coast of Canada, next to Nova Scotia and just east of the State of Maine in the US.
My brother lives in a top floor 'condo' in Salem, MA and the beams are exposed and those things are monsters - 18th century. The house has a bit of a tilt to it, but it is certainly well built. I would not hesitate to put a few thousand extra pounds on his roof either.



Posts

: 2467


Join date

: 2010-05-05


Age

: 61


Location

: Warner Springs, CA USDA Zone 8a, Sunset Zone 7 (I think)



One possible advantage is the heat from the roofing material - since you're in NB, I would imagine it should extend your growing season. How hot is it likely to be in mid-summer on the rooftop?



Posts

: 530


Join date

: 2010-03-21


Age

: 65


Location

: Colorado Springs, CO Zone 5b



Because I'm right on the Bay of Fundy, it's not uncommon to be socked in with fog for half the summer. Sometimes spring and fall can actually be warmer than summer here. I'm actually hoping to get a little extra heat reflected from the roof (the roof surface is grey, not black, so shouldn't be too intense).
---
Permissions in this forum:
You
cannot
reply to topics in this forum