Latest topics
»
2018 - First Annual Seed Exchange Week - January 20-28 (Edited)
by
countrynaturals
Yesterday at 12:33 pm
»
Are vegetables hurt by too much light?
by
BeetlesPerSqFt
Yesterday at 8:38 am
»
Seed Starting!!
by
brianj555
1/19/2018, 9:14 pm
»
Spring Fever Anyone?
by
sanderson
1/19/2018, 3:06 pm
»
How's the Weather Where You're At?
by
sanderson
1/19/2018, 2:56 pm
»
Weight Watchers Turkey, Bean and Vegetable Chili
by
hammock gal
1/19/2018, 8:43 am
»
Sow True Seeds
by
AtlantaMarie
1/19/2018, 8:00 am
»
Colored Mulch
by
No_Such_Reality
1/18/2018, 7:12 pm
»
Taking on 4 Season Gardening
by
Roseinarosecity
1/18/2018, 5:19 pm
»
Fourth Year SFG in Canada
by
trolleydriver
1/18/2018, 3:53 pm
»
SUGA 2017
by
SQWIB
1/18/2018, 12:57 pm
»
Senseless Banter...
by
sanderson
1/17/2018, 9:42 pm
»
Butternut squash, turkey Italian sausage, cannelini bean soup
by
yolos
1/17/2018, 9:25 pm
»
Happy Birthday!!
by
yolos
1/17/2018, 9:12 pm
»
N&C Midwest—January 2018!!!
by
Scorpio Rising
1/17/2018, 7:08 pm
»
Is there ever enough compost?
by
has55
1/17/2018, 2:41 am
»
What are you eating from your garden today?
by
Scorpio Rising
1/16/2018, 9:10 pm
»
Gophers
by
countrynaturals
1/16/2018, 12:32 pm
»
High heat tolerant tomatoes
by
walshevak
1/16/2018, 6:03 am
»
Mid-Atl - Jan 2018 - Brrrrrrrrrr! and Happy New Year
by
AtlantaMarie
1/15/2018, 6:43 am
»
CANADIAN REGION: What are you doing in January 2018
by
sanderson
1/15/2018, 3:53 am
»
New England Jan 2018
by
hammock gal
1/13/2018, 5:50 pm
»
My first Attempt
by
21Actual
1/13/2018, 5:05 pm
»
Air Fryer! HELP!
by
sanderson
1/13/2018, 3:26 pm
»
New SFG box-Humanitarian way
by
sanderson
1/13/2018, 3:24 pm
»
Drafts?
by
trolleydriver
1/13/2018, 1:18 pm
»
Hello from Northern Ontario Eh!
by
BeetlesPerSqFt
1/13/2018, 1:07 pm
»
January 2018 Avatar: Surprise Us
by
sanderson
1/12/2018, 4:57 pm
»
Review of Terms of Service
by
Ginger Blue
1/12/2018, 4:02 pm
»
DIY Plant Markers
by
countrynaturals
1/11/2018, 7:32 pm
Hello everyone.
New to the forum, and to the world of gardening in general.   I have recently took on an interest in starting to grow my own vegetables, and it didn't take long to discover the possibilities and simplicity doing so with a SFG. 
I have purchased and read the All New SFG book and believe I have a plan for success on my first attempt. 
I have decided to go with a 8'x4' elevated (above grade on legs) bed.  There are two main reasons for this decision. First being my location.  I rent, and do not own the land (I feel its not reasonable as a tenet to create a new permanent garden bed). Second, the soil conditions are extremely poor.  This entire town is built on a pile of sand. A bed on stilts solves both these problems at the expense of costing more to build, as I no longer care in any way about the sand, and I will not be digging a hole causing permanent damage to the land owners property. Its a non permanent solution and everyone wins.
Below are the plans I have drawn up. I have not yet built it, I have been busy with another project you will see further down.   The bed will be constructed with untreated dimensional spruce lumber. 2x6 framed just like a deck only using 12" centers to support the entire bed, along with 4x4 legs.  This frame will be topped with 1x4 rough cut pine from my local saw mill. The sides will be two 2x8 boxes stacked creating a soil depth of approximately 14". I had originally planned to use a sheet of plywood to cover the frame, but I had some issues with the glue.  I do not want to contaminate the soil.  As It turned out, the 1x4" raw lumber was cheaper than plywood anyways. The entire floor is to be drilled with 1/4" drain holes, two per square foot. Then lined with landscape fabric to prevent soil loss through the drain holes. 
The approximately 14" depth will be somewhat costly to fill with Mel's Mix. I started searching online for vermiculite. The best online price including shipping was $237 for 12 cu/ft  of medium grade. Shipping alone was $96!
My search continued.  I found the exact same stuff locally at a hydroponics supplier. About the same price minus the shipping cost. $38 per 4 cu/ft.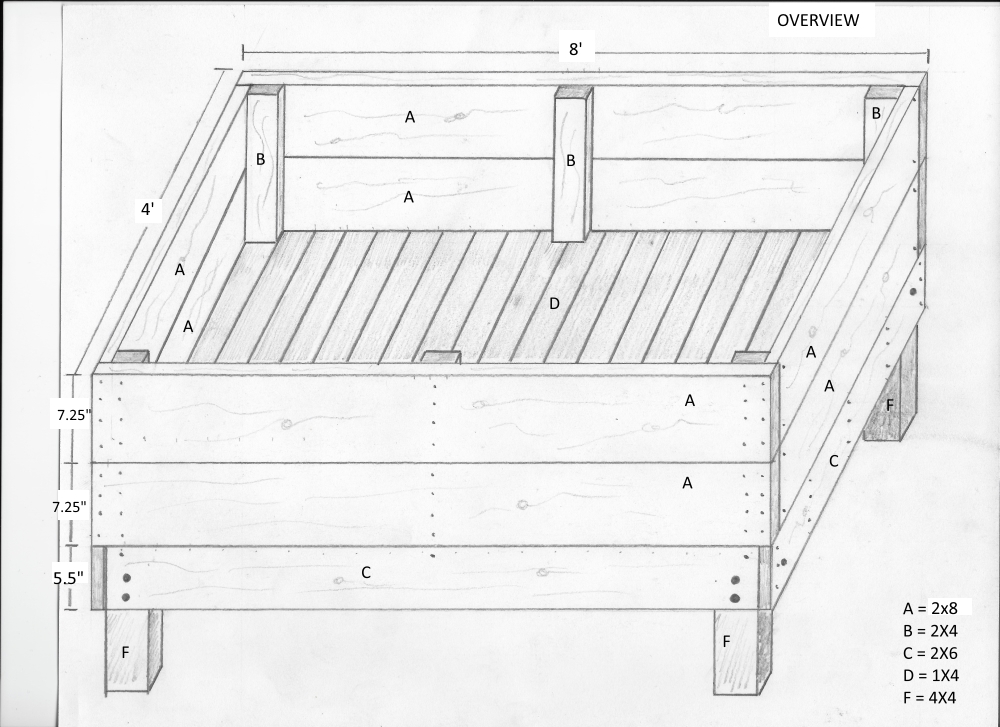 I may or may not construct a 3/4" PVC irrigation system. I have some ideas on how to do this but still unsure If I want to do it. 
Next up is what do I want to plant?  As it turns out, 4'x8' is a lot of room to grow! Below is my layout and planting schedule.  I stuck with vegetables that I know I will eat.  (hopefully my neighbors will help). I also considered the North side, and tried my best to implement companion planting. I will be building a 5' tall trellis for the peas, and have placed the pole beans directly in front of the corn, and kept the shortest plants up front. Hopefully the corn will be the trellis for the beans.  I may need to offer support for the corn, however with over 12" of soil depth, I am hopeful the corn will be capable of supporting the additional weight. (On the topic of soil depth, I feel that the only disadvantage to greater than 6" depth of Mel's Mix is the cost. The plants will benefit and thats what matters here)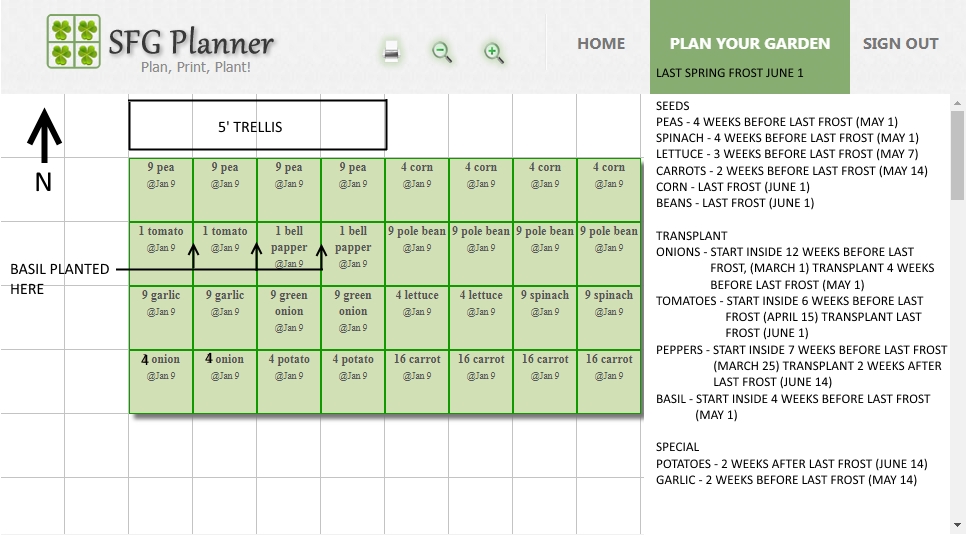 In case you did not not see it in the above picture, my last frost date expected thus year is June 1, with first frost expected just about 110 days later. This gives me short outdoor grow season.  Lucky for me, Mel's New SFG book has a detailed appendix. Some of my crop will be seeded directly onto the bed, and some will be started indoors, and be transplanted later on. 
On to the good stuff because work has started. With the need to start certain plants indoors just few short months ahead, Its about time I get myself ready to do so. I have purchased two 2L T12 48" light fixtures with plant/aquarium bulbs to go with them.  The fixture reflectors were lined with shiny aluminum duct tape.  (I compared the white paint to the tape, tape was a clear winner here with light emitted). I also made up a bracket to hold the fixtures equal distance apart, and created a hoisting rig to adjust the height of the lamps. I have approx 12"x48" of space directly under the light and can raise or lower it from tabletop to ceiling. 
I also was required to create a form of indoor pest control (my two cats).  I love them to death, but without the cage, my indoor plants would never survive.  It was very simple to make.  Just a few 2x2's and some 1" chicken wire. Hopeful this keeps them out.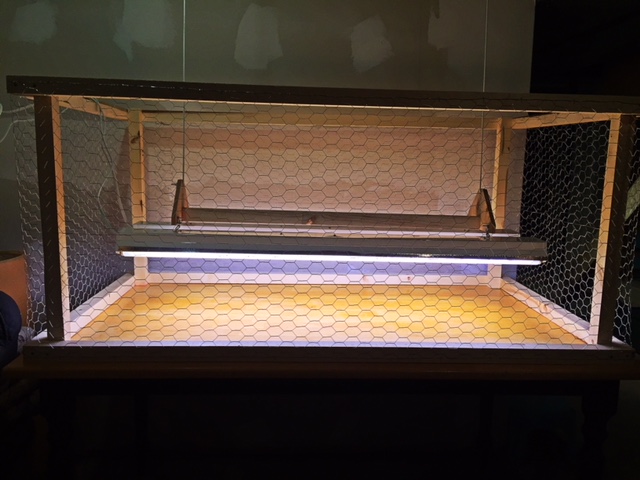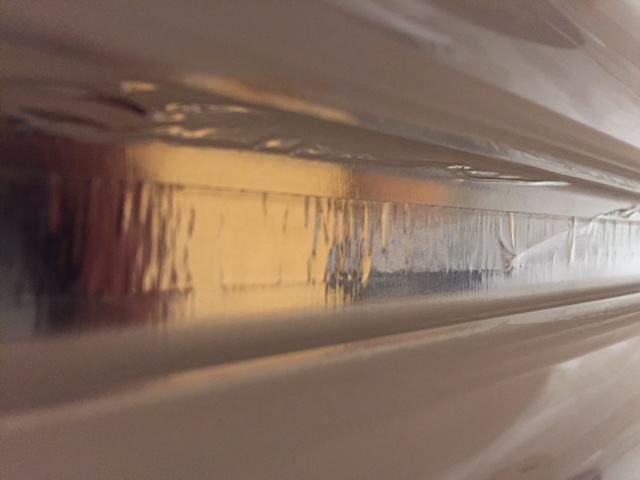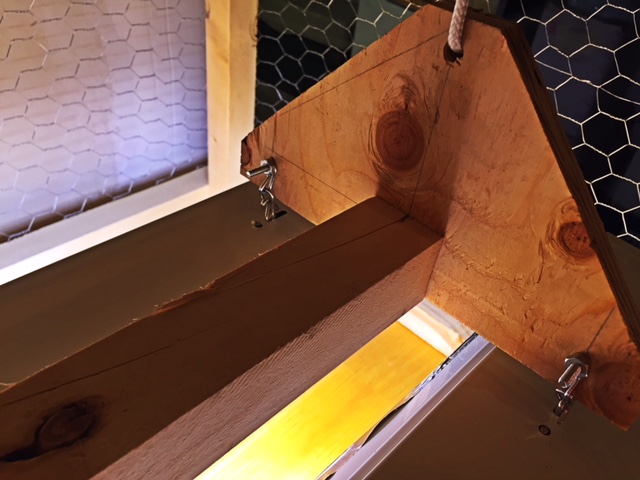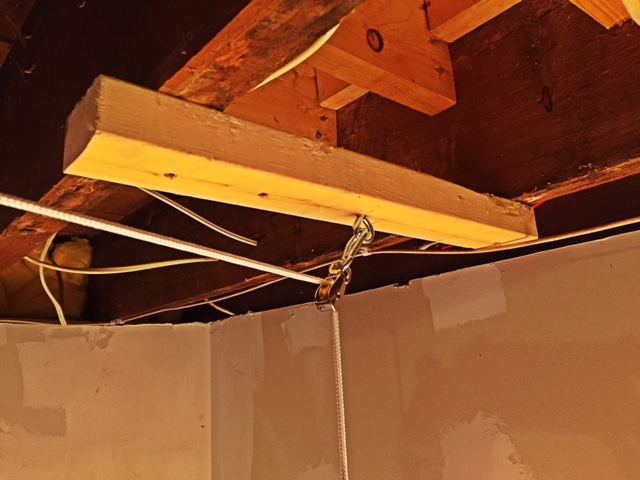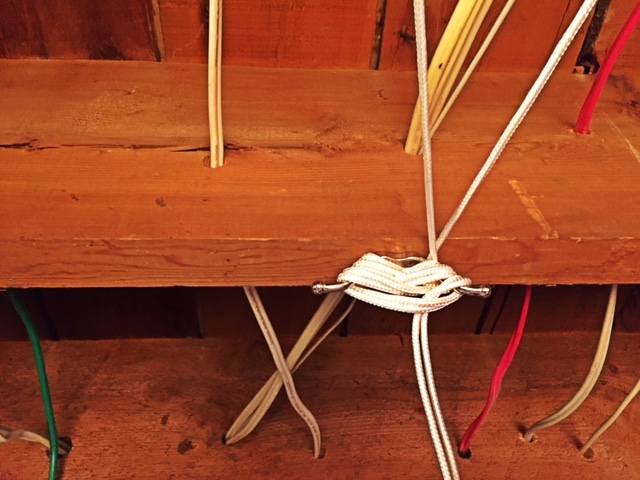 I feel like I be overly ambitious here, but If I am going to do something, I do it!
I'm really looking forward to started a garden this year. I don't recall the last time I was this excited about something. I think I've got a good plan here. 
I welcome any and all constructive criticism and suggestions. 
Happy growing everyone!
Updates to be posted when available.
Welcome to the forum from South Mississippi!  We have very different growing seasons, but all of your work looks great.  I'm sure others with more experience than me will chime in soon.   I have been told the forum goes a little docile this time of year.  I know from experience during the peak of growing season there is much more activity.  I will look more at your garden plan and see if I have any suggestions to offer.  The only thing that came to mind (I don't have the book memorized or in front of me) was; are two drainage holes per foot enough?  That might be exactly what the book says, That's just the only thing that came to mind when reading your post.  
About corn.  I don't have a great picture of my support system for corn, but I will upload the best one I have for you to see.  Maybe you can incorporate it into your bed.  I will post that soon.  Welcome again.
I got this idea from yolos!



Posts

: 430


Join date

: 2017-08-22


Location

: Zone 9 - Mississippi



I seem to recall the book suggesting a single 1/4" drain per sq/ft, assuming 6" soil depth. I will be just over double that, so I will do 2 or 3 per sq/ft.
Exciting stuff! We built our setup 2 years ago. I'm reliving those memories through your project. 



Posts

: 3052


Join date

: 2016-04-12


Location

: Redding, CA



Looks like you really thought his out well.

I'm not sure if this is Blaspheme for SFG folks but as a fill can you get a hold of twigs, sticks, fire wood and the like.
You could fill partially with them materials and a side benefit is it will help retain moisture and hold onto nutrients so as they don't leach out of your mix.

One downside is you may need to add some nitrogen if using fresh wood as the wood will pull in nitrogen to begin the decaying process, however, if you use decaying wood from the get go, you are in good shape.



Posts

: 110


Join date

: 2016-03-07


Location

: Philly 7A



Your plan looks good!  My only suggestion would be to put your 4 squares of corn in a postage stamp arrangement to facilitate pollination.  You are going to have a lot of veggies!



Posts

: 5590


Join date

: 2015-06-12


Age

: 56


Location

: Ada, Ohio



---
Permissions in this forum:
You
cannot
reply to topics in this forum