Latest topics
»
Texas Dream garden 2017
by
kamigh
Today at 10:50 am
»
Bryan Greenbeard of Minnesota's 2017 Plans
by
Greenbeard
Today at 10:27 am
»
2017: First full year of SFGing in ND
by
Robbomb116
Today at 10:18 am
»
Hello from TN
by
flowinowen
Today at 8:56 am
»
How's the Weather Where You're At?
by
trolleydriver
Today at 8:42 am
»
CANADIAN REGION: What are you doing in May 2017
by
Kelejan
Yesterday at 11:46 pm
»
N&C Midwest: May is here! 2017
by
CitizenKate
Yesterday at 11:19 pm
»
Saving cantaloupe from cucumber beetle?
by
camprn
Yesterday at 8:17 pm
»
Soaking seeds????? HELP
by
Yardslave
Yesterday at 6:30 pm
»
Third Year SFG in Canada
by
CapeCoddess
Yesterday at 5:39 pm
»
Senseless Banter...
by
sanderson
Yesterday at 2:47 pm
»
New England May 2017
by
sanderson
Yesterday at 2:41 pm
»
TrolleyDriver's Compost Thermometer
by
trolleydriver
Yesterday at 2:29 pm
»
2017 SFG in Brooks, Ga
by
yolos
Yesterday at 2:20 pm
»
growing corn
by
Turan
Yesterday at 2:12 pm
»
Strawberry protection
by
donnainzone5
Yesterday at 1:24 pm
»
Using Eggshells for your garden
by
countrynaturals
Yesterday at 10:47 am
»
Hello from St Louis
by
bigdogrock
Yesterday at 9:33 am
»
Planting tomatoes, cucumbers and squash back to back on wire mesh trellis.
by
walshevak
Yesterday at 7:03 am
»
boxes on a slope?
by
AtlantaMarie
Yesterday at 6:24 am
»
Rolly Pollys
by
sanderson
Yesterday at 3:40 am
»
Amaranth
by
sanderson
Yesterday at 3:37 am
»
surprising results from soil test
by
dstack
5/27/2017, 9:52 pm
»
Carrot Week 2017!
by
trolleydriver
5/27/2017, 4:06 pm
»
Yard and garden Maintenance Gadgets
by
yolos
5/27/2017, 1:54 pm
»
Lil' Goners
by
Scorpio Rising
5/27/2017, 1:13 pm
»
Ground Cherries
by
countrynaturals
5/27/2017, 10:59 am
»
Excited to be a part of forum
by
Kelejan
5/27/2017, 12:37 am
»
Double summer squash flower
by
sanderson
5/26/2017, 8:45 pm
»
New in NY...Hi all
by
Scorpio Rising
5/26/2017, 7:44 pm
I am curious about using regular pine (untreated) for my beds. Is there a finish I can use on the inside that is "safe" for the veggies? I am also thinking that painting the outside colorful and fun would be kinda cool. Are there suggestions for products to use for sealing/finishing the lumber?

OR....do I go with cedar?

I want to do this right the first time and not have to fix rotted corners or anything.

Suggestions?

Thanks



Posts

: 215


Join date

: 2010-03-05


Age

: 42


Location

: southeast MN, zone 4a



Hi new2this,

Welcome to the forum and thanks for the question-it hasn't been asked in awhile.
There's no one 'right' answer. Wood selection is based on your preferences and circumstances. Here's some ideas to consider, and I'm sure others will chime in with theirs.

Lots of folks use unsealed pine or fir. I can only think of one person who mentioned replacing boards in a box due to rot-that was at the 5 year mark, but she had started with used lumber to begin with. Linseed oil is probably the most frequently mentioned natural sealer that is used. Personally, I don't think that there is a non-toxic sealer that will withstand the rigors of being in constant contact with damp soil.

My climate is very cruel to exposed wood. I use pressure treated wood for all my boxes. I line the inside with 6 mil plastic to prevent possible leaching of chemicals into the soil. From what I've seen, folks who use PT wood are in the small minority.

There's no doubt cedar will outlast pine. But that goes back to pocketbook priorities. If you're able to scrounge used lumber, a rotted board isn't a big deal other than the time it takes to replace it. A rotted board isn't like a tire blow-out; it's more like a slow leak. You have a chance to repair it at your convenience-like at the end of summer after harvest time.

Let us know what you decide, and be sure to post some pictures when you have a chance



Posts

: 7392


Join date

: 2010-02-26


Age

: 64


Location

: yelm, wa, usa



i recently built my boxs useing $2 2x4's from lowes regular pine they even cut them for me to make transporting in my 3000gt a little easier lol i treated the outside of the boxes with a linseed based stain trying to be as careful as i could not to get any on the inside.

A handy little trick for waterproofing/staining your box:
get a piece of cardboard as you go a long the top edge of the box with the brush place the cardboard on the inside of the box just below the lip work your way around the box with the cardboard useing it as a splash sheild its not 100% effective but for the most part it keeps the splash to a minimum oil based products are such a pain to paint with cause they flow so freely.


Ive never seen a cedar tree but i have seen a cedar pine tree kinda makes you wonder why one will outlast the other once its processed



Posts

: 459


Join date

: 2010-03-02


Age

: 42


Location

: New Port Richey FL.



I am also new to SFG this year and have been doing a lot of research on it. I have been told to get untreated wood and paint vegetable oil on them, or even better or food grade flax seed oil. If you decide to use linseed oil check the label to make sure it has no toxic preservatives because some do.



Posts

: 2


Join date

: 2010-03-06



Hi, You can always use cinder blocks and never worry about replacing them, and also have extra planting spots. Seeya Phil

Certified SFG Instructor




Posts

: 7


Join date

: 2010-03-07


Location

: Seville Fl



I've been looking into wood preservatives and have found a product that is safe to use on the inside of the beds as well. It's called One Time Wood
The makers of the product intended it to be for decks and roofs and such, but I contacted them and they assure me that it's completely inert after it cures. It's a lil pricey, but it's guaranteed for 7 years.



Posts

: 327


Join date

: 2010-03-01


Age

: 43


Location

: Hobbs New MExico, Zone 7A/7B



how do you use cinder blocks? We just removed a cinder block fence from around our property and saved the unbroken bricks to be reused.. I would love to be able to use them to SFG. I'm a newbie so I'm totally clueless.. Thanks

Angie



Posts

: 5


Join date

: 2010-03-11



I went for the 'rural' look. I threw them on the ground and didn't pay too much attention to how straight the line was. I think you can see that in this pic.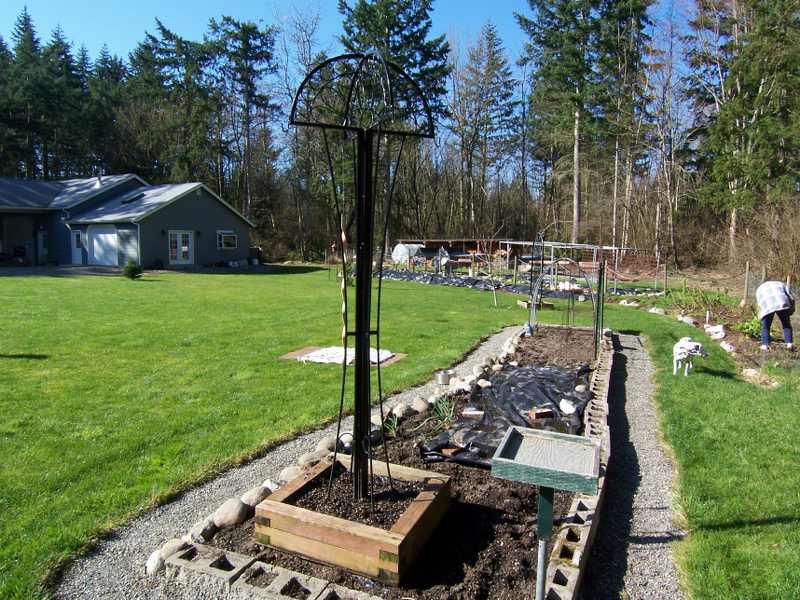 I ran out of blocks so I finished with rocks. I've seen pics from only one person who poured a footer and layed blocks properly, he went up two courses. The holes in the blocks can be used to grow lettuce, beets, rads, or ?



Posts

: 7392


Join date

: 2010-02-26


Age

: 64


Location

: yelm, wa, usa



Awesome!!!!Thanks for the pic. I know what the kids and I are doing over spring break..

Angie



Posts

: 5


Join date

: 2010-03-11



actualy looking at boffers garden it never occured to me that a cinder block border is an awesome idea granted the holes are not a sqaure foot but would make a perfect place to plant marigolds (for pest deffense) and other flowers to help attract benificial bugs and maybe some humming birds. hmmmmmm that gives me a few ideas for some of the left over lumber that i have lol drawing board here i come



Posts

: 459


Join date

: 2010-03-02


Age

: 42


Location

: New Port Richey FL.



---
Permissions in this forum:
You
cannot
reply to topics in this forum