Latest topics
»
What are you eating from your garden today?
by
CapeCoddess
Today at 3:17 pm
»
Mary Mary quite contrary, how does your garlic grow?
by
CapeCoddess
Today at 2:46 pm
»
Comfrey
by
CapeCoddess
Today at 2:14 pm
»
CANADIAN REGION: What are you doing in March 2017
by
trolleydriver
Today at 1:14 pm
»
Third Year SFG in Canada
by
Kelejan
Today at 1:07 pm
»
New England March 2017
by
yolos
Today at 1:03 pm
»
Northern California & Coastal Valleys - What are you doing this month?
by
countrynaturals
Today at 12:23 pm
»
Carrot Week 2017!
by
countrynaturals
Today at 12:05 pm
»
2017: First full year of SFGing in ND
by
Robbomb116
Today at 10:07 am
»
Anyone in SE Idaho or near by?
by
ralitaco
Today at 8:47 am
»
Hello from Southern Illinois
by
MrBooker
Today at 4:23 am
»
Ground Cherries
by
sanderson
Today at 2:20 am
»
N & C Midwest: March 2017 Brink of Spring
by
CitizenKate
Yesterday at 10:11 pm
»
Terrible News: Bumblebees In Trouble
by
audrey.jeanne.roberts
Yesterday at 9:41 pm
»
New from OK City
by
Scorpio Rising
Yesterday at 9:34 pm
»
Squares under siege... by grass!
by
Scorpio Rising
Yesterday at 9:14 pm
»
Butterfly Junction
by
countrynaturals
Yesterday at 11:56 am
»
Tomato Mystery Mix
by
Avinash
Yesterday at 12:06 am
»
How's the Weather Where You're At?
by
TCgardening
3/22/2017, 9:46 pm
»
New to SFG!
by
TCgardening
3/22/2017, 9:39 pm
»
North Texas - Square Foot Garden
by
Scorpio Rising
3/22/2017, 8:34 pm
»
How can we save this tree?
by
countrynaturals
3/22/2017, 2:30 pm
»
Ontario - trying out SFG
by
Kelejan
3/22/2017, 12:39 pm
»
List of Forum Members with Blogs
by
Cajun Cappy
3/22/2017, 12:31 pm
»
SUGA 2017
by
SQWIB
3/22/2017, 9:26 am
»
Happy Birthday!!
by
AtlantaMarie
3/22/2017, 8:42 am
»
who has chickens
by
sanderson
3/21/2017, 3:00 pm
»
Rolling Boxes
by
sanderson
3/21/2017, 2:50 pm
»
Bok Choy
by
Scorpio Rising
3/20/2017, 7:16 pm
»
2017 SFG in Brooks, Ga
by
countrynaturals
3/20/2017, 11:53 am
I had to move before the right garden spot finally entered my life. At our old house, I tried 3 different places and never did get it right. It got shady, or it was too far away from the house, or there was no water near by. Ha! I've got it all now: 10 hours of sun in summer and 6-7 hours in winter, a faucet right in the garden, and the kitchen only a few steps away. Only other gardeners would appreciate these basics.

We live on 8 acres of pasture, mature trees, and woods. Not much flat ground, though. We are still working on our house. The yard is mess, the house needs painting, I am embarrassed for anyone to come up the driveway. BUT. I have my garden. First things first!

I've had a SF Gardening book for years but this is the first time I am doing it completely by the book, right down to Mel's Mix for starters. I have 8 4X4 beds surrounding a smaller 3X3 bed in the middle, which is for my 6-year-old daughter. I also have a 2X16 bed in the back for the tall stuff. The beds are made from composite (basically nice-looking plastic) decking from Lowe's. This was a bit of an investment up front, but I had a raised-bed garden rot out from under me once and didn't want to repeat the experience. It was also quite a bit of work, but all three children got out there with my husband and me on two different days for the mixing and filling of the beds. They are ages 6, 11, and 16. It was my birthday and Mother's Day gift.

A note about the composite decking lumber: it is flexible, so using short pieces in small beds are best, we assumed. However, the last bed we built ("we" meaning my husband) is made from full-length 16-ft pieces. They were so warped INWARD when we built the bed that by the time we filled the bed with dirt they staightened out perfectly and have remained so. Nice surprise. Also, hubby said the lumber was easy to work with, the hardest part was three trips to Ace Hardware to get screws that worked with the density of the composite material.

We moved into our new house in December. I had already spent months watching the sunlight and laying out different garden designs. On Valentine's Day my husband started building the beds. I planted seeds in early March. We have been eating lettuce and greens since early April and recently started harvesting beets and carrots. I am anxiously watching the warm-weather stuff grow up. Sometimes I like to go out and just sit in my garden. The paths are mulched with pine straw so everything is very tame. Unlike the rest of the yard! But who cares how long the house takes to be really finished? Home is where your garden grows.



Posts

: 17


Join date

: 2010-05-17


Location

: Chattanooga



Welcome to you Finch....I love the way you write!



Posts

: 2054


Join date

: 2010-03-03


Age

: 60


Location

: Everett, WA USA



Welcome for another Tennesseean - I'm nearby, in Birchwood.



Posts

: 754


Join date

: 2010-03-02


Age

: 68


Location

: Southeast Tennessee



It sounds like you have a wonderful garden! We also have invested in our garden this year, figuring that we would like to have organic, locally grown veggies for many years to come.

What summer fruits and veggies have you planted? I'm always interested to know what other southeastern gardeners are experimenting with.



Posts

: 319


Join date

: 2010-03-22


Location

: Columbia, SC (Zone 8)



Thanks, you guys!
I started with mostly lettuce and greens---LOTS of it. Everything became lush at once, which was really pretty but now all of a sudden I have things going to seed everywhere. But I also have summer stuff on its way.
I thought I would be very clever and plant greens in my okra bed---an okra seed in the middle of each square with a kale or mustard plant in each corner of each square. Nice idea, but the okra took so long to do anything in the the cool spring weather I might as well have waited to plant it. But the greens were great. Just kept cutting and eating, then doing it again a few days later. Sillly things kept shading my non-growing okra babies.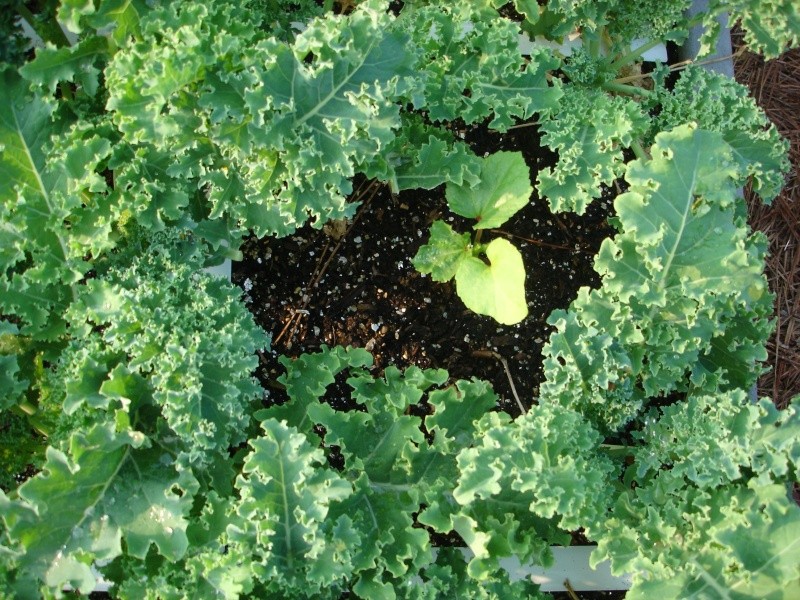 The kale is still hanging in there (not bolting) and so is the swiss chard.
I wish I had planted more beets and carrots; my 6-year-old simply cannot resist pulling them now that htye are getting big enough to eat.



Posts

: 17


Join date

: 2010-05-17


Location

: Chattanooga



---
Permissions in this forum:
You
cannot
reply to topics in this forum