I went outside to water today and decided to see if any weeds were coming up in the squares of bush beans I have planted. To my surprise the heirloom dragon's tongue beans were ready to harvest. I'm so glad I decided to look for weeds since the plants are so close together the beans were completely hidden. This is the harvest from two squares: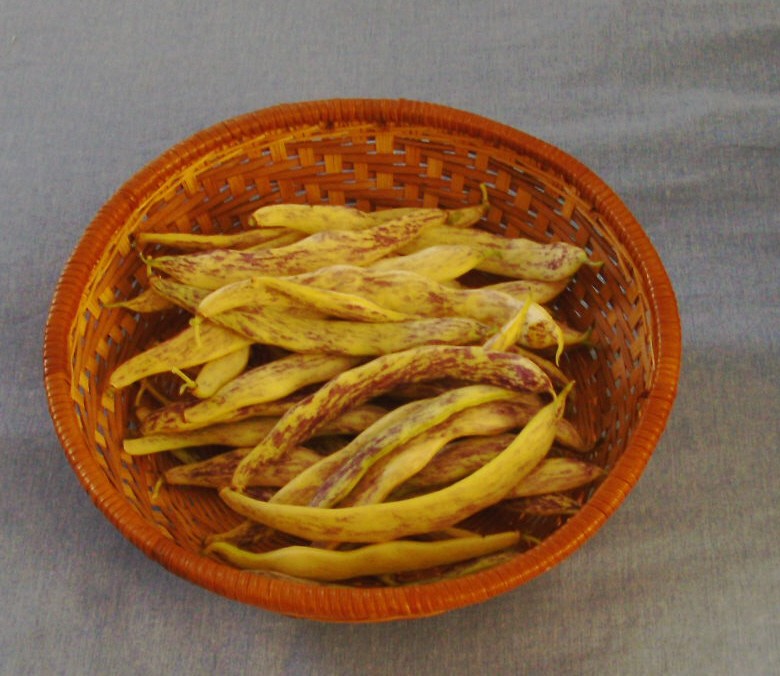 About three servings. The nice thing about dragon's tongue is they will continue to produce another medium harvest then sporatic for a couple of months. I have another two squares, and I think will put in two more. They are such a lovely bean.



Posts

: 904


Join date

: 2010-03-03


Location

: USA



What a wonderful surprise and so pretty too :-D Good eats !
Ha-v-v



Posts

: 1123


Join date

: 2010-03-12


Age

: 57


Location

: Southwest Ms. Zone 8A (I like to think I get a little bit of Zone 9 too )



Neat! I almost got some Dragon's Tongue seeds for this year, but I figured out at the last second it was a bush bean and I wanted pole beans. The Dragon's Tongue beans are so pretty!

How many plants did you put in per square?



Posts

: 3350


Join date

: 2010-04-27


Age

: 50


Location

: Manassas, VA - Zone 7a



Those are beautiful beans

I looked them up and read that they have a buttery taste. That's amazing. It's hard for me to imagine a bean w/ a natural butter flavor.
I'll have to plant these next time. I planted Asparagus Beans and Kentucky Blue this year.



Posts

: 151


Join date

: 2010-04-24


Location

: SuNnY SoutH CaRoLiNa



Wow! Those are beautiful!

My poor beans look like they've been shot with a shotgun, but they're still growing.



Posts

: 778


Join date

: 2010-04-29


Age

: 48


Location

: Central Virginia, 7A as far as I can tell



Those are wonderful! Really interesting. Are they similar in taste to a green been?

Carrie



Posts

: 77


Join date

: 2010-05-08


Location

: Chicago area, (zone 5a)



Those are wonderful! Really interesting. Are they similar in taste to a
green been?

Carrie
I came back to this thread to ask this very same question :-D I cant get the picture of the beans out of my head, they were so different looking and pretty. Then I it came to me, what do they taste like. :-D Thanks for asking Carrie

Ha-v-v



Posts

: 1123


Join date

: 2010-03-12


Age

: 57


Location

: Southwest Ms. Zone 8A (I like to think I get a little bit of Zone 9 too )



What a great suprise! I might have to try some for next year. Good thing my family loves beans. I am traditional in my bean selection this year, but it is the first time I have tried to grow beans since I was a teenager - pole, bush green, bush wax, and lima beans for now, and I have fava beans to plant in the fall. Yum - but these look and sound fabulous! Thanks for sharing



Posts

: 142


Join date

: 2010-05-10


Age

: 44


Location

: Durham, NC



---
Permissions in this forum:
You
cannot
reply to topics in this forum