Latest topics
»
CANADIAN REGION: What are you doing in March 2018
by
Kelejan
Today at 1:24 am
»
N&C Midwest—March and Spring is Here!
by
DorothyG
Yesterday at 11:38 pm
»
Hello from Houston
by
Zuly98
Yesterday at 9:23 pm
»
Fourth Year SFG in Canada
by
sanderson
Yesterday at 6:28 pm
»
SUGA 2018
by
SQWIB
Yesterday at 2:53 pm
»
Happy Birthday!!
by
sanderson
Yesterday at 2:09 pm
»
Do You Get The SFG Newsletter?
by
sfg4uKim
Yesterday at 8:36 am
»
SW Ohio (Cincinnati Area)
by
AtlantaMarie
Yesterday at 7:56 am
»
First day of spring
by
AtlantaMarie
Yesterday at 7:54 am
»
Coco coir... How often to replenish?
by
AtlantaMarie
Yesterday at 7:51 am
»
Garden Tower Project
by
sanderson
Yesterday at 2:14 am
»
Any suggestions on the stump grinding sawdust plus soil?
by
sanderson
3/20/2018, 6:55 pm
»
How much time for gardening?
by
sanderson
3/20/2018, 6:42 pm
»
Sanderson's Urban SFG in Fresno, California
by
sanderson
3/20/2018, 4:03 pm
»
Northern California & Coastal Valleys - What are you doing this month?
by
trolleydriver
3/20/2018, 1:13 pm
»
New England Mar 2018
by
CapeCoddess
3/20/2018, 10:45 am
»
What are you eating from your garden today?
by
Scorpio Rising
3/19/2018, 6:36 pm
»
Trellis mod
by
SQWIB
3/19/2018, 8:39 am
»
How's the Weather Where You're At?
by
Scorpio Rising
3/18/2018, 6:38 pm
»
Powdery Mildew and SoCal Fall Planting
by
countrynaturals
3/18/2018, 12:34 pm
»
Boat Gardening
by
AtlantaMarie
3/18/2018, 6:51 am
»
How many green beans per square foot?
by
Scorpio Rising
3/17/2018, 9:27 pm
»
2018 SFG in Brooks, GA
by
yolos
3/17/2018, 8:34 pm
»
Comfrey
by
sanderson
3/17/2018, 8:21 pm
»
Hello from Hagerstown MD
by
sanderson
3/17/2018, 6:10 pm
»
Horsetail weed
by
Kate888
3/17/2018, 3:02 pm
»
A new SFG fan from Texas
by
AtlantaMarie
3/17/2018, 7:17 am
»
Potatoes: Yes or No?
by
AtlantaMarie
3/17/2018, 7:13 am
»
Modesto, Central Valley, CA...
by
AtlantaMarie
3/17/2018, 7:03 am
»
has55's R & D Journey
by
sanderson
3/16/2018, 3:28 pm

I live in my zone 5A and our last expected frost date is May 30th but I was so eager to get started this year (I was a beginner last year), that I started many things early.
Today I transplanted eggplant, peppers and zucchini.
Tomorrow I will be transplanting more peppers, lettuces, and my tomato plants which I have had hardening for 3 days.
Here on the garden bench are two trays awaiting transplanting. The purchased lilac is in the left tray, a yellow Primrose which will go along the driveway, and the chives and basil will go in the raised beds. In the right tray are a few varieties of tomatoes I started from seed (my first time ever and I've had a ball), including Rose, Brayndwine, Delicious, Matt's Wild Cherry, Purple Cherokee, Green Zebra, and San Manzano 3 which will be going into the beds tomorrow, the 22nd. I'll keep my heavy row cover handy just in case we get a frosty night.
Wish me luck that the frost is ended for this year.
I've already harvested lettuces, mesclun mix, all lettuce mix, radishes, and Swiss chard and tomorrow I'll be cutting spinach. I've enjoyed this 2nd year so much because of all I learned the first year. Thank goodness I ordered and read about Square Foot Gardening and took the plunge. I love it.
Has anyone else in New England been harvesting anything?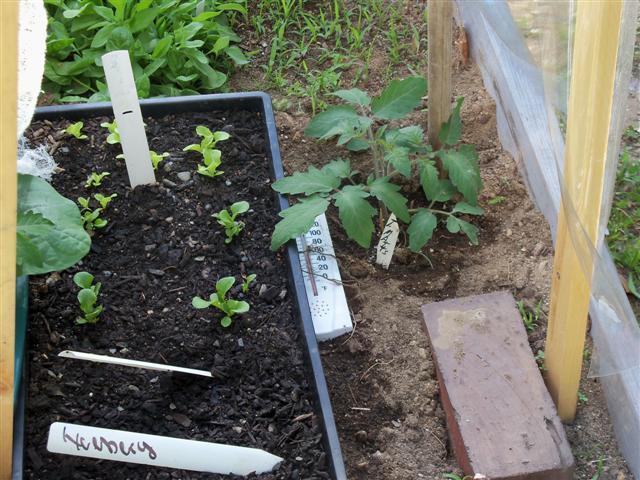 I even put a couple of Matt's Wild Cherry tomatoes in the A-frame to grow there for the whole season.
I'm just giddy over my garden this year.
Let's see pics and hear about other N E gardens this year.
Last edited by boffer on 5/21/2010, 11:09 pm; edited 2 times in total (Reason for editing : to correct spelling errors)
Planted yes. Harvested - no. I am jealous!

In 5b/6a the forecast was for several warm nights. That takes me to late enough in May that I am willing to gamble.

I agree completely about enjoying this year. I had a lot of fun last year, but so far this year is even better.

But I am jealous - you are well north of me, and I am having difficulties with my radishes. They need to grow quickly, and mine don't.

Can you tell me what kind and how you are doing it?



Posts

: 2188


Join date

: 2010-03-03


Age

: 61


Location

: Acton, Massachusetts Zone 5b/6a



I have had to build gardens from scratch this year and I got a pretty early start with that. I am in zone 5a & I have been harvesting greens (spinach, chard) since May 1 with no row cover. The blooms are absolutely crazy on the peas. Beet greens soon. I don't do radishes, so I planted none. I have most of the boxes built now so I may be able to put the rest of my cooler weather starts in today. Next week (Memorial Day) I will put out the warm weather starts. Planting the beans today and some other seeds too. Hopefully photos later today.

On a side note, I had some nasty large shrub stumps that were doing to take me many days to remove by hand

, but a friend came over with his Jeep and winched them all out yesterday, so, now onto the flower beds... Oh Boy!


Forum Moderator Certified SFG Teacher




Posts

: 14167


Join date

: 2010-03-06


Age

: 55


Location

: Keene, NH, USA ~ Zone 5a



I'm not in your NE area but I sure did start early -- toooo early. I've seldom been successful starting seeds. I tried again this year. Most got tall and leggy because I don't have the right kind of light or a place to put a light directly over them. They were intended mostly for our new 4x4 which STILL isn't ready. Bummer.
The box is ready but the spot we'll put it isn't. The only thing that really looks like it will be worth the early start is the broccoli. Live and Learn! And I sure am learning! Love it.
Claire


Certified SFG Instructor




Posts

: 765


Join date

: 2010-03-05


Age

: 78


Location

: Cleveland Heights, Ohio (5b)



martha....I amended the soil squares with composted manure and alfalfa pellets before I planted.
I love having soil in raised beds like this. It stays so pliable and when one wants to plant anything, the trowel easily removes the soil
I dug out about 6-7" of soil (my beds are about 11" deep), put a couple of trowels of composted manure and a handful of alfalfa pellets in, mixed it into the bottom layer with the trowel, then replaced the layer I'd removed, tamping it down a bit.
I bought a huge bag of alfalfa pellets at the local feedstore last year realizing that alfalfa helps improve the soil. The pellets seem to be working as well. I add a cupful to every hole I open for transplants or seeding along with some composted manure. I make sure the pellets are underground. I don't want any rabbits raiding my garden.
Also, I just scatter the tiny radish seeds in slightly depressed rows on the top and cover it with a layer of vermiculite only. Radishes grow close to the top and its their colorful shoulders showing thru the soil that helps me tell when they are ready.
Brilliant, Quiltbea! Are the alfalfa pellets the same as the ones packaged for horses?

I am going to try the vermiculite trick also.



Posts

: 2188


Join date

: 2010-03-03


Age

: 61


Location

: Acton, Massachusetts Zone 5b/6a



martha, yes the pellets are horse feed. I mix it in with a bucket of composted manure and put one or two trowels of it in the holes before I transplant or sow seeds.
I like vermiculite over my rows because its easy to see the rows and it also makes it easier for the seed to germinate.

---
Permissions in this forum:
You
cannot
reply to topics in this forum