Hurray! Here's the first harvest from my SFG - 16 big fat radishes: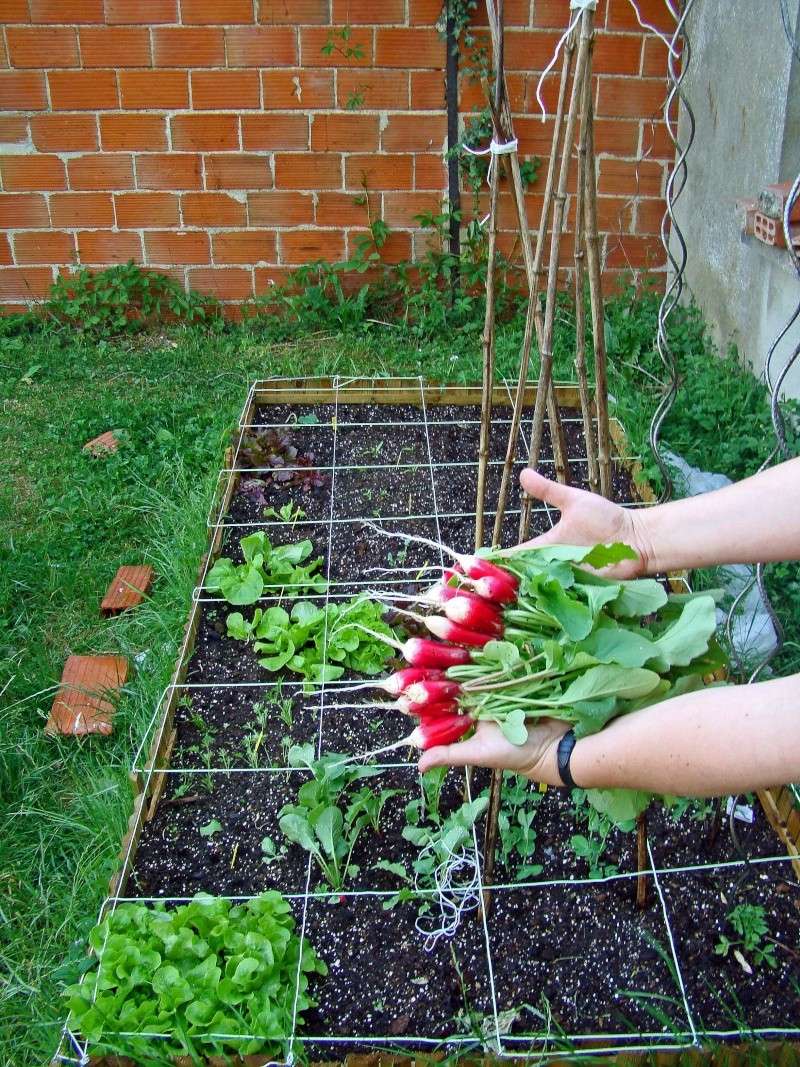 These are French breakfast radishes -- pretty, and loads of flavor without heat.
The lettuce on the left-hand side of the photo have had a pruning for tonight's salad -- the first one from my SFG. I'm as excited as a little kid. I figure tonight's salad costs 200 Euros...after tonight, everything's free.


Today I added Sugar Baby watermelon (pasteque - 1 square), Charentais melon (a super-fragrant canteloupe - 2 squares), green beans (haricots verts - 3 squares), and 6 squares of Golden Bantam sweet corn (mais doux) - they're 1/square, since it's a late-season variety. All of this is from seed...so I've still got my fingers crossed.
I appear to have two squares of Boffer's Extra Special Stupid Peas...they are reaching for everything EXCEPT their teepees (teepeas?

)...so now I have to convince them which way to reach.
This leaves me two empty squares when the last of the radishes are gone...and one more square when my Very Reluctant Carrots finally decide to grow up...oh, what to grow, what to grow.



Posts

: 1023


Join date

: 2010-03-03


Location

: West Central Florida



When I was in France at a breakfast buffet I had a wonderful fruit that I had never seen before that was delicious. I never got the name of it (or the coffee "it is not Nescafe" the waiter said with derision LOL).

I also knew that radishes were very popular in France and I think it is interesting that you mentioned these. I am wondering if that seed for breakfast radish is available here. Sounds interesting. And how do you eat it? Raw? Cold with butter? or...?

Thanks.



Posts

: 2467


Join date

: 2010-05-05


Age

: 62


Location

: Warner Springs, CA USDA Zone 8a, Sunset Zone 7 (I think)



Those radishes are gorgeous. LaFee you got any good ideas for using radishes other than slicing and dicing for a salad?



Posts

: 327


Join date

: 2010-03-01


Age

: 43


Location

: Hobbs New MExico, Zone 7A/7B



If you can describe the fruit for me, maybe (!) I can identify it for you. The coffee here is really good -- but most of the brands here (except Lavazza) don't exist in the US...go for a very dark espresso-type roast, made from arabica beans, and brew it strong. I use 4-5 scoops for a single pot of coffee, and it's still not quite as strong as you'd buy in a cafe. NOT Starbucks, though...their espresso roast is burned to a crisp, and it's bitter and really unpleasant.

I saw that French Breakfast radish seed is available from Ferry-Morse, so I'd imagine it's available from other suppliers, too. It was the most common seed I found, and it's what I see most often in
the markets, so it's what I planted. We scarfed them au naturel, but the usual way to eat radishes here is to slice them thin, then lay them on top of a thick layer of salted butter on a slice of fresh baguette. Yum. (You can get round red radishes here, too...but they're not as common as the red-and-white oblong ones.)

I'm really lucky. I live in a market town, where there's a market 3 times a week, so my veggies usually come from the producer, whose farm is local. Fresh butter, fresh cheese (I live in the Brie region, so have my choice of NINE different kinds of Brie for my table...AND the cheeses from the other regions!). My mom thinks I'm crazy because I have an onion and garlic vendor, a potato vendor, a cheese vendor, a poultry vendor, a fish vendor, a butcher...if they weren't all in one building, I'd never do it...but oh, it's so good.



Posts

: 1023


Join date

: 2010-03-03


Location

: West Central Florida



Mmmmm fresh baguettes, lait, et fromage! Man that just sounds good hehe. I'm gonna try another square of radishes with those from Ferry Morse.



Posts

: 327


Join date

: 2010-03-01


Age

: 43


Location

: Hobbs New MExico, Zone 7A/7B




Certified SFG Instructor




Posts

: 778


Join date

: 2010-03-02


Location

: Frisco, Texas



---
Permissions in this forum:
You
cannot
reply to topics in this forum