In one box I planted peas in the back row, and I want to plant a couple of tomato vine plants in the row ahead of them (third row from the front). In another box I have my beans in the back row and I want to plant a couple of vine tomatoes and a couple of cucumber plants in the row ahead of them (again the third row).

Can I install my metal support frame (like the one in the book) in between rows three and four and have my peas growing up one side and my tomaotes on the other? And my beans on one side and my tomatoes and cukes on the other?



Posts

: 12


Join date

: 2010-05-03


Location

: Zone 5



Hello and welcome. I wouldn't suggest doing that -- the plants would be too crowded and would shade each other. As it is, the spacing in SFG is much closer than traditional spacing. I have two squares of climbing beans next to three tomato plants (planted one per square) and as it is I'm having difficulty with the tomatoes trying to take over the beans. Perhaps you could make a 2x?? bed just for some of your vining plants and then plant something shorter in front of them. See Tim Wardell's garden layout in showcase garden area.



Posts

: 904


Join date

: 2010-03-03


Location

: USA



As I was out harvesting the last of my peas, I thought of another possible solution. If your beds are 4x4, you could put a trellis on two sides -- L shaped. I did that for my peas -- one on the N and one on the E side. As long as the trellis is large enough to reach through, that might be a good solution.



Posts

: 904


Join date

: 2010-03-03


Location

: USA



Unfortunately (for us all) the trellises aren't meant to be 2-sided. One type of veggie/square/trellis is the only way I can see that it would work. I've put all my cucs and indeterminate tomatoes on the northern sides with a trellis of each of my 3 beds--one row of toms and two rows of cucs. It wouldn't be possible (even if I tried to train them) to share the trellis with anything else. The space is already super tight. I think the L shape might be a better solution, but remember to consider what you'll be shading . . . sometimes that could be a good thing.

-Amber



Posts

: 47


Join date

: 2010-05-15


Age

: 38


Location

: Fort Worth, TX / 8



uh-oh, well this is what I did! I installed my trellises down the middle of my beds because I was hoping to create some shade for my lettuce and broccoli on the other side.
I also decided to alternate plantings that need trellising on each side, so only one plant is trying to use each section of the trellis - if that makes sense. I figured it would be the same as 4 squares in a row on one side.
In between the vining squares (cucumber and peas) I planted corn (like this - dashes represent the trellis):
Cuke | Corn |Cuke | Corn
--------------------------------
Corn | Peas | Corn | Peas
The problem this created was I couldn't build hoops to support a frost or shade cover using PVC pipes as shown in the book (covered wagon or cross style). However I found these cool bendable grids at Gardener's supply that were the perfect size to cover two-foot wide beds. I'll have to post pics to show what I mean...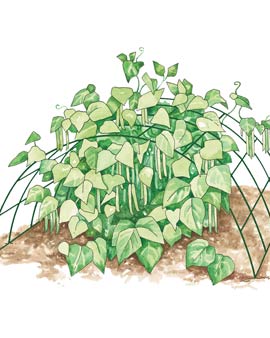 Link to the grids (I needed 2 grids per 2x4 foot area) : http://www.gardeners.com/Flexible-Garden-Grids/VegetableGardening_Supports,38-773,default,cp.html#



Posts

: 69


Join date

: 2010-03-13


Location

: Maynard, MA Zone 6a






Posts

: 2467


Join date

: 2010-05-05


Age

: 62


Location

: Warner Springs, CA USDA Zone 8a, Sunset Zone 7 (I think)



Thanks everyone for the welcome and the responses! I installed them and then asked the question

Isn't that the way?
So I am hoping that the timing of my veggies will help. On one side of each I will have peas and beans - earlier types. On the other sides of each trellis I will have the tomatoes and cucumbers which will be growing and harvesting a bit later. So hopefully they won't be in full foliage and needing maximum space at the same time. Crossing my fingers




Posts

: 12


Join date

: 2010-05-03


Location

: Zone 5



I think it sounds like a neat plan. We all know this gardening stuff is trial and error . . . you might just find that this works wonderfully . . . especially like was said before about shading. Please post future pics! It will be cool to see your progress!

-Amber



Posts

: 47


Join date

: 2010-05-15


Age

: 38


Location

: Fort Worth, TX / 8



I have a trellis down the center than planted one plant in each square. The long 8 x 2 box is all tomatos.

The 4 x 4 with corn and beans/peas I have those growing up the corn stalk so no trellis needed

the peppers I have another trellis that goes into a square if needed I will put it right in the center



Posts

: 125


Join date

: 2010-04-29


Location

: sterling colorado



I am going to have a real space issue on my hands, soon. I need to trellis a watermelon and at least one squash plant.... and if I can train my cukes up the amaranth, I will. As for mid-row supports, I have extra conduit in short lengths. I want to try to smash the ends flat (into a chisel sort of point) and then use that to stake the corn and amaranth.... and might try using it to do some sort of a weave on some other plants that will need support.



Posts

: 3350


Join date

: 2010-04-27


Age

: 50


Location

: Manassas, VA - Zone 7a



---
Permissions in this forum:
You
cannot
reply to topics in this forum