Page 2 of 2 •

1, 2
New to this...Yes, that broccoli has gone to seed. When the heads separate and toss up yellow florets, its starting to seed.
Broccoli can be picked when the heads are baseball size. Also as soon as you start to see separation, cut it out. If you cut off the head 2" below the head, small heads will start forming on the outside stalks that you can cut when they are ony 1"-2" across. Mmmmm good.
See the head lower right? That needs to be picked right away, and I did.



Posts

: 4674


Join date

: 2010-03-21


Age

: 75


Location

: Southwestern Maine Zone 5A



new2this, yes, my broccoli was starting to go to seed... I was in denial... hoping the head would get bigger before I picked it....


quiltbea, that is exactly what my heads look like... that one in the lower right of your pic.



Posts

: 69


Join date

: 2010-05-10


Location

: Twin Cities, Minnesota (zone 4)



I didnt' know it grew so large!

I have a brussel sprout plant that is getting quite big...sure would hate for hail damage to take that thing out. (or any of my garden babies for that matter)

I hope the weather is getting better, JKD.....we have more rain here until the end of the week!



Posts

: 215


Join date

: 2010-03-05


Age

: 42


Location

: southeast MN, zone 4a



Looks wonderful and so well organized. Wish I had that kind of space. Too many rocks and trees where I am in Stonington CT.... Put mine in Chezzie's dog pen (which until now she has avoided like the plague) which takes care of the 4 legged critter problems. Having the bed on sawhorses helps too! I'll try and put a photo from a few weeks ago.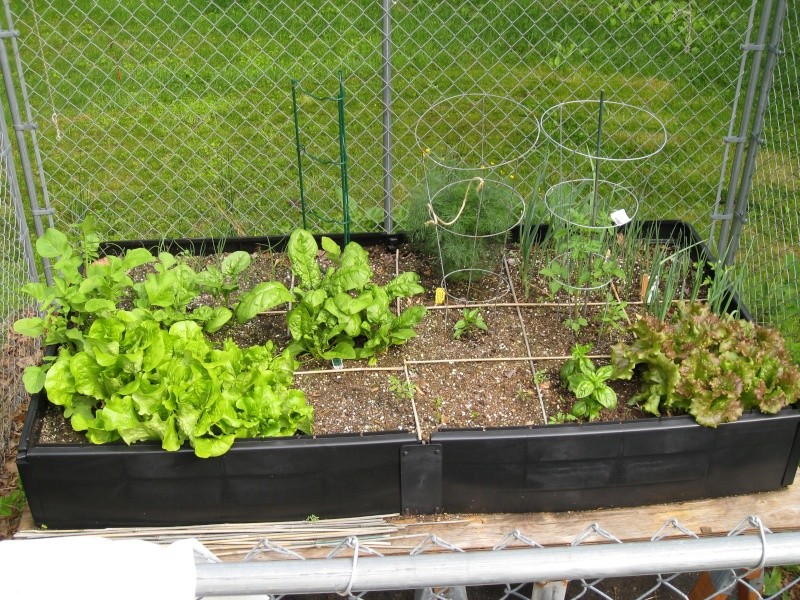 It worked



Posts

: 7


Join date

: 2010-06-04


Age

: 59


Location

: Stonington, CT



Readingnut
, that's a great idea to use the kennel for your garden! I have neighbors who do something similar (but not sfg... just potted stuff).
new2this
, we are getting better weather now.... yesterday and today we've finally seen the sun and things are drying out a bit... the weekend forecast looks really sunny as well! I'm excited! Maybe we'll actually be able to get out the pool for the kids, and the boys are looking forward to a package of water-balloons that I brought home a few days ago!

ETA:
Readingnut
, your lettuce looks GREAT! So full and lush... I dream of lettuce that looks like that!




Posts

: 69


Join date

: 2010-05-10


Location

: Twin Cities, Minnesota (zone 4)



ETA: That photo was taken May 31...

I'm about to pull the spinach and last of radishes and put in yellow squash! Yum. Didn't have lettuce like this last year, my 1st SFG, but then again, last year saw a ton of rain = flooding July 3 and rainy weekends. Hopefully we won't have a repeat this summer. Flooding around here was horrendous at end of March, some roads are still closed.



Posts

: 7


Join date

: 2010-06-04


Age

: 59


Location

: Stonington, CT



Page 2 of 2 •

1, 2
---
Permissions in this forum:
You
cannot
reply to topics in this forum